Nearly 26 years to the day since his death, famed college basketball coach and cancer research advocate Jimmy Valvano's legacy was celebrated in Loudoun County by friends, family and fans.
Washington Redskins legend Joe Theismann emceed the V Foundation for Cancer Research's annual Virginia Vine fundraiser at Stone Tower Winery in Leesburg April 27, with University of Virginia basketball great Ralph Sampson, political commentator and cancer research activist Paul Begala and V Foundation Executive Director Susan Braun among those who shared remarks. Nearly 300 attendees were on hand to support the cause.
Valvano became a cancer research icon with his 1993 "Don't give up, don't ever give up" speech, which he delivered less than two months before his death. The national championship-winning coach launched his V Foundation the night of his speech, and the lauded organization has since donated more than $225 million to the fight against cancer.
Valvano's inspirational words have been followed by decades of progress in the fight against cancer. For instance, Valvano's marrow cancer killed him in just 10 months. Now, the life expectancy for that specific type of cancer is five years.
"There is amazing hope in the research. What some of the new findings are is beyond incredible – what we have learned and continue to be learning about how the immune system works to fight cancer," Braun said in an interview with the Times-Mirror. "Because, really, all of us gets cancer. It's just how our immune system fights off those cells."
Net proceeds from the evening, which featured a lively and often comedic auction, came in around $500,000. Big-ticket items included a round of golf with Theismann at Congressional Country Club in Maryland, an "ultimate U-Va. Weekend" with Sampson, Coach Tony Bennett and basketball tickets, a Big Easy dinner with James Carville and Mary Matalin and a four-night stay in New Orleans and more.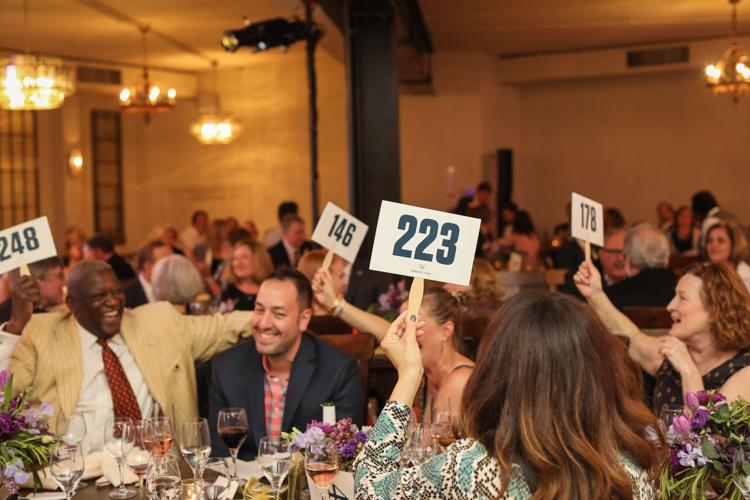 Theismann, a Leesburg resident, has long been involved with the V Foundation. He praised the scenic surroundings of Mike and Kristi Huber's Stone Tower Winery off Route 15. The April event was the fifth installment of Virginia Vine, which is modeled after a similar V Foundation fundraiser in Napa Valley, California.
"There's absolutely nothing in the world I'd rather be doing right now than be here with you. Absolutely nothing in the world is more important," Theismann said. "I believe in my lifetime we will defeat [cancer]. What a day that will be when the announcement comes … and it'll be because of everyone in this room."
Begala, a CNN political commentator and professor at Georgetown University, served as the marquee speaker during the evening. Begala lost his father to cancer – though not before a vigorous 13-year fight – and he served on the board of visitors of MD Anderson Cancer Center in Texas.
"You could not have asked for a better weekend than Virginia Vine," Begala said after the event. "From the wine to the views to the friendships and the cause – it was a weekend straight out of a storybook. Stopping cancer is so important to me. Coming together as a community to celebrate breakthroughs in research and raise money to fund even more was incredible."
The Virginia weekend included a cancer research symposium at the Salamander Resort & Spa in Middleburg. Dr. Joseph Moore, the medical director of the Duke Raleigh Cancer Center and Professor of hematology and oncology at Duke Cancer Center, hosted the session, and Virginia Vine mission partners – including the Inova Schar Cancer Institute, University of Virginia Health System Cancer Center and Virginia Commonwealth University Massey Cancer Center – received grants. The V Foundation will also fund competitive team science research in Virginia, according to organization officials.
The V Foundation for Cancer Research has a four-star rating from Charity Navigator, with 100 percent of donations going to cancer research.