Virginia Attorney General-elect Jason S. Miyares (R) said he plans to investigate Loudoun County Public Schools, as well as recent sexual assaults that took place on LCPS campuses and will develop legislation allowing his office to intervene when chief law enforcement officials believe the prosecutors are not doing an adequate job.
Miyares, who spoke to reporters on Thursday, referenced prosecutors in northern Virginia as the impetus for the decision. Loudoun County Sheriff Mike Chapman (R) joined the attorney general-elect for questions.
"We're obviously aware of some pretty horrific cases ... if there's anything that I want to bring back to the forefront in this process are the victims," Miyares said.
"As a former prosecutor, those are the individuals that you remember — the victims," he said. "I don't remember the defendants much and so that's been a little bit of my frustration that I've seen as I think the victims have been forgotten. And when prosecutors are making plea deals on child rape cases, over the objection of the family, I have a serious problem with that. So, we're going to have a legislative fix on that."
Loudoun County Commonwealth's Attorney Buta Biberaj (D) said she welcomes the attorney general-elect and governor-elect's involvement in investigating the assault cases from Loudoun County Public Schools.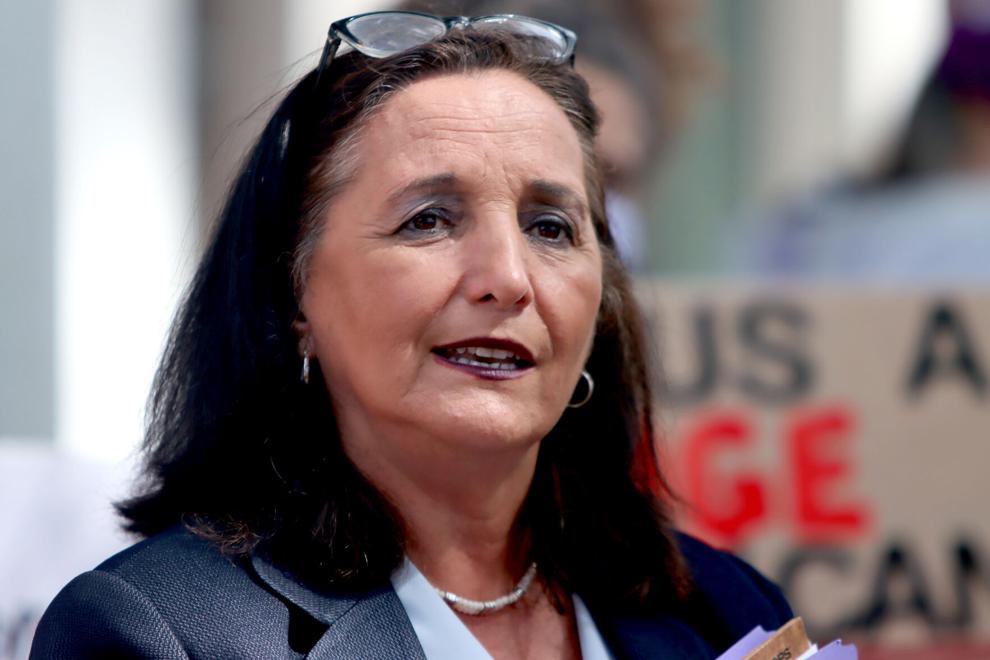 She reiterated that the office was not involved or consulted during the investigation and is confident that revisiting the cases will create better collaboration with law enforcement.
"I am confident that any investigation will show that our office handled those matters appropriately and that the only limitations that will be identified will be in how information was given to us," Biberaj said.
The commonwealth's attorney said her office is committed to transparency and her goal is to always ensure "the safety of our community and the allocation of resources dictates what cases we are able to focus more on, and what cases we need to handle differently."
"Loudoun County elected me to ensure that we are always having a fair and just system and also to direct our resources towards stability in our community by approaching cases that deal with mental health, addiction, and poverty, differing from those that are violent," Biberaj said.
"If the attorney general-elect wishes to sit down and discuss how I represent my community, I welcome him to call me any day," she said.
As previously reported, the student charged with perpetrating the May 28 assault also faces charges stemming from an Oct. 6 sexual assault which allegedly took place at Broad Run High School while he was awaiting adjudication in the earlier charges.
The May 28 assault, first made public in a report by the Daily Wire, involved a sexual assault at Ashburn's Stone Bridge High School.
LCPS responded to the revelations less than a week after a 15-year-old male student at Broad Run High School — also in Ashburn — was arrested and charged with sexual battery and abduction of another student on Oct. 6, according to a Loudoun County Sheriff 's Office incident report.
LCPS said the sheriff's office told the school division not to conduct an investigation until LCSO's investigation had concluded.
However, while addressing the Board of Supervisors Wednesday, LCSO Colonel Mark Poland said it is not LCSO's practice to order LCPS to not conduct their own investigation, but does prefer the first chance to interview witnesses.
Biberaj confirmed to the Times-Mirror shortly after the initial incident became public that the suspect in both the May 28 assault and the Oct. 6 assault is the same 15-year-old boy.
He was freed on a supervised release program and outfitted with an electronic monitoring devise on July 27, according to Biberaj.
On Oct. 25, Loudoun County Juvenile & Domestic Relations Court Chief Judge Pamela Brooks found the evidence against the teenager accused of sexually assaulting a fellow student to be sufficient for a finding of guilt.
The teen's next court date is Nov. 15.
The news of the two sexual assaults followed a domestic violence incident that led to a woman's death a week after she was allegedly attacked by her husband while he was on bond and under electronic monitoring while awaiting trial.
Biberaj is one of several prosecutors that called on state lawmakers earlier this year to advance several criminal justice reforms.
The group of prosecutors, known as the Virginia Progressive Prosecutors, represent more than 40 percent of the state's population, with the goal of supporting and advocating for reforms to make their communities safer and the state's criminal justice system fairer and more equitable.
However, three of the prosecutors — Steve Descano in Fairfax County, Parisa Dehghani-Tafti in Arlington County and Biberaj — became targets of a recall effort by the group Virginians for Safe Communities.
Miyares defeated the incumbent, Mark Herring (D) by 1.3 percentage points in Tuesday's statewide election. Herring conceded on Wednesday.