What started as one assembly and walk to discuss mental health, hope and healing at Woodgrove High School two years ago has spread across the county.
On Wednesday morning, Woodgrove hosted its third annual We're All Human walk, and it was one of six schools in the county participating in such an event this month.
We're All Human clubs, in partnership with the Ryan Bartel Foundation, serves as a resource to students and a place of support around mental health and suicide awareness and prevention. The clubs focus on positive coping mechanisms and utilize a youth suicide prevention training program called Sources of Strength that aims to help teens before they reach the point of crisis.
We're All Human says it aims to use the power of peer-to-peer influence to send the message that everyone has struggles, things will get better and it's OK to ask for help.
In addition to Woodgrove holding its We're All Human walk, Briar Woods, Heritage, Riverside, Loudoun Valley and Broad Run high school have hosted or will host similar programs this month. Representatives from Liberty High School in Fauquier County also attended Woodgrove's assembly to get ideas and plan their own event.
"The intent of this assembly is to be informative, positive and uplifting," Woodgrove Principal William Shipp said. "It is my hope that each one of you here today finds this events enlightening and encouraging."
Suzie Bartel, founder of the Ryan Bartel Foundation and mother of Ryan, a former Woodgrove student who died by suicide, said she never expected the assemblies to spread like they did, but after seeing the impact of the first one, she felt students beyond Woodgrove could benefit.
Bartel said she's heard of some people who believe schools shouldn't have these assemblies because they time away from instruction and academics. Other people think this is not a suitable topic of conversation for teens, Bartel said.
"And why does this matter? Well, I will never forget the year after we lost Ryan. I was having a lot of conversations with a lot of teens, not just from this school, but from other schools as well. I was trying to figure out how I could help, and a 15-year-old had recently attempted [to take] her own life said to me, 'How am I supposed to reach out for help when I need it if we're not allowed to talk about this at school?' And that really struck me, because if you can't discuss it, if you keep sweeping it under the rug, then how can any one of you get the help that you need when you're in a crisis?" Bartel said.
"So not only are you not hiding from this topic, you're actually demonstrating to your peers that there isn't any shame to admitting that sometimes life is tough, and that you're prepared talk about it with your friends, and you're allowing them in to help you," she added
Students also heard testimonials from members of the We're All Human club and faculty about the importance of human connection, of living in the moment, finding positive outlets and not giving up in hard times.
Lauren Brocious, 19, the founder of the You Define You Project, spoke to students about her anti-bullying video that went viral in 2015 and how it sparked her nonprofit. The Virginia Commonwealth University student told the Woodgrove teens that she knew how they felt, and she urged them to remember that other people's words and expectations don't define them.
"You all matter. You all are here for a purpose in this world. You all are here for a reason," Brocious said. "Just being here is important."
In addition to the walk, students could also stop by different stations to learn about the Sources of Strength, including mental health, family support, positive friends, mentors, healthy activities, generosity, spirituality and medical access.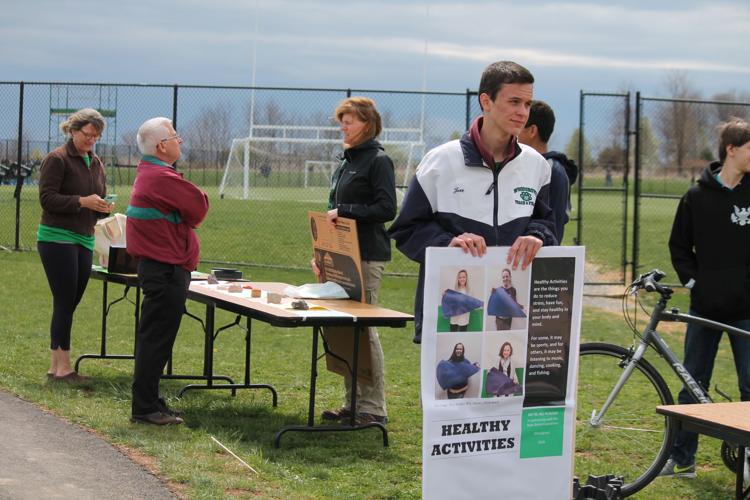 Bartel spoke on the topic of generosity by reminding students of the $1,000 scholarship the Ryan Bartel Foundation gives to graduating seniors who have positively impacted the lives of others. Seniors can only be nominated by their fellow peers, and Bartel said this is a great way for students to say "thank you" to those who have helped them through difficult times.
The deadline for nominations is April 30, and forms are available in the guidance office at schools.
The month's effort to raise awareness about student mental health and suicide prevention will conclude with the Ryan Bartel Foundation's newest initiative called The Fort. Bartel said the foundation saw a need for a community space outside of schools for students to gather to meet new people, relax and learn new skills.
The Fort meets monthly. On April 29, it will host another session with a cooking challenge workshop. The Fort is free but teens must pre-register online before the event, as there is limited capacity of about 50 kids.
"It's been phenomenal because we have kids coming not just from Loudoun County. They're actually traveling from other counties to participate because there's a need for this," Bartel said.