Through their Pros for Heroes COVID-19 Relief Fund, Washington Nationals first baseman Ryan Zimmerman and his wife, Heather Zimmerman, have been able to provide hundreds of meals to health care professionals at Inova Hospitals over the last two weeks.
Pros for Heroes was launched via GoFundMe April 14 as a collaboration with First Responders First, a global initiative providing resources to frontline health care workers, as well as SuperFd, which provides nutrition for professional athletes and teams. According to the main fundraiser page, 100 percent of donations go directly to these organizations, and a $10 donation roughly covers one meal.
Initially planned to support Inova Fairfax Hospital, the efforts and goals of Pros for Heroes have expanded rapidly since its inception. The campaign has reportedly raised more than $300,000 — exceeding its initial $250,000 goal — and delivered 500 meals per day last weekend, MLB.com reports.
The Zimmermans announce each mass meal delivery to the recipients via a surprise Zoom call. One of the calls took place Thursday afternoon with staff at Inova Loudoun Hospital, where 500 meals were delivered later in the evening.
"I know you guys have been at this since the very beginning and have seen the worst but also the best of it as well, so I hope you know how much me and my family appreciate what you're doing, and more importantly, I think, the whole community," Ryan Zimmerman told the surprised medical workers.
"You guys are the true heroes in all of this," he added.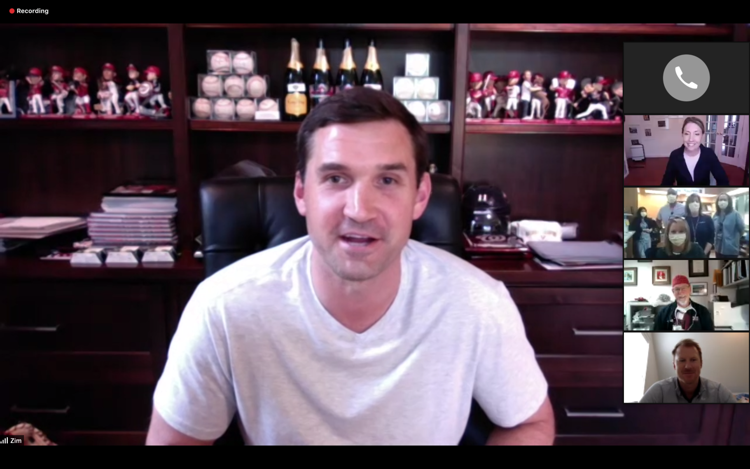 Max Scherzer, who pitched the Nationals' victorious Game 7 of the World Series last year, also made a surprise appearance on the call.
"This is an honor to be on this call and for you guys to take time out of your day," he. "I know you guys are absolutely working your heads off, so keep at it ... You guys are the heroes, like Zim said, so we're all pulling for you. Keep up the hard work."
Other professional D.C.-area athletes that have contributed to Pros for Heroes include Capitals center Nicklas Bäckström and Redskins defensive end Ryan Kerrigan. Washington Wizard John Wall has also reportedly expressed interest in contributing to the campaign.
After Scherzer finished his remarks, Ryan Zimmerman joked to the Inova Loudoun staffers that he and his wife "heard that you guys don't eat too well; you guys take care of everyone else and you guys don't take care of yourselves.
"Tonight, when you guys get off your shift, there'll be some meals outside waiting for you to take home," he continued. "So you guys can not have to cook anything, not have to worry about doing the dishes, and have a nice dinner that hopefully will make you feel a little bit better, and then get some rest."
As of Thursday evening, Pros for Heroes has raised more than $340,500 toward its new goal of $500,000. Those wishing to donate to the fund can visit the initiative's GoFundMe page at prosforheroes.org.