Virginia Gov.-Elect Glenn Youngkin (R) walked up a flatbed trailer outside the Loudoun County Public Schools Administration Building in Ashburn on Saturday, with a beaming smile and a thumbs up raised in the air.
Dusk had fallen and the temperature hovered in the upper 30s, as hundreds of supporters erupted into cheers and applause as Youngkin took to the stage, from which he spoke for about 25 minutes.
Youngkin thanked Loudoun parents frustrated with the school district's handling of various issues — including critical race theory, mask and vaccine mandates and a pair of alleged sexual assaults — for their support during his campaign.
"Before November 2 — [former Virginia Gov.] Terry McAuliffe [D] didn't think parents mattered," Youngkin said. "He knows parents matter now!" The governor-elect's supporters cheered.
Youngkin defeated McAuliffe in the Nov. 2 gubernatorial election, garnering 50.6% of the vote statewide. But he lost Loudoun County by 11 percentage points, where McAuliffe received almost 18,000 more votes.
"I hope you all know that right here, Ground Zero, Loudoun County had the eyes of the nation on you," he continued. "You had the eyes of the nation on you because you all stood up for our children."
Youngkin added, "Virginians stood up and voted and made a statement on your behalf. You all did this. Thank you so much!" The crowd applauded and cheered again.
He also said in his remarks that, "We wake up and our kids are being taught things we don't want them to learn. We ... wake up and Virginia has moved to a place that looks like California east. Well guess what? We must stay engaged."
The governor-elect said his administration would work toward reducing Virginians' cost of living by cutting taxes and doubling the state's standard tax deduction. "Grocery tax is going to go away," Youngkin said, and that his administration would fund "the largest education budget," which would raise employee salaries, fund special education and launch more charter schools.
Some Loudoun County elected officials, however, have criticized the governor-elect for capitalizing on what they say is disinformation about the school district as well as racial animus to propel him to victory in the Commonwealth, which last elected a Republican governor in 2009.
Supervisor Juli Briskman (D — Algonkian District) told the Times-Mirror via email ahead of the rally, "I'm confused as to why Glenn Youngkin would be coming to thank Loudoun voters, where he lost by 11 points, unless he wants to thank the anti-school disinformation campaigners for manipulating parents and spreading lies about our school board."
Briskman said the allegations against the school board have "resulted in racially-tinged death threats against them and forced one [former Leesburg District member Beth Barts] to resign because of their bullying and intimidation."
Ashburn resident Tim Reavis attended the rally, carrying a "Grand Parents for Youngkin" sign. He said the school board had ignored Loudoun parents' concerns on several issues for months, including that of critical race theory, which LCPS officials insist is not being taught in Loudoun public schools.
Reavis said he has a five-year-old granddaughter attending a Loudoun County school. He recalled asking the child in conversation, "Who's the oppressor? Who's being oppressed?"
Reavis, who is white, then gestured toward himself, and quoted his granddaughter as saying, "'We're the oppressor,'" and then pointing away from himself, "'And they are the oppressed.'"
When asked if his granddaughter was referring to white people in her comments, he said yes. "They didn't say, 'white,'" Reavis said. "But that's what they meant."
Board of Supervisors Chair Phyllis Randall (D At-Large) told the Times-Mirror on Saturday that inequity against people of color has been a historical reality in the United States, and that denying that legacy prevents Americans from being able to move past it.
"If your child [is being taught] critical race theory, then your child's brilliant," Randall said. The subject is "normally at taught the grad school or law school level."
She described critical race theory as, "a theory to discuss how systematic racism in our country impacts us today." And while many people might want to deny that racism has played a defining role in structuring American society, "denying history just doesn't make ... what you want to be true."
"Of course, there's systematic racism," Randall continued. "We don't get better as a people until we admit it. And I am so pleased that we continue to work on those issues in our county and our commonwealth and our country."
Briskman also said, "I think Youngkin really should be holding his rally in front of the Sheriff's Department with Mr. Chapman, whose heavy hand plays a huge part in the distribution of information to the public and in turn to parents."
Chapman (R), who was present at Youngkin's rally, led the crowd in reciting the Pledge of Allegiance.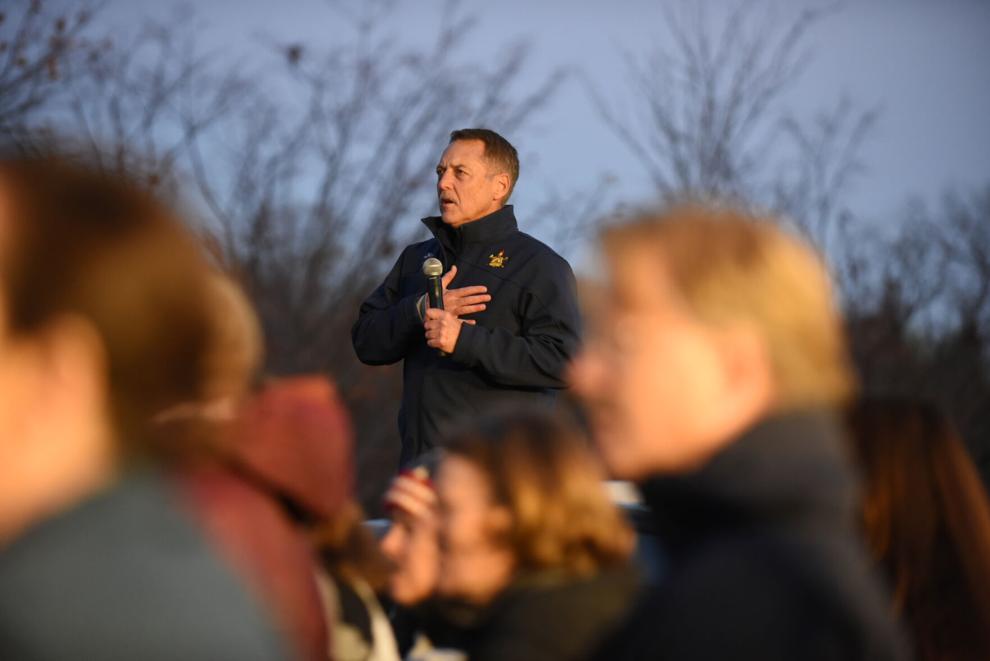 Briskman said Title IX guidelines prohibit school officials from conducting an independent investigation of an alleged crime committed at a school until after a law enforcement agency has concluded its own. School officials have previously said that LCSO requested they not begin an investigation of a sexual assault reported on May 28 until after the one opened by the sheriff's office had concluded.
The sheriff's office did not publicly disclose any information about an alleged sexual assault at Stone Bridge High School in Ashburn on May 28 — which was not made public until the Daily Wire reported it on Oct. 11.
Many Loudoun responded with outrage, calling for resignations from LCPS superintendent Scott Ziegler and members of the school board.
Commonwealth's Attorney Buta Biberaj (D) confirmed to media outlets on Oct. 13 that the same suspect had been involved in another alleged sexual assault on Oct. 6 at Ashburn's Broad Run High School.
"I find it very interesting that information about all other alleged school-based sexual assaults are disseminated to the public via LCSO's daily incident reports and press releases," Briskman said. "But somehow [Chapman's] office neglected to inform parents and the public about the May 28 incident or the July 8th arrest of the perpetrator."
The Loudoun County Sheriff's Office issued a response to Briskman's criticism Saturday night in which a spokesperson called attention to the delicate nature of the May 28 incident because the suspect and victim knew each other and said an announcement could have identified a juvenile victim.
The spokesperson also cited a letter Chapman sent Ziegler in which the sheriff "clearly addresses that Loudoun County Public Schools knew of the alleged sexual assault the day it occurred, and an official notification of the suspect's July 2021 arrest was made to LCPS by Juvenile Intake as required by law."
"Sheriff Chapman further states in the letter that LCPS was aware of the Juvenile Intake, Commonwealth Attorney, and judicial process throughout the case — and despite that LCPS opted to place this individual in another school," the LCSO said.
LCPS did not respond to a request for comment.