"I'll bring her back in three weeks," I told my classmate's boyfriend as she climbed into the brave little Jeep that would carry us to her home in Oklahoma and then my family's place in Texas. "I promise."
That's a promise I now have to break.
With shelter in place orders peppering the nation with instructions, threats, and entreaties to stay put, I could be charged with a misdemeanor for trying to get back to that cozy room in the Virginia home with the chickens, dogs, and cats. I could receive a year in jail and a $2,500 fine for wanting to fill the gaps in my laughably light packing.
When I left, I knew my classes at Patrick Henry College were going online for the next few weeks. I knew I'd have to adjust to 7 a.m. classes and "midnight" deadlines hitting at 11 p.m. But like many of my classmates, I didn't know my trip would become an indefinite loafing in my parent's guest room. I left three of the best jobs I've had the privilege of working, telling my bosses I'd be back before they knew it. My casual "see ya in three weeks" to dear friends now rings in my ears – when will I see them again?
My life is so uncertain right now, but I'm not a victim of my college's decisions. I'm not a victim of Virginia shutting down. I'm not a victim of the United States and the misinformation coming from our president.
You see, nobody knew to expect this unprecedented halt in normal life that we call "shelter in place." On both the day before and the day after my college told us we were going to go remote to keep people safe, President Trump told the world, "It will go away."
The day I left campus, March 15, Trump announced that COVID-19 was something America had "complete control over." A few weeks earlier, on Feb. 28, he had promised us it was going to "disappear." ­
When I scrolled through my Instagram's explore page, I saw countless memes joking about COVID-19 being introvert heaven because people aren't allowed to hug them anymore, about how funny it would be if this actually ended the world, and about millennials yeeting themselves out of the states and going on the trip of a lifetime. My classmates were booking flights to Puerto Rico, to France, to Germany, laughing over how affordable everything was. Others drooled over four-day cruises with $800 discounts. Even I wistfully thought of Florida beaches and talked about driving down for the weekend to get some sun.
"This is our chance," my generation said.
Well, we were wrong. President Trump was wrong. The world was wrong. This is not our chance to travel. This virus is not a meme. This is not an "old person" disease.
Yes, our college told us not to worry. Yes, social media told us this was a joke. Yes, our President claimed COVID-19 was actually a great economic stimulant.
Now we know better. Now our flights are refunded. Now photos like this one of Dr. Jared Burks visiting his baby boy through a glass door and watching him crawl for the first time, unaware that his house is about to be flattened by a tornado, are going viral. Now we wash our hands. Now we stay home. Now we watch the news, not the memes.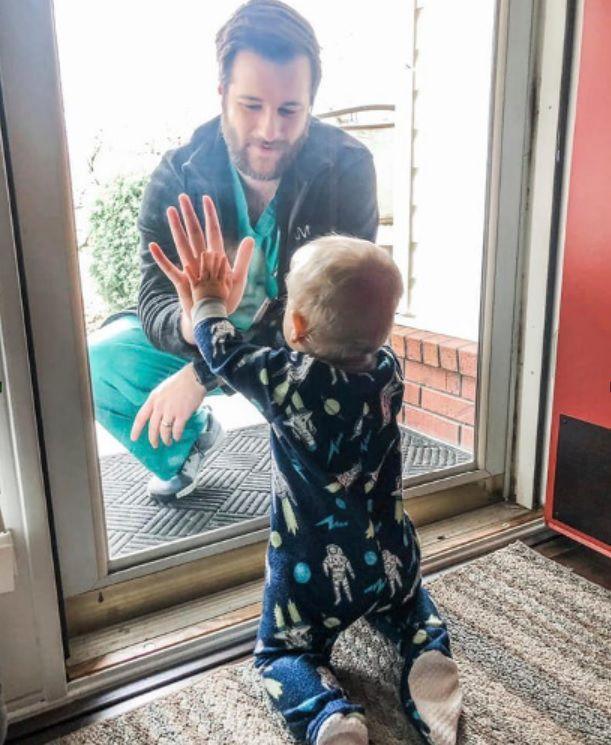 But nobody is to blame. We're all doing our best. Are we, as a nation, inconvenienced? Are we unsettled? Are we uncertain? Yes. But we've got food and a roof over our heads. We've got warm running water and soap. Our roads are open. Our empty shelves are being restocked. Our doctors and nurses are working as much as 120 hours a week to save lives. Our scientists are desperately seeking solutions. Our government is enforcing safety measures.
Aren't we the lucky ones.
So no, I won't be back in Purcellville this week bringing Abby back to her favorite person. I'll be 1,600 miles away in Texas, washing and re-wearing the same outfits, chugging coffee, writing papers and FaceTiming my people because I sure do miss them.
But I'll bring her back as soon as I can – I promise.
_______
Lovie Churchill is a rising senior at Patrick Henry College in Purcellville.