More mass shootings. Sadly, I'm not surprised.
On May 31, 12 people were murdered by a disgruntled government employee in Virginia Beach.
On July 28, three people were killed and 12 injured at a garlic food festival in Gilroy, California, by a 19-year-old wielding an AK-47.
On Aug. 3, 22 people were murdered in an El Paso, Texas, Walmart by a 21-year-old man armed with an AK-47.
Early Aug. 4, a 24-year-old man using an AR-15 and wearing body armor murdered nine people in less than one minute in Dayton, Ohio's historic Oregon District before police shot him.
This gun owner, hunter and National Rifle Association member is fed up. The number of murdered and wounded is appalling. We should be viscerally angry at the inaction and gamesmanship by politicians.
Loudoun's only Virginia governor, Westmoreland Davis, who served from 1918-1922, once remarked the common issues in Virginia state and local elections are roads and schools. The accuracy of the governor's sage words endured for almost a century.
With apologies to our dedicated teachers, brave first responders and hard-working county staff, I urge Loudoun voters to put aside partisanship, teacher salaries, road funding and vote for the candidates who promise to act to lessen the chance the death and misery visited on other communities happens here.
This November, Loudouners can send a message that change is needed, and action is expected.
I am a Republican, but this November I am voting "guns" not party. All Loudoun voters should do the same.
This isn't a partisan issue, but both parties are to blame. Take, for example, the recent special session of the Virginia legislature called by Gov. Ralph Northam (D) after the Virginia Beach shooting.
Perhaps to the chagrin of party regulars, nervous Republican leaders appeared willing to consider a few of the Democrats' proposals. Of course our ham-handed governor didn't negotiate a deal in advance with the Republicans, who then proceeded to tank the special session as soon as it started.
On Nov. 6, we'll know whether voters agreed with the governor or the Republicans. Every seat in the General Assembly – in addition to the Loudoun Board of Supervisors, the School Board and the constitutional officers – is up for a vote this fall.
The candidates you should talk to about gun issues are those running for the General Assembly, Board of Supervisors, commonwealth's attorney and sheriff. The General Assembly passes gun laws that can bind to localities, including optional restrictions on hunting and guns.
Every year the Board of Supervisors votes on a legislative package of recommended changes in state law. Even though a supervisor can't vote to change the Code of Virginia, they can recommend or oppose changes.
The sheriff and commonwealth's attorney enforce the law, but have some discretion in doing so. Traditionally, legislators value their opinions on proposed legislation.
Loudoun voters should demand candidates support two changes in state code. First, close the so-called "gun show loophole" and require universal background checks. Second, require anybody who wants to buy or build an assault rifle, such as an AK-47, AR-15 or M4, to obtain a special license, pay an extra fee, undergo an enhanced background check and require first-time buyers who have not served in the military or as law enforcement officers to complete a safety course. The safety course should include range training.
An assault weapon should not be a young man's first gun without some manner of screening and training.
Given what has happened, these are not invasive changes.
My friends are safe and responsible gun owners. If all gun owners were like my friends, this column wouldn't be needed. But they aren't.
When I wrote a column about the Pittsburgh shooting, my toughest critics were my friends, so I will respond, in advance, to the comments I expect.
Gun owners will argue, usually correctly, that commonly proposed gun restrictions wouldn't have kept the shooter from obtaining a firearm.
In the micro sense of a single incident this may be true, but in the macro sense it is not. The changes I propose are about long-term odds. If background checks are required, it will be harder, but not impossible, for criminals to get guns in the long run.
There was once a time when the NRA supported universal background checks.
If there is a license, fee, background check and training requirement for getting an assault rifle, the odds are reduced that somebody who shouldn't have a AR-15 gets one.
To the argument these restrictions won't stop all mass shootings, my response is it's impossible to quantify events that do not happen.
It sickens me to have to write another column on this topic.
 ___________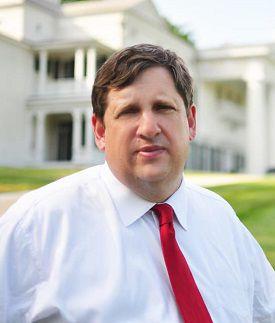 Charlie King is a Leesburg-based attorney and member of the Loudoun County Republican Committee. He was the Republican nominee for county chairman in 2015.