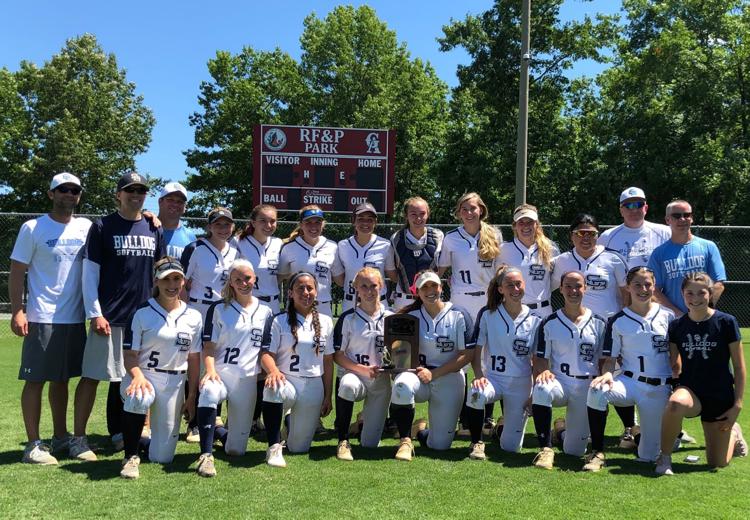 The Stone Bridge Bulldogs won the state championship game the same way they'd taken many of their 25 victories this season - with an explosion of offense that swung a close contest into a decisive blowout.
Seven runs on five hits in the fifth inning - topped off by a Jordan Thompson two-run home run - staked Stone Bridge (25-1) to a commanding 8-0 lead over Mountain View in the Virginia Class 5 softball final, held June 14 in Glen Allen.
Senior left-handed pitcher Emily Sappington proceeded to finish off the Wildcats, scattering six hits over 5.1 innings in a 13-2 triumph for the title.
"We've worked so hard to do this," Sappington said. "It feels amazing to be able to bring this program up."
Olivia Valbak paced the Bulldog offense with four RBIs on three base hits, then came on from the shortstop position to relieve Sappington in the pitcher's circle for the final five outs.
Billy Rice has been the Bulldogs' head coach since the 2012 season.
"Usually we have a big explosion somewhere in the game," he said. "That put us on cruise control and we felt good about things."
Under a sunny midday sky at RF&P Park, Region 5D champion Mountain View (19-5) was the first to threaten. The Wildcats loaded the bases in the first inning, but Sappington got a swinging strikeout to end the threat.
Stone Bridge quelled another threat in the second inning when senior catcher Maddy Carpe zipped a throw to third to pick off a straying Wildcat runner.
The Bulldogs, the game's visitors, drew first blood in the top of the third when junior Lauren Fox used her speed to beat out an infield single and steal second. She flew home when Valbak looped a single off the glove of Mountain View's diving centerfielder for a 1-0 Stone Bridge lead.
The sides traded scoreless innings, highlighted by Elena Gonzalez's leaping snag of a line drive ticketed for right field.
The dam broke for Stone Bridge in the fifth. A pair of walks and an infield error put the Bulldogs up 2-0 and ignited an onslaught.
Valbak ripped the first pitch she saw into left field for an RBI single. Sappington lined a run-scoring hit the opposite way, then Olivia Smith dribbled an infield hit to plate another run.
Senior outfielder Hannah Brown lofted an RBI sacrifice fly, bringing Thompson to the dish. The tall right-handed swinger golfed a fly ball to left that plunked down over the fence and sent the Bulldogs' fans into wild cheering.
"I was just trying to find a pitch to square up and drive," Thompson said. "It came right in there, right where I wanted it. It felt great once it flew off the bat. I was like, maybe that's over, and then I heard everybody."
The five-hit, seven-run outburst took just 15 minutes, but it decided the state championship in the Bulldogs' favor. Smith rolled a two-run single in the sixth, and a Gonzalez sacrifice fly and a Valbak two-run double added three more in the seventh.
"It got contagious there," Rice said with a big smile. "They started seeing it well, got settled in and got comfortable. You knock a couple, the confidence level throughout the dugout just rises."
Rice talked about the sheer depth of this year's Bulldog roster.
"We really felt like we had a good situation. You can see these girls can hit from top to bottom, our bench is deep, and the pieces just started going together," he said. "It's a beautiful thing when they play like they do today."
Semifinal squeaker
The Bulldogs' relatively anticlimactic finale belied the nail-biting semifinal they endured to reach the championship.
Facing Glen Allen High School in a virtual road game June 13, the Bulldogs came from behind with two runs in the sixth inning.
Stone Bridge then held on as Glen Allen loaded the bases in the final frame, but did not push the tying run across.
Join the School Club
Stone Bridge athletic director Dave Hembach has seen the Bulldogs win state championships in variety of sports since he oversaw the founding of the Ashburn school's athletics programs in 2000.
The Bulldogs have collected Virginia High School League crowns in baseball, boys lacrosse, girls lacrosse, girls soccer, volleyball, football, boys cross country and four in cheerleading.
"This is our third time here," Hembach said, meaning that the Bulldogs had played for two previous softball championships, in 2006 and 2013, settling for runner-up both times.
He paced the ground behind the Bulldogs dugout, watching along with dozens of Stone Bridge partisans.
"Hopefully it's this time," he finished.
He got his wish. His head coach for softball, Billy Rice, can now hold his head a little higher in the school's athletic offices.
"One thing I thought about was how every day in the gym I look up, and the one [state championship] banner that's been missing is softball," Rice said. "Now I get to see that one up there too. So excited about that."
The Stone Bridge girls took their time posing with their new trophy and the scoreboard showing their lopsided win.
"We want to leave a legacy that says that you can do anything," Sappington said, "that if you keep working you can still do it."