After coming up a little short in a 28-26 loss to Broad Run in Week 1, Tuscarora entered Friday's game at Potomac Falls determined to bounce back. In a game that was back-and-forth throughout the first half, Tuscarora dominated the second half to pull away for a 40-12 victory.
"Potomac Falls is a good football team. We have Woodgrove next week, which is another good football team so there was really no room for any kind of fallback or ease up," Tuscarora head coach Brandon Wheelbarger said.
"We had to go. We challenged our kids last week to stay in the game with Broad Run," Wheelbarger continued. "We challenged them again at halftime to play a little more to my expectation of them and they answered, so it was huge."
The start of Friday's game looked like Potomac Falls picked up where it left off from its 33-0 win over Dominion in Week 1.
The Panthers (1-1) wasted no time on their opening series with a five-play, 69-yard drive highlighted by two big catches from senior Jalen Coker from sophomore quarterback Matthew Graham. Graham found Coker for a big 30-yard gain to set the Panthers up in scoring position. After the Huskies stopped the run, Graham planted a perfect pass right ahead of Coker, who caught it in the end zone to give Potomac Falls an early 6-0 lead.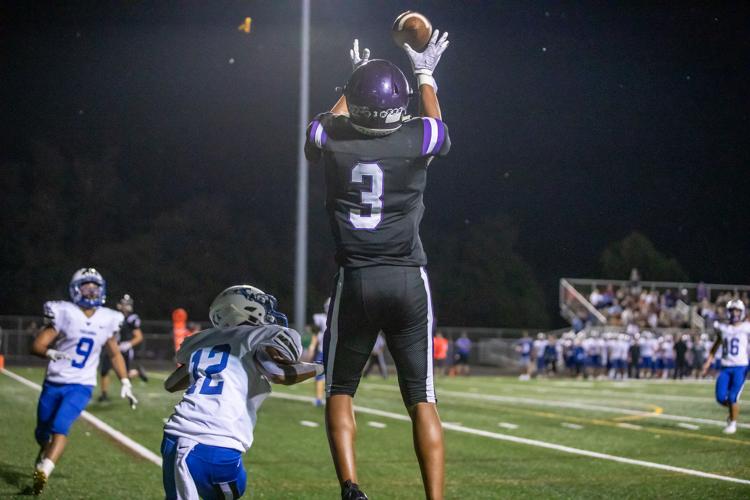 Tuscarora (1-1) appeared to pull even later in the first quarter. Ethan Gick threw a screen pass to Ryan Upp for a long touchdown that was nullified due to a holding penalty. The Huskies kept driving with the 1-2 duo of Gick and Upp. Gick found Upp on fourth down to move the ball to the Potomac Falls' 20 yard line. That prime red zone opportunity was short-lived on the next play with a one-handed interception in the end zone from Coker.
Potomac Falls was unable to build off the momentum. Two first downs to get the ball to midfield put the Panthers in prime opportunity to extend their lead before Tuscarora's Matthew Fitz thwarted the chance with his interception.
Tuscarora capitalized on its next drive with Gick's 19-yard touchdown pass to Upp and the converted extra point gave the Huskies a 7-6 lead at halftime.
The Panther defense held the Huskies to a field goal to begin the second half. On the ensuing possession, the Panthers drove down the field to the 6-yard line and took the lead on Coker's second touchdown catch of the game to make it 12-10.
That was the last time the Panthers would lead. Tuscarora took the game over from that point forward.
The Huskies took the lead with a nine-yard pass from Gick to Jevonn Gilyard and made the two-point conversion. On the Panthers' next drive, Fitz sacked Graham to force a fumble and Joshua Barnett recovered it to give the Huskies the ball right back.
"I think our kids were waiting for that one big spark to get them rocking and rolling and that spark came way of that fumble," Wheelbarger said. "From that point on, our kids seized that was left and they weren't going to relinquish it."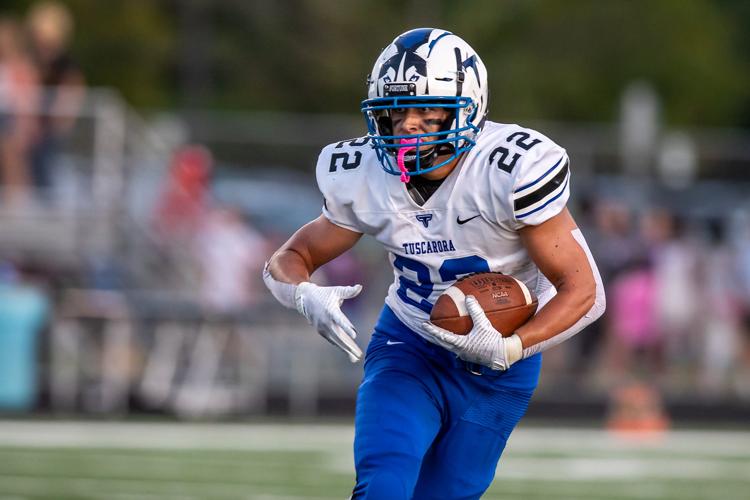 The Huskies controlled the clock and added to their lead with a direct-snap touchdown run by Bryce Duke and Gick found Upp for another two-point conversion. Gick added two more touchdowns to complete the 40-12 victory.
Tuscarora heads to Purcellville on Sept. 13 to face Woodgrove, while Potomac Falls travels to Haymarket to play Battlefield.
More photos by Jeff Scudder