The Briar Woods Falcons produced one of their most complete games in recent seasons Friday night, shutting out the host Woodgrove Wolverines 28-0 in a Class 5 Potomac District match-up in Purcellville.
The soaring Falcons (4-2) have already eclipsed their win total in each of the previous two seasons. Briar Woods won three games in 2018 and had just two wins in 2017.
"For the past three years, we've had some down times," Briar Woods junior quarterback Christian Greene said. "We're excited hopefully trying to start the new generation. This is the first step to a big goal. We finally have belief in each other and trust."
Briar Woods tightened its grip on second place in the Virginia High School League football power ratings for Region 5C. The Falcons entered Friday second only to undefeated Stone Bridge.
"It was big," Briar Woods head coach Daniel Bruton said of Friday's win. "I think they're starting to believe in what we're trying to do here and that's the biggest thing."
"They worked hard and they focused on the game plan," Bruton continued. "The defense played great. The o-line played great. The special teams played great. When you do that, usually things work out pretty well."
Woodgrove, the 2018 Virginia Class 4 state champions in the midst of its first season competing in Class 5, showed rust early Friday coming off a bye week. A delay of game penalty on the Wolverines' first offensive play was followed up by a big fumble on their second play.
Senior defensive back Ian Smith alertly scooped up the fumble and ran 27-yards into the end zone giving the Falcons an early 7-0 lead.
Both teams battled for field position for a majority of the first half. The Wolverines (3-3) were unable to get anything going and were forced to punt on five consecutive possessions. The Falcons punted three times and turned the ball over on downs once until their offense began clicking late in the second quarter.
In a drive that began at their own 8-yard line, Greene and junior running back Joey Hoyler broke off long runs to move the Falcons into Woodgrove territory. Greene connected twice through the air with receiver Riley Callaghan and again on a nice pass to tight end Logan Kotter.
With just 25 seconds remaining in the first half, Hoyler scored on a 2-yard touchdown run. Callaghan added the extra point giving Briar Woods a 14-0 lead. The opportunistic Falcons were eager for more.
After a touchback on the ensuing kickoff, the Wolverines went backwards with two consecutive penalties preserving precious time on the clock. Briar Woods senior defensive back Marcus Carino then jumped on a Woodgrove fumble to set the Falcons up on the Wolverines' 13-yard line with 10 seconds remaining.
Greene connected with Kotter in the seam in the middle of the end zone with five seconds left giving the Falcons a huge boost going into halftime with a 21-0 lead.
"When they turned it over, clock management there you knew you had a chance at one, maybe two shots at the end zone," Bruton said. "We were in field goal range with our kicker so it was just icing on top of the cake right there to get seven instead of three."
The Falcons' defense continued their dominance in the second half. Woodgrove quarterback Brett Johnson was under constant pressure having little time to connect on mid-range to deep throws. The Wolverines were continually forced to punt until another fumble in their own territory was recovered by Briar Woods defensive lineman Ryan Salas setting the Falcons up to strike again.
Greene threw his second touchdown pass of the night -- this one a 23-yard completion to junior receiver Evan Rutkowski to put a stamp on a complete team win for the Falcons.
"This has been the closest thing that we've had to a complete game so far," Bruton said. "They're still young. We've got a lot of guys that never played football before. Some of those guys are stepping in and starting for us and then a lot of juniors on the field. I think there's still room to grow but we've got to keep trusting the process so we can't get our heads too big."
The game was the first time that Briar Woods and Woodgrove met on the football field since 2014. The Falcons improved to 5-0 overall in the series.
Both teams are back in action Oct. 18. Woodgrove travels to Ashburn to play Stone Bridge (6-0) and Briar Woods will host Freedom (2-4).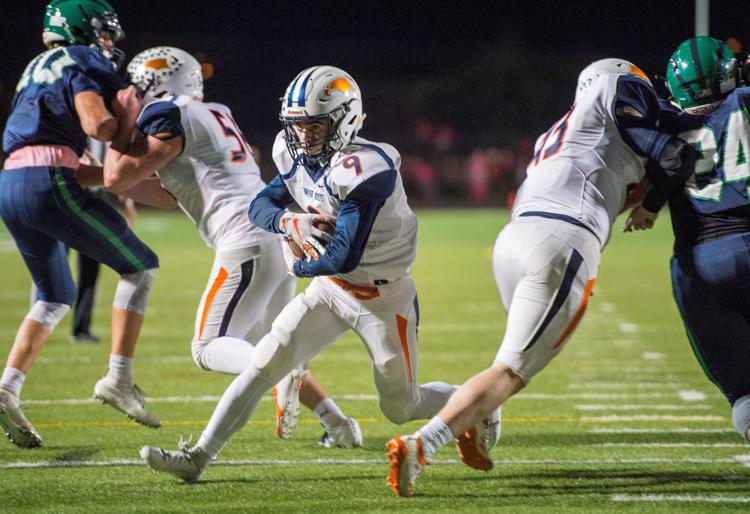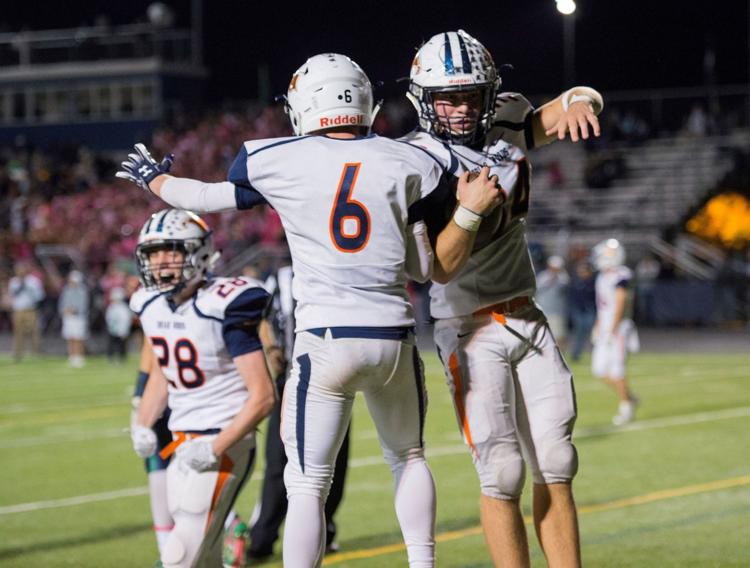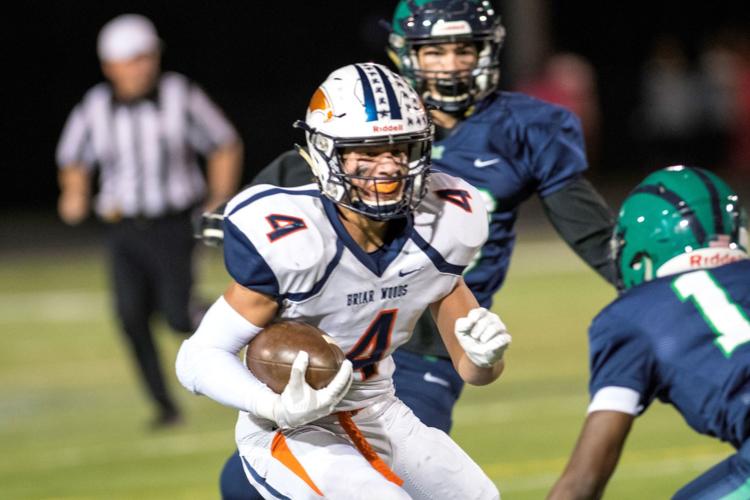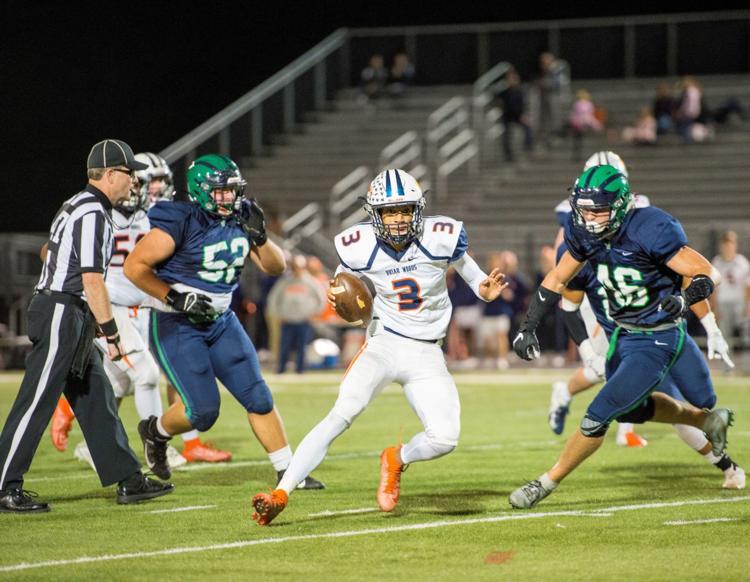 Briar Woods 28, Woodgrove 0
First Quarter
BW: Smith 27 fumble return (Callaghan kick) 8:32
Second Quarter
BW: Hoyler 2 run (Callaghan kick) 0:25
BW: Greene 13 pass to Kotter (Callaghan kick) 0:05
Fourth Quarter
BW: Greene 23 pass to Rutkowski (Callaghan kick) 7:09
Offensive leaders
Passing: BW – Greene (13 of 28 for 178 yards, 2 TD, Int.); W – Johnson (10 of 23 for 74 yards)
Rushing: BW – Hoyler (18-72-1), Greene (15-72); W – Williams (6-26), Johnson (3-19), Hamm (9-18)
Receiving: BW – Kotter (5-77-1), Schalow (2-39), Rutkowski (3-31-1), Callaghan (2-25); W – Hamm (2-25), Williams (3-21), Blizzard (3-19)
More photos by Chuck Moore