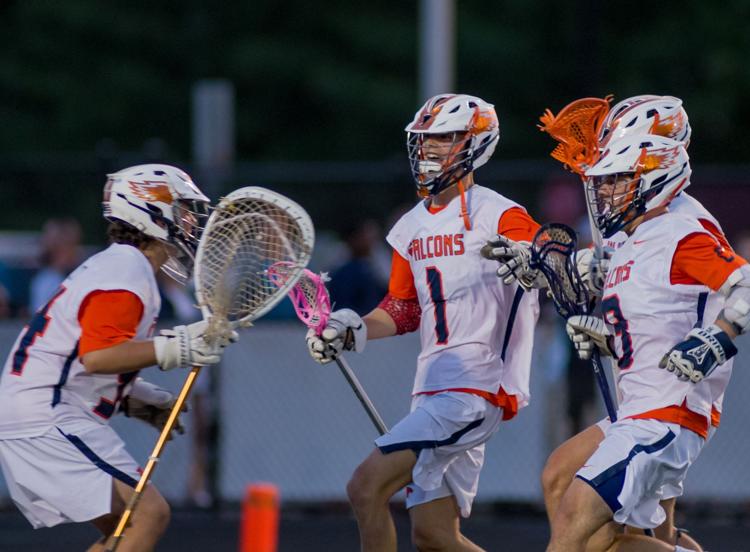 For the second straight season and the third of the last four years, the Briar Woods Falcons will play for a state championship in boys' lacrosse.
The Falcons (21-0) punched their ticket to the Virginia Class 5 title game - set for 10 a.m. Saturday at Deep Run High School in Glen Allen - with a 19-7 victory over John Champe (17-5) in the semifinal round Tuesday night.
Briar Woods led 9-1 just 10 minutes into the semifinal, and built a lead of 16-2 before the game was 20 minutes old.
By the fourth quarter, the Falcons' margin had grown to 19-3. The Knights came up with four straight to close out the contest.
Briar Woods' up-tempo, high-energy start to the state semifinal typifies the Falcons' season. The boys from Brambleton own an average margin of victory of 10.1 goals in their 21 wins.
"It's like throwing a bone out on the field and telling the dogs to go get it," said Marty Young, Briar Woods' second-year head coach now in his ninth year with the program.
Senior captain Aaron Casteel was a primary force for the Falcons. The midfielder won faceoff after faceoff, keeping possession in Briar Woods' favor and setting up their quick-strike offense.
"It's all about the energy I'm getting from the boys," Casteel said. "Everyone's hyping me up and giving me the energy to win it quick off the whistle. Winning faceoffs is the best defense in the game."
Casteel and senior attacker Nick Romano each put in a game-high six goals, while senior attacker Will Pompilio scored five. Another senior on the attack, Danny McMinn, handed out five assists.
Meanwhile, senior defenders Ryan Young, Kyle Scott and Camden Gillie aggressively disrupted Champe's setup on offense. Long-stick defenseman Ryan Nixon initiated a pair of scoring rushes by forcing turnovers in Champe's offensive zone and picking up ground balls on the dead sprint.
Leading the Knights was senior attacker Dalton Young, who tallied a team-high five goals and two assists.
"Dalton Young carried this team on his back this season. He deserves so much credit," Champe head coach Vik Ohri said.
Senior goaltender Carter Harrigan withstood the Falcons' shooting gallery to make four saves.
Ohri noted that his roster held just six seniors, and three of them are goalies. He played five freshmen regularly.
The Knights rang up a record of 17-1 versus schools not named Briar Woods.
"We had such a young squad all year long," Ohri said. "What these young guys have done, it's unexpected, really. It's been an incredible season and it should be a big future for us."
Falcons seek title repeat
In 2016, despite seven losses in the regular season, Briar Woods surged through the playoffs to win its first boys' lacrosse championship. The Falcons won another in 2018, absorbing just one loss along the way.
This time, the Falcons are unbeaten entering the grand finale, and no opponent in the postseason has come within five goals of them.
How good is this year's Briar Woods team, with its roster of 18 seniors? MaxPreps.com has the Falcons ranked 18th nationally, and No. 1 in Virginia.
"This is far and away the best team we've ever had at Briar Woods," Young declared.
Briar Woods will face Atlee (17-1) in the state final.
"From the start of the season, we circled Saturday, June 8, and we worked our entire schedule backward from that date," Young said. "We anticipated playing Atlee, because they have one of the best programs in the state and we have a ton of respect for them. It should be an epic state championship game."
Casteel said the Falcons are a tight-knit group who've known each other since elementary school.
"We have the best bond ever," the captain said. "On Saturday, we just need everyone to wake up feeling dangerous."
Four for four
A Loudoun varsity lacrosse team has earned a spot in all four of Saturday's state championship games for Class 5 and Class 4.
Along with Briar Woods, Freedom will aim to repeat as Class 5 girls' lacrosse champions. Freedom will face Atlee, also at Deep Run High School.
In the Class 4 state finals at Salem High School, Riverside will square off with E.C. Glass for the boys' title and Dominion will play Western Albemarle for the girls' crown.
Briar Woods 19, John Champe 7
Goals: BW 19 (Aaron Casteel 6, Nick Romano 6, Will Pompilio 5, Danny McMinn 1, Justin Rutkowski 1); JC 7 (Dalton Young 5, Carson Boyle 1, Joseph Kuhn 1)
Assists: BW 12 (Danny McMinn 5, Will Pompilio 3, Ryan Walther 2, Aaron Casteel 1, Justin Rutkowski 1); JC 2 (Dalton Young 2)
Saves: BW 5 (Tyler Twomey 4, Perry Williams 1); JC 5 (Carter Harrigan 4, Zander Riley 1)
-Photos by Tavan Smith