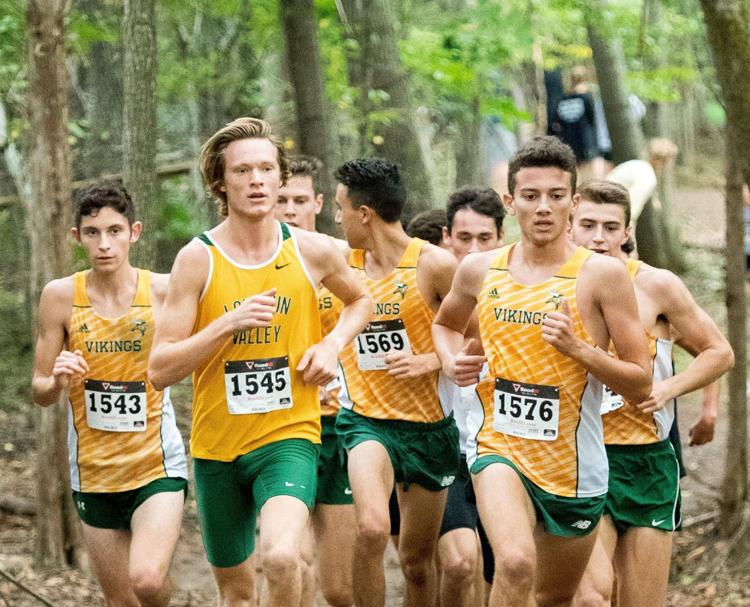 Several Loudoun teams and runners will enter the VHSL State Cross-Country Championships with plenty of momentum following strong performances at regional meets.
Loudoun Valley raced to boys' and girls' titles at the Region 4C meet Wednesday, while Briar Woods boys and Tuscarora girls claimed team crowns Thursday at the Region 5C meet.
Loudoun Valley's Jacob Hunter and Elise Abbe, Juan Moscoso of Briar Woods and Broad Run's Ellie Desmond each raced to individual crowns at their respective regional meet.
The VHSL Class 5 and Class 4 state meets are scheduled for Nov. 10 at Great Meadow in The Plains.
Region 5C cross-country meet
Boys Team
1. Briar Woods, 50
2. Freedom, 61
3. Stone Bridge, 74
4. Rock Ridge, 93
5. Tuscarora, 116
6. Thomas Jefferson, 117
7. Falls Church, 179
8. Thomas Edison, 191
Girls Team
1. Tuscarora, 51
2. Briar Woods, 63
3. Rock Ridge, 73
4. Freedom, 80
5. Potomac Falls, 93
6. Wakefield, 159
7. Thomas Jefferson, 184
8. Thomas Edison, 190
Boys Top 15
1. Juan Moscoso (Briar Woods) 16:20.28
2. Sammy Fellah (Tuscarora) 16:29.38
3. Tristan Brodie (Stone Bridge) 16:30.89
4. Evan Grace (Rock Ridge) 16:46.28
5. Will Pompilio (Briar Woods) 16:47.54
6. Sam Koltisko (Freedom) 16:48.15
7. Charlie Blundell (Rock Ridge) 16:50.55
8. Nick Mitran 9Stone Bridge) 16:58.99
9. Daniel Gittelman (Freedom) 16:59.51
10. Aidan Nathan (Briar Woods) 17:02.45
11. Clark Smith (Freedom) 17:03.30
12. Gregory Dalla (John Champe) 17:05.34
13. Sumedh Julapalli (Freedom) 17:11.56
14. Patrick Brown (Thomas Edison) 17:13.07
15. Daniel Umana (Rock Ridge) 17:15.02
Girls Top 15
1. Ellie Desmond (Broad Run) 19:03.30
2. Ava Gordon (Rock Ridge) 19:08.60
3. Abigail Church (Freedom) 19:38.10
4. Ava Hassebrock (Tuscarora) 19:43.30
5. Ann Marie Cargill (Briar Woods) 20:02.40
6. Hayley Eck (Potomac Falls) 20:08.30
7. Katie West (Tuscarora) 20:09.50
8. Izi Belogay (Potomac Falls) 20:10.00
9. Maya Porter (Freedom) 20:11.30
10. Nicole Winklosky (Briar Woods) 20:14.60
11. Kendall Garza (Briar Woods) 20:21.90
12. Lauren Gagermeier (Falls Church) 20:27.10
13. Taylor Semon (Rock Ridge) 20:29.90
14. Emmalee Ayala (Rock Ridge) 20:31.80
15. Sarah Gould (Tuscarora) 20:34.20
Region 4C cross-country meet
Boys Team
1. Loudoun Valley, 15
2. Fauquier, 101
3. Dominion, 113
4. James Wood, 117
5. Riverside, 122
6. Millbrook, 133
7. Sherando, 150
8. Heritage, 189
Girls Team
1. Loudoun Valley, 32
2. Millbrook, 66
3. Woodgrove, 81
4. James Wood, 85
5. Fauquier, 135
6. Dominion, 143
7. Loudoun County, 192
Boys Top 15
1. Jacob Hunter (Loudoun Valley) 16:31
2. Kellen Hasle (Loudoun Valley) 16:31
3. Sam Affolder (Loudoun Valley) 16:31
4. Jacob Windle (Loudoun Valley) 16:36
5. Carlos Shultz (Loudoun Valley) 16:37
6. Rylan Pettit (Woodgrove) 16:37
7. Nick Matthews (Fauquier) 16:41
8. Mateo Barreto (Loudoun Valley) 16:48
9. Omar Aougab (Dominion) 17:00
10. Nicolas Vandenheede (Dominion) 17:11
11. James Harris (Sherando) 17:19
12. Ethan Pierce (James Wood) 17:19
13. Kevin Carlson (Loudoun Valley) 17:20
14. Ty Waits (Sherando) 17:21
15. Brian Bolles (Fauquier) 17:25
Girls Top 15
1. Elise Abbe (Loudoun Valley) 18:57
2. Ricky Fetterolf (Loudoun Valley) 19:17
3. Jenny Schilling (Heritage) 19:44
4. Mackenzie Konyar (James Wood) 19:52
5. Sophie Hudak (Woodgrove) 19:57
6. Kaitlin O'Neill (Dominion) 20:27
7. Shelby Kostal (Woodgrove) 20:32
8. Alice Roberts (Loudoun Valley) 20:33
9. Madison Smith (Millbrook) 20:35
10. Angelina Guerrero (Millbrook) 20:42
11. Leah Snyder (Loudoun Valley) 20:45
12. Maddie Lloyd (Millbrook) 20:46
13. Caroline Bolen (Loudoun Valley) 20:48
14. Molly Robinson (Sherando) 20:49
15. Elena Farinholt (James Wood) 20:59