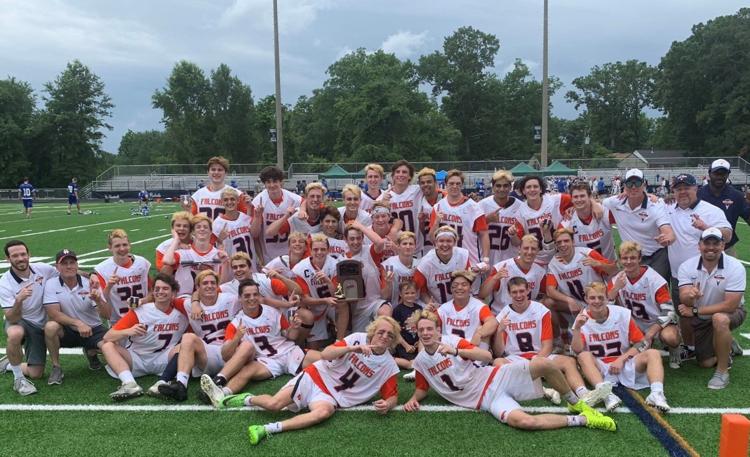 Despite entering the Virginia Class 5 boys' lacrosse championship game undefeated with an average margin of victory of more than 10 goals per game, Briar Woods head coach Marty Young knew his team would face a stern challenge from Region 5B champion Atlee.
"They have one of the best programs in the state and we have a ton of respect for them. It should be an epic state championship game," Young said following Briar Woods' 19-7 state semifinal win over John Champe.
Atlee provided that challenge Saturday at Douglas Freeman High School in Henrico, leading 5-2 early in the second quarter. Briar Woods was able to overcome the rare deficit to put the exclamation point on the best season in program history.
The Falcons (22-0) scored four unanswered goals to close the first half and open the second to build a 6-5 lead and held on for a 9-8 victory to secure their second consecutive state championship and third in the last four years.
Briar Woods, who rolled past Potomac District rival Stone Bridge 16-9 in last year's state final, also defeated Atlee by one goal in the 2016 state title game.
On Saturday, it was senior goalie Tyler Twomey and the Falcon defense that stood strong when it mattered most.
After Atlee (17-2) found the back of the net five times in the first 14 minutes of play, Briar Woods limited Atlee to just three goals during the final 34 minutes of regulation.
Seniors Danny McMinn, Will Pompilio, Aaron Casteel, Ryan Young and junior Ryan Nixon were first-team all-region performers for Briar Woods this year.
Marty Young, the Region 5C Coach of the Year, describes the 2019 Falcons as "far and away the best team we've ever had at Briar Woods."
Briar Woods will enter the 2020 season riding a 40-game winning streak.