The Broad Run Spartans ran past the Loudoun County Raiders 35-7 at home Friday in Ashburn to improve to 5-0 midway through the season. Broad Run's ground game was the prescription for victory and grew stronger as the game went on.
"We had to run the ball," Broad Run head coach Matt Griffis said. "Our O-line did a tremendous job with that. Our running back ran hard, our H-back did a great job blocking. I thought our kids did a great job."
Quarterback Mitch Griffis got the Spartans on the scoreboard first with a 3-yard touchdown run in the first quarter. The score was set up by an interception by Broad Run defensive back Isaiah Lemmond that gave the offense good field position.
Running back Bennett Millar got going in the second quarter for the Spartans. Millar took a handoff from Griffis on five consecutive plays and ended the drive with a 5-yard touchdown run.
"They knew we could throw the ball so they forced us to run it," Millar said. "Our O-line does it all for us. I just got to run behind them, they do most of the work."
Millar rose to the challenge of a heavy workload by surpassing 200 yards on the ground and scoring three touchdowns on the night. Millar was able to consistently grind out yards, averaging more than seven yards per carry.
"The great thing about him is he's a really good wide receiver too," Coach Griffis said of Millar. "He allows us to get into some other formations and not just sit in the backfield the whole time. A physical runner, with a little bit of a mean steak, he's a great tailback."
Trailing 14-0, the Raiders (4-2) had a few opportunities to stay close in the first half but were unable to convert. Quarterback Gavin Pitts connected with receivers Jimmy Kibble and Lucas McAllister through the air for back-to-back big gains. The drive came up empty when the Raiders' field goal attempt glanced off the left upright.
Loudoun County defensive back Willie Stringfield intercepted a Griffis pass on Broad Run's next possession to set up the Raiders deep in Spartans' territory. Loudoun County came up empty after Pitts was sacked by Broad Run linebacker Kante Mamadou on fourth down. Mamadou had two sacks and several pressures on the night.
The Spartans continued to administer a heavy ground attack in the second half. Millar scored on an 11-yard run on Broad Run's first possession of the third quarter to extend the lead to 21-0.
The Raiders best drive of the night began at their own 4-yard line. Sparked by a 28-yard pass from Pitts to Kibble and a 44-yard connection between Pitts and receiver Tariq Sims, Loudoun County scored its first points of the game. Aided by a pass interference call on fourth down, Pitts found Kibble on an 8-yard touchdown pass with 24 seconds left in the third quarter to close the gap to 21-7.
Broad Run's ground game and defensive pressure continued to be unrelenting in the fourth quarter. Millar scored again on a 15-yard run and Jayden Thornhill closed the game out with a 3-yard touchdown run vaulting Broad Run to the win. Kicker Isaac Latimer converted all five of his extra-point attempts contributing to a complete team win.
Broad Run travels to Purcellville next for a Dulles District road game against Loudoun Valley (4-2). Loudoun County returns home to play first-year Independence (0-6). Both games are scheduled for Oct. 11.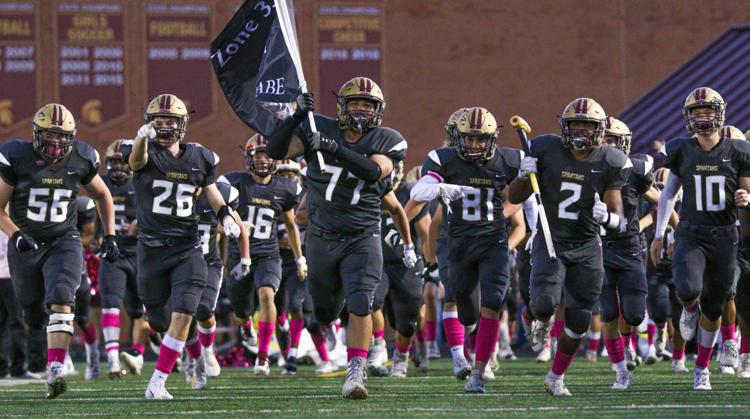 Broad Run 35, Loudoun County 7
First Quarter
BR: Griffis 3 run (Latimer kick) 4:40
Second Quarter
BR: Millar 5 run (Latimer kick) 6:46
Third Quarter
BR: Millar 11 run (Latimer kick) 8:06
LC: Pitts 8 pass to Kibble (Kibble kick) 0:24
Fourth Quarter
BR: Millar 15 run (Latimer kick) 8:51
BR: Thornhill 3 run (Latimer kick) 1:37
Offensive leaders
Passing: BR – Griffis (15 of 20 for 144 yards, 2 Int.); LC – Pitts (10 of 22 for 162 yards, TD)
Rushing: BR – Millar (26-201-3), Thornhill (3-26-1), Griffis (9-18-1); LC – Sims (4-18), Pitts (4-7)
Receiving: BR – Lemmond (5-68), Miner (3-34), Busser (6-33); LC – Kibble (5-79-1), Sims (2-48), McAllister (2-28)