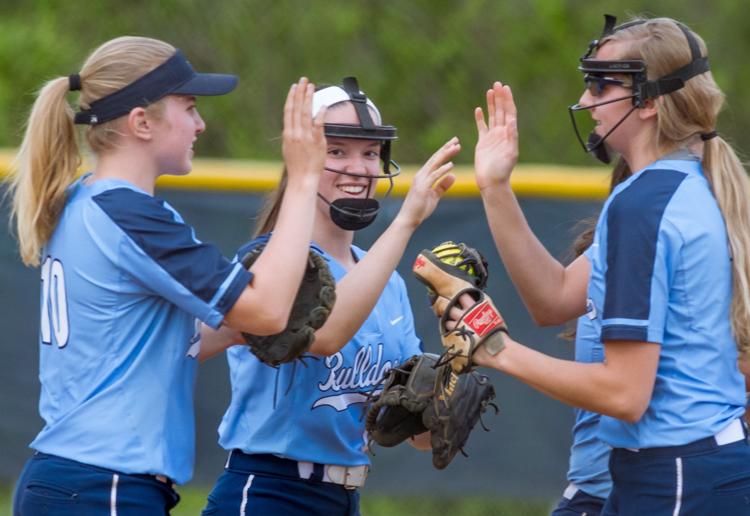 The Riverside Rams (baseball), the Woodgrove Wolverines (softball) and the Stone Bridge Bulldogs (softball) each won Virginia High School League state semifinal games Thursday to punch their tickets to Friday's state finals.
Riverside (18-7) defeated Great Bridge 3-0 in the Class 4 baseball semifinals at Kiwanis Field in Salem. The Rams advance to the state final for the second time in the last three seasons.
Senior Gunner Canary proved worthy of his recent first-team All-State selection in the semifinal win. Canary struck out seven in a complete-game shutout.
Riverside will play Lafayette for the state crown Friday morning.
Woodgrove (22-5) jumped out to a 2-0 lead in the first inning and never looked back in a 7-0 victory over Grafton in the Class 4 softball semifinals at Moyer Complex in Salem.
Starter Amanda Daniels pitched five-plus scoreless innings to earn the win. Maxine Barnes, Jaimee Hardy, Brooke Barker and Katie Merchant each had mutliple hits for the Wolverines.
Woodgrove will aim to win its fourth consecutive state title Friday against William Byrd.
In the Class 5 softball semifinals, Stone Bridge (26-1) punched its ticket for the state final following a thrilling 3-2 win over Glen Allen at RF&P Park in Glen Allen.
Trailing 2-1 after five innings, the Bulldogs scored two runs in the bottom of the sixth inning before starting pitcher Emily Sappington escaped a bases-loaded jam in the seventh to preserve the comeback win.
Stone Bridge will square off against Mountain View in the title game Friday in Glen Allen.
Friday, June 14
Class 4 finals
Baseball at Kiwanis Field
Riverside vs. Lafayette, 9 a.m.
Softball at Moyer Complex
Woodgrove vs. William Byrd, 11 a.m.
Class 5 final
Softball at RF&P Park
Stone Bridge vs. Mountain View, 12:30 p.m.
Thursday, June 13
Class 4 baseball semifinals
Riverside 3, Great Bridge 0
Lafayette 8, Liberty Christian 2
Class 4 softball semifinals
Woodgrove 7, Grafton 0
William Byrd 3, Great Bridge 2
Class 5 softball semifinals
Stone Bridge 3, Glen Allen 2
Mountain View 4, Mills Godwin 2