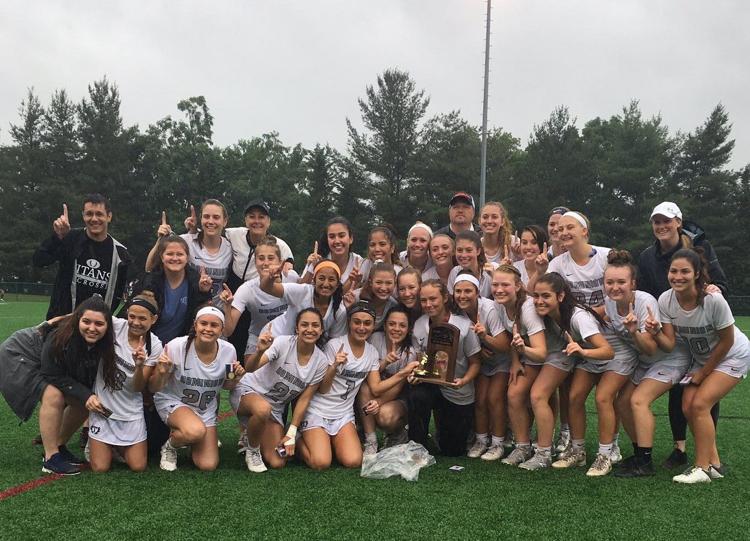 The Dominion Titans claimed the first girls' lacrosse state championship in school history June 8 with a 15-11 victory over Western Albemarle in the Virginia Class 4 grand finale.
The Titans (18-2) saw their opponents edge out to an early 5-3 lead as rain constantly poured over Salem High School in southwestern Virginia. But a sudden 7-0 outburst gave Dominion a 10-6 advantage by halftime.
The teams traded goals throughout the second half, and the Titans emerged with the program's first state title in its 16 seasons.
"We've really set a very consistent culture and tone for our program over the past few years," Dominion head coach Diane Traynor said. "We have had the same vision for the program - to be state champions - and everyone has had to buy into that vision."
To see themselves as state champs, the Titans had to get past rival Riverside, the champions of the Dulles District, in the state semifinals. They did, with a 10-8 win that avenged the Rams' 16-14 defeat of Dominion during the regular season.
That set the stage for the state championship, in which Dominion's youth came out to play.
Early in the championship contest, Traynor installed sophomore Tierney Schaible in the draw circle, resulting in series of offensive possessions for the Titans. Schaible teamed with fellow midfielders Jessie Lee, a junior, and Ashlyn Hickey, a freshman, to "begin to dominate the game," Traynor said.
Freshman Mya Brock and junior Katherine Eberhardt helped propel the Titans' offensive attack, winning draws and showing patience on offense. Senior goalie Katie Petersen backstopped the Dominion defense while holding Western Albemarle at bay.
Traynor credited freshmen Hickey and Molly Battaglia for playing "way beyond their years in a state title game" with a "combination of aggressive play and composure."
Late goals by Brock and Battaglia solidified the state championship victory for the Titans.
"Overall, all parts of our game started to come together and we felt confident in our play," the head coach said. "Confidence and composure on the field leads to good things happening."
Traynor noted the cohesion her team had demonstrated throughout the season, mixing established upperclassmen with a host of newcomers.
"We had so much talent this year, but talent only wins when you put it all together in a total team effort," she said. "Our younger players were embraced by our upperclassmen, which allowed them to step in and become instant impact players."
-Photos by Jeff Vennitti