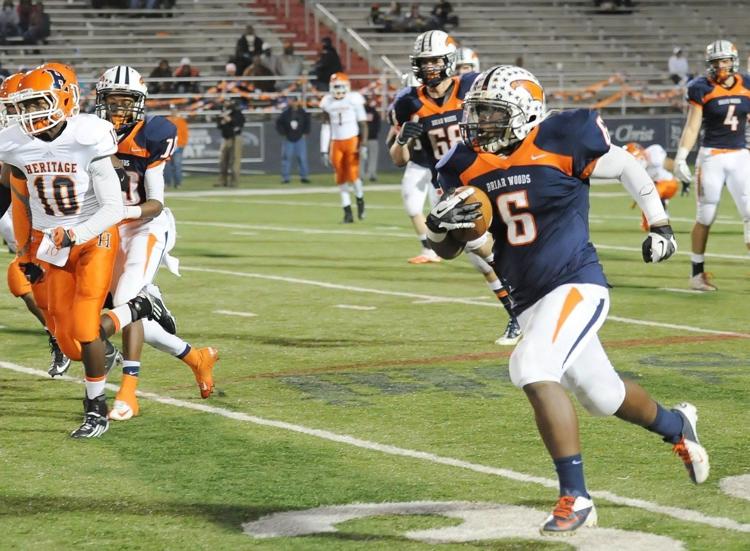 The direction of Cory Colder's life changed in March. That's when the all-time leading rusher in Briar Woods High School's history, fresh out of college, was hired by Valparaiso University to coach the football program's running backs.
In 2013 Colder graduated from Briar Woods, where he powered the Falcons to three straight state championships. He played four years at Division I East Tennessee State University, helping the Bucs win a conference title. Now he's taking the first step toward a dream job.
"If you had told me back in high school that at the age of 23 I'd be a college coach, I probably would have laughed at you," Colder said. "But I got really lucky."
No one in Falcons' history has rushed for more yards on the football gridiron than Colder, who piled up 2,834 yards and 43 touchdowns over his junior and senior campaigns. Briar Woods racked up a 29-0 record over that span, while Colder was named all-region both seasons and once an all-state honorable mention by the Virginia High School Coaches Association.
He prepped for one season at East Coast Prep in Great Barrington, Massachusetts, rushing for more than 600 yards to lead the team. That set him up for ETSU, for whom he put up 238 yards in 11 games as a freshman.
When a season-ending injury early in his sophomore year forced him to the sidelines, Colder saw the game he loves in an entirely new way - and liked what he saw.
"I was forced to take on a different role. I couldn't help the team on the field, but I wanted to help any way I could," he said. "That's what really gave me the desire to coach. I saw it as an extension of playing."
Colder returned to the field but kept serving as a de facto coach. In the classroom he obtained a degree in sports management, consistently making the honor roll. Upon graduation in 2018, he set his sights on his desired career.
"Obviously not everyone gets a chance to play in the NFL, but as a coach the opportunities are there," he said. "I wanted to be a college football coach. I applied on Football Scoop, a site with a lot of coaching listings. There was a brand new staff up at Valparaiso looking for young coaches."
Valpo's first-year head coach Landon Fox "took a chance" on Colder, thanks in large part to the recommendations of ETSU running backs coach Gary Downs and head coach Carl Torbush, he said.
In typical fashion, Colder has hit the ground running. Even though he's yet to don a headset on gameday, he's already putting in long hours drawing up the new staff's playbook, reviewing film and recruiting his territory, which includes Virginia.
"We're in there at 6:30 a.m. and not leaving until midnight, the first couple weeks," he said. "But it doesn't feel like work to me. I'm enjoying every second of this."
Even when he's off the clock, he can't shake the coaching bug. Colder coaches regional clinics for USA Football, helping out some of the nation's top high school talent.
Colder credits Briar Woods' former head coach Charlie Pierce, who helmed the Falcons during his four years, for instilling qualities Colder now takes into his own career.
"Tremendous mentor. He's definitely one of the reasons why I got into coaching, by teaching me about discipline and maturity," the former Falcon star said. "Kinda sad he's out of coaching now. I think he has a lot to give. Those were some the best years of my life, playing for him."
Colder rattled off some names of Briar Woods teammates from those championship years, finally stopping after about 10 names.
"Amazing experience with those guys. Those four years will always keep us together. I'm really grateful for my time at Briar Woods."
Some of Colder's earliest memories are as a five-year-old, playing football on the plains of Texas. By the time his family relocated to Brambleton before his freshman year, he'd grown into a star with a passion for the game.
"I love being around this game, but it's more than a game. It teaches life lessons like discipline, attention to detail, teamwork, camaraderie, all the little things that matter in all aspects of life, not just on the field," Colder said. "Football helps bring those things out."
In the long term, Colder aspires to jobs like offensive coordinator or head coach. But he says he's enjoying his first experience as a full-time football coach.
"It's not about worrying about where you're at now, it's about working to get where you want to go, each and every day," the Briar Woods product said. "I have a dream to make it to the top in the coaching profession."
Cory Colder
Resides: Brambleton
Occupation: Running backs coach
Employer: Valparaiso University
College: East Tennessee State (Class of 2018)
High School: Briar Woods (Class of 2013)
Achievements: Three varsity state championships; BWHS all-time leading rusher
Twitter: @CoachColder
Motto: Passion Over Pride