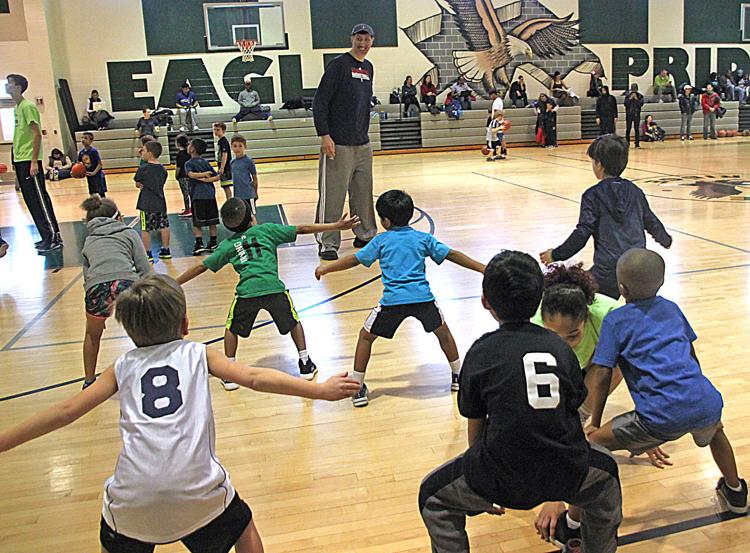 The gymnasium inside Eagle Ridge Middle School in Ashburn was filled with dozens of eager children on the morning of March 24. Kids ages 6-12 were there to participate in a clinic hosted by Gheorghe Muresan, a former NBA player with the Washington Bullets, now the Washington Wizards.
Children were offered the opportunity to participate in a free NBA-style clinic and learn the proper fundamentals and skills behind the game of basketball.
"I enjoyed a great run as an NBA player," Muresan said. Standing at 7 feet, 7 inches tall, Muresan played four seasons for Washington and earned the Most Improved Player award for the 1995-1996 season. That season Muresan averaged 14.5 points, 9.6 rebounds and 2.2 blocks per game.
"After I retired from professional basketball, I returned to the Washington area to give back to the community which, years ago, accepted me with open arms," said Muresan, who was was drafted by the Bullets in 1993.
Muresan founded the Giant Basketball Academy in 2004 with the aspiration to teach boys and girls the proper fundamentals of basketball. In addition to teaching fundamentals, the program focuses on teamwork, sportsmanship and positive participation. Muresan noted that values are an important part of the program as well.
The morning started with Muresan gathering excited children and parents to take pictures. Muresan introduced himself and a handful of assistant coaches with various athletic backgrounds. The nine assistant coaches were: Greg Harrell, Gray Goss, Zach Goss, Albert Blanks, Cameron Prince, Adrian Singletary, Alexis Chandler, Marty Gryski and Muresan's son, Victor Muresan.
Following introductions, participants were divided into age categories and sent to different rotating stations within the gym. A coach was responsible for each station and worked with the groups on offense, defense, dribbling, crossovers, layups, defensive stances, shooting techniques, agility and much more.
Throughout the clinic, the atmosphere in the gym was electric. Children were able to demonstrate current abilities while gaining self-esteem working on new skills. The loud dribbles and whistles were quiet compared to the roaring laughter and cheers.
"I love the energy from the kids," Muresan said with a smile.
After two hours of skills practice, children returned together to listen to Muresan and the assistant coaches talk about basketball and education. "Stay in school, read, do your homework and keep your grades up," said Muresan as parents in the periphery nodded in agreement.
At the conclusion of the clinic, Muresan signed autographs and again posed for photos. After high fiving the last few campers, Muresan had a contagious smile on his face. "These children give me such a good feeling. What can be better than this?," asked Muresan.
"Some kids go from my clinic, to playing in high school, to playing in college and I remember the time the kid first put the ball in their hands and shot their first shot," said Muresan with a reminiscent smile.
The Giant Basketball Academy will return to Loudoun this summer, allowing more children this opportunity. There will be summer camps in Leesburg, Ashburn, and South Riding.
To sign up for a camp or for more details, log on to GiantBasketball.com.