The sights and sounds of football in the trenches are exceptionally jarring. During Washington Redskins' training camp, the clashes between offensive and defensive lineman are a sight to behold with jerseys crashing into one another like freight trains.
During these encounters, the burgundy jersey with the white lettering of No. 93 seems to stand out. He shines through, with his agility, power and technique.
That's Jonathan Allen, a 6-foot-3, 300-pound defensive lineman set to enter his third season in the National Football League.
Before Allen was selected 17th overall in the 2017 NFL Draft by the Redskins, before he was a national champion at the University of Alabama, before he was the SEC Defensive Player of the Year and a unanimous All-American, Allen walked the halls of Stone Bridge High School in Ashburn as a student-athlete.
Allen spent four years at Stone Bridge, playing under the Friday night lights in numerous big games against rivals and heralded teams. He played on the biggest stages in Virginia, twice helping lead Stone Bridge to the state final.
At a school where rabid fans screamed his name from the stands, Allen was selected as the 2012 Virginia Gatorade Football Player of the Year to cap off an incredible varsity career in which he amassed 308 tackles and 44 sacks as a Bulldog.
It's not the accolades or accomplishments that Allen remembers most from his time at Stone Bridge. "I remember all the 7 a.m. lifts and all the conditioning and running after the game," Allen said.
Growing up in a military family, that culture of discipline and hard work started at a young age. That attitude was only reinforced under Stone Bridge head coach Mickey Thompson. Allen learned more about hard work from Thompson, gaining lessons he still uses today.
"He's a hard worker," Allen said of his high school coach. "That was the biggest thing I took away, just how to work day in and day out and how to lift and be consistent with what I do."
Thompson bears some key similarities to Allen's other coaches, Nick Saban and Jay Gruden. "They just want to win so much," Allen said. "They're willing to do anything to do it."
These lessons have all coalesced to form the player and teammate Allen is today. That teammate is one that places the goals of the team at a premium and works tirelessly to achieve them. That teammate is one that leads, both by example and in words, motivating in any way possible.
"I'm just trying to help my team win by any means necessary," Allen said. "If they need me as a leader, great."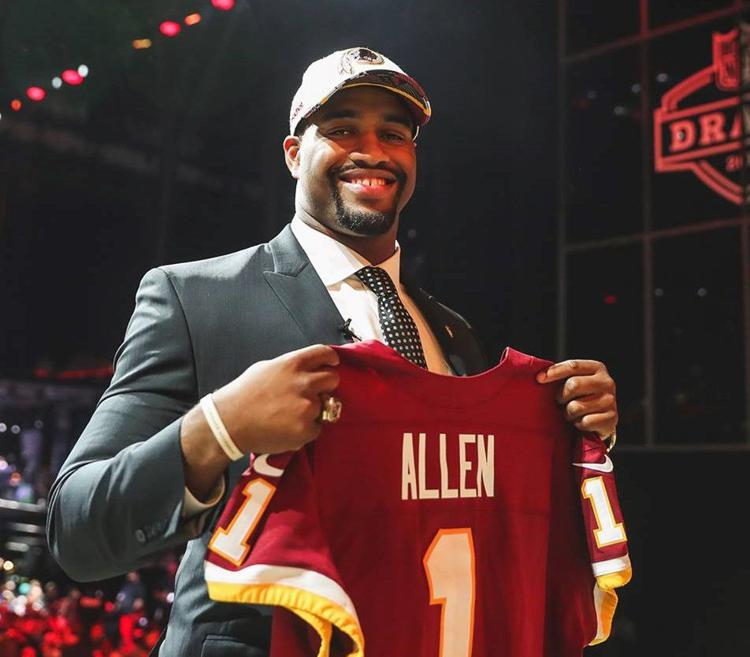 Kyshoen Jarrett, a defensive assistant for the Redskins, saw a great deal of improvement from Allen in that regard.
"You see Jon Allen taking on that role, with his communication and by leading by example. Him and Matt Ioannidis side-by-side together in that D-Line room create an atmosphere that seeks perfection," Jarrett said. "Just seeing his maturity over the last few years has been great."
Washington linebacker Ryan Kerrigan, a Pro Bowl selection each of the last three years, describes Allen as "an intense dude." Kerrigan added, "He's a leader even as a young guy and someone we're going to count on this year and in years to come."
Allen is like his coaches, he will do anything to win. He's grown throughout his career, evolving from the kid who walked the halls of Stone Bridge High School to the man who now looms large at Redskins Park in Ashburn.
In other words, Allen is ready to win.