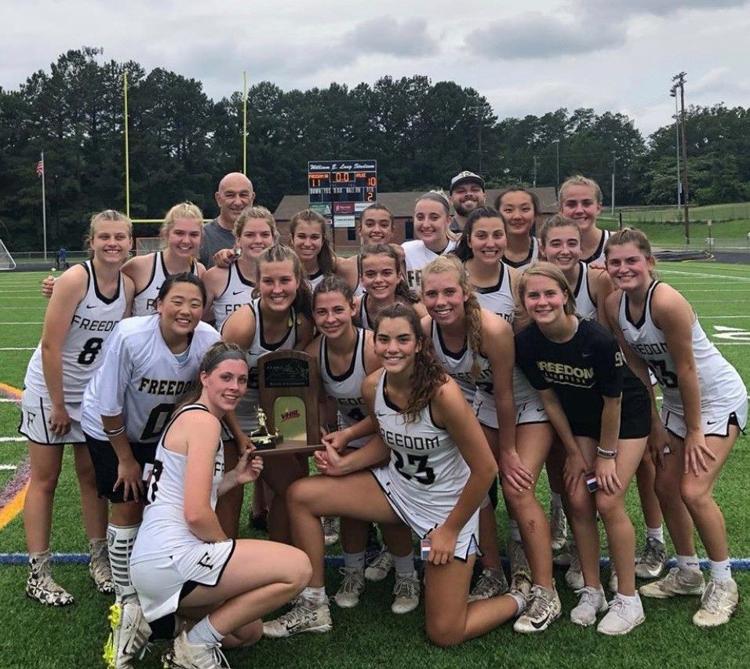 The Freedom Eagles defended their state title of a year ago by winning it all again, edging Atlee 11-10 in the VHSL Class 5 girls lacrosse championship Saturday at Douglas Freeman High School in Henrico.
The Eagles (18-4) saw their opponents score two goals with 10:30 remaining, taking a 10-9 lead. But the remainder of the game belonged to the girls from South Riding.
One minute after Atlee took the lead, sophomore midfielder Lindsey Ahn tied things up again, charging in close from a free position.
Five minutes after that, sophomore attacker Allison Ohri delivered Freedom's go-ahead goal, emerging from a triple-team defense to race across the crease and fling in a left-handed shot.
Atlee, who finished runner-up to the Eagles in last year's state tournament, got two more chances to even the score. But freshman goalie Alora Davis came up with saves on the Raiders' final two shots, keeping Freedom in front.
The Eagles' offense held possession of the ball as the clock expired on the game's last two minutes.
Ohri finished with a game-high four goals, while junior midfielder Emily Maier tossed in two and assisted on two others. The Eagles took only 15 shots to score 11 goals.
Defensively, Maier and senior defender Megan Pelletier corralled Atlee star Kate Miller throughout the contest. Freedom held Miller to a season-low three goals.
In net, Davis turned in a 12-save effort.
For veteran head coach Richard DeSomma, this year's Eagles edition was markedly different than the Freedom team that won the 2018 state crown.
"On our starting lineup we had six returning varsity players and six new to varsity-level lacrosse," he said. "It was a rebuilding of the whole team. Our girls steadily improved, both individually and as a team.
"By the time we got to the regional finals and won, we knew we had come together enough to be competitive at the next level."