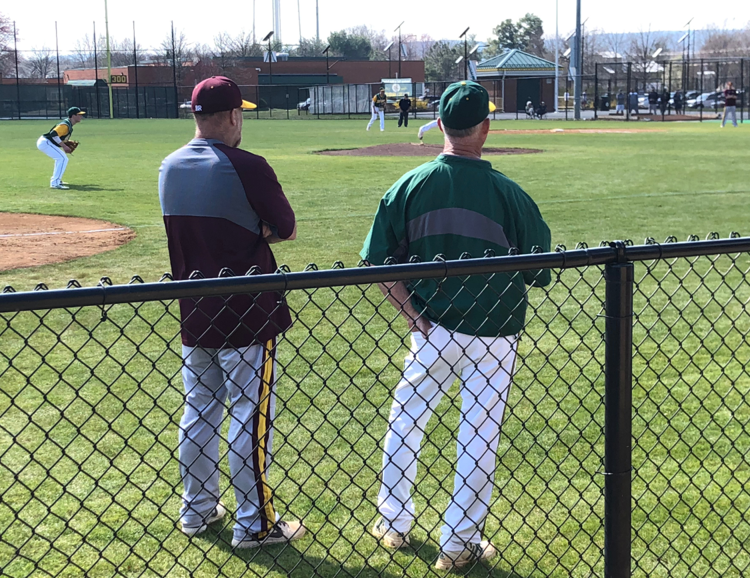 Loudoun Valley senior right-hander Michael Grupe tossed a seven-inning complete game to lead the host Vikings to a 4-1 win against the Broad Run Spartans in non-district baseball action Saturday afternoon in Purcellville.
Valley (6-1) wins its sixth consecutive ballgame, while Broad Run (5-3) sees a three-game win streak end.
After the Spartans tied the game 1-1 on a fifth-inning wild pitch, the Vikings strung together singles by Reese Goodlin, Brad Walker and Jon Sedmak, plus an RBI fielder's choice by Joseph Donofrio, to put up two runs in the home half.
Grupe set the visitors down one-two-three in the sixth. In the seventh, the Virginia Tech commit allowed singles by Broad Run's Justin Rebok and Quinn Stromberg to bring the potential tying run to the plate, but induced a popup to end the game.
"Defensively we played exceptionally well. Michael pitched well - didn't have as many strikeouts as he probably would have liked, but he had to pitch today. Not his best fastball but had good stuff," said Loudoun Valley head coach Wayne Todd.
Grupe struck out five and allowed five hits in seven innings to earn the win. Rebok took the loss, surrendering three runs on six hits in five innings.
"We were a little out of kilter offensively. We did some things probably the fan wouldn't have seen, little things we've got to clean up," Todd said, noting a baserunning mistake and a missed sign.
Todd had just overseen the 502nd win in his head coaching career. The 500th came March 28 versus rival Loudoun County in walk-off fashion. He is the sixth head baseball coach in Virginia High School League history to reach the milestone.
A pre-game ceremony acknowledged the coach's achievement, amassed at Broad Run from 1978 to 1996 before he took over the program at his alma mater in 1997. Dozens of former players were in attendance.
"It was greatly appreciated. I literally did not know that was happening," Todd said. "I don't want it to be an individual thing. It's got to be about the team. I don't want to take away anything from the team.
"But this down here was really special. I had no idea all those people were here. That was pretty special."
One former player under Todd is Pat Cassidy, who went on to a lengthy tenure as the Spartans' head coach and, after a brief hiatus, has returned as an assistant coach.
Cassidy said Todd was demanding as a coach, but his brutal honesty has been a virtue.
"He's always been demanding of his players and his teams and he expects you to compete every day. He'll let you know when you play good and when you play bad," Cassidy said. "He doesn't lie to his teams and that's why teams get better playing for him."
The Times-Mirror will spotlight Todd and his 500-win head coaching career in another story later this week.
In the game, Cassidy managed the Spartans in the temporary absence of head coach Tommy Meier.
"I think we shot ourselves in the foot with four errors and missed a couple signs. Loudoun Valley's a good baseball team," Cassidy said. "We swung the bats aggressive today, but we got to clean up things defensively."