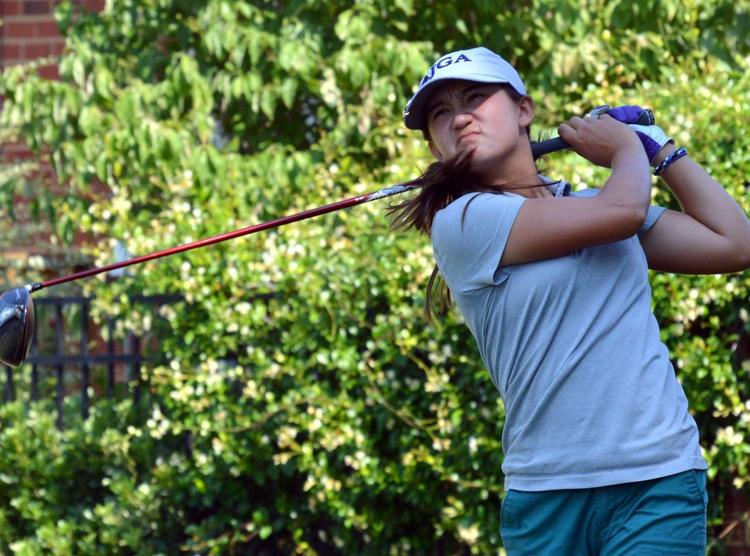 Following an opening round of 74, Sydney Hackett of Ashburn rebounded with a 67 on the second and final day of the 50th VSGA Junior Girls Championship, contested July 29-30 at Broad Bay Country Club in Virginia Beach.
Hackett's 4-under par round of 67 was the second best round of the day among all competitors. A 36-hole total of 141 earned Hackett, a 15-year-old student at Rock Ridge High School, a tie for third place in the overall standings and a first-place showing in the ages 14-15 division.
Norfolk's Becca DiNunzio, an incoming Virginia Tech freshman, produced rounds of 69 and 65 to win the overall title with a two-day total of 134.
Rory Weinfurther (138) of Midlothian finished second and Danielle Suh (141) of Herndon tied Hackett for third place.
Julie Shin (143) of Brambleton delivered rounds of 73 and 70 to place in a six-way tie for fifth.
Final leaderboard
Rebecca Dinunzio (Norfolk), 69-65--134
Rory Weinfurther (Midlothian), 69-69--138
Sydney Hackett (Ashburn), 74-67--141
Danielle Suh (Herndon), 70-71--141
Isabel Bae (Bristow), 73-70--143
Ester Choi (Midlothian), 71-72--143
Paris Fieldings (Suffolk), 72-71--143
Sue Lee (Lorton), 74-69--143
Julie Shin (Brambleton), 73-70--143
Melanie Walker (Burke), 73-70--143
Jayde Dudley (Roanoke), 74-70--144
Hope Garcia (Suffolk), 72-75--147
Kaitlyn Mosdell (Roanoke), 72-75--147
Katie Park (Fairfax), 71-77--148
Victoria Tip-Aucha (Vienna), 73-75--148
Rachel Detore (Spotsylvania), 72-77--149
Alisa Caraballo (Toano), 76-74--150
Vynie Chen (Centreville), 74-76--150
Breanna Trombetta (Poquoson), 73-77--150
Vivian Hui (Charlottesville), 77-74--151
Amber Mackiewicz (Virginia Beach), 72-79--151
Tatum Walsh (Midlothian), 78-73--151
Christina Cupelli (Fairfax), 78-75--153
Caleigh Street (Jewell Ridge), 76-77--153
Faith Garcia (Suffolk), 75-79--154
Emma Landis (Virginia Beach), 76-78--154
Jane Thompson (Harrisonburg), 78-76--154
Reagan McCoy (Virginia Beach), 77-78--155
Rayab Lee (Springfield), 80-78--158
Delaney McCoy (Virginia Beach), 84-74--158
Nichole Trombetta (Poquoson), 78-80--158
Elsie MacCleery (Crozet), 79-81--160
Gabbie Hollberg (Mosely), 83-79--162
Rebecca Sun (Virginia Beach), 81-84--165
Abby Hunter (Blacksburg), 90-79--169
Carly Tucker (Chesapeake), 81-89--170
Arria Gross (Center Cross), 88-84--172
Meg Lavinder (Mechanicsville), 87-85--172
Addie Doroh (Charlottesville), 88-86--174
Allison Douglas (Covington), 89-89--178
Stella Johnson (Virginia Beach), 88-90--178
Chelsea Kim (Chesapeake), 89-90--179
Lilly Hall (Yorktown), 88-92--180
Alexis Danielle Goboy (Chesapeake), 92-89--181
Barrett Butler (Bristow), 90-93--183
Emily Hamp (Waynesboro), 98-100--198
Riley Hamp (Waynesboro), 104-104--208
Izzie Watson (Great Falls), 105-104--209