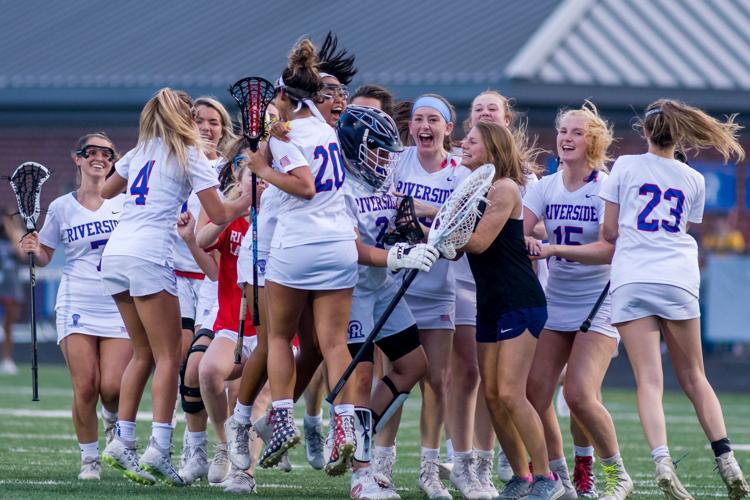 The Riverside Rams scored the final three goals of a Dulles District girls' lacrosse showdown against the visiting Dominion Titans to earn a a 16-14 victory May 3 in Leesburg.
The Rams (12-0, 5-0 in the Dulles District) ended the game on a 5-1 run and held Dominion (12-1, 5-1) without a goal over the final 12 minutes, turning around a contest that leaned the Titans' way throughout the first half and much of the second.
It was the latest edition in a budding rivalry. The Rams and Titans met three times last year, including twice in the postseason.
"Do I look older than I was when we started that game?" joked Riverside head coach Kristan Ash. "I feel like I aged 12 years in that one. These guys [Dominion] always bring an exceptional game. It's become quite a competition between us."
After goals from Keke Keyser, Bryn McCaughey and Lilly Boswell gave Riverside its first lead, the Rams won draws, picked up ground balls and played keepaway in their offensive zone for the remaining five minutes.
When the final second ticked away, the Riverside players raced joyously onto their home field to celebrate the win and the continuation of their unblemished season.
"We started to connect on better passes, wait for better looks. Our defense really turned the volume up. We started to play more strategically with the draws," said Ash, who has led the Rams' program since it started four seasons ago, winning the Virginia Class 4 state championship last year.
"They just decided that this is not how this game is going to end," she continued. "We saw just great play in every zone."
Junior goalkeeper Mia Paschuck turned aside six Dominion shots, while the Rams were led offensively by McCaughey's five goals, Boswell's four and Keyser's three. Junior midfielder Jenna Greason handed out four assists, while senior midfielder Sydney Ash had three helpers.
Dominion dominated the contest's early going as freshman Ashlyn Hickey won a series of draws to gain possession, followed by well-executed plays in the offensive zone. The visitors led 5-1 after nine minutes and 11-7 late in the first half.
"We know Riverside well. Amazing players, amazing coaches," said Dominion coach Seth Blackwell, leading the Titans in the temporary absence of head coach Diane Traynor. "But this was great for our freshmen who've never played Riverside before, and they delivered for us."
Early in the second half, a 3-0 run pulled Riverside within one, but Dominion answered when junior midfielder Mya Brock passed to a running Tierney Schaible for a score.
With 15 minutes left, the game stood at 13-11 in the Titans' favor. That's when the Rams began their comeback, winning draws and scoring goals from their set offense.
Boswell and McCaughey scored to tie the game, answered by Dominion junior Jessica Lee. But the Rams' turned up the pressure, using a decisive three-goal run to surge to victory.
"They just rally together when the going gets tough," said the Riverside coach of her own team. "They never consider themselves out of it."
Schaible finished with a game-high six goals for Dominion, while Brock put in four and freshman Molly Battaglia scored two. Lee assisted on two Titan goals.
Dominion's senior goalkeeper Kate Petersen made six saves.
"We're bummed, but we know we can hang with them," Blackwell said. "We've had an amazing season. This is a great building block for the road ahead."
The matchup was the closest either side has experienced to date this spring. Dominion entered with an average margin of victory of 13.7 goals, while Riverside had been defeating opponents by an average of 14.9 goals.
Both the Rams and the Titans have one more regular season game to go before the onset of the postseason.
Photos by Tavan Smith