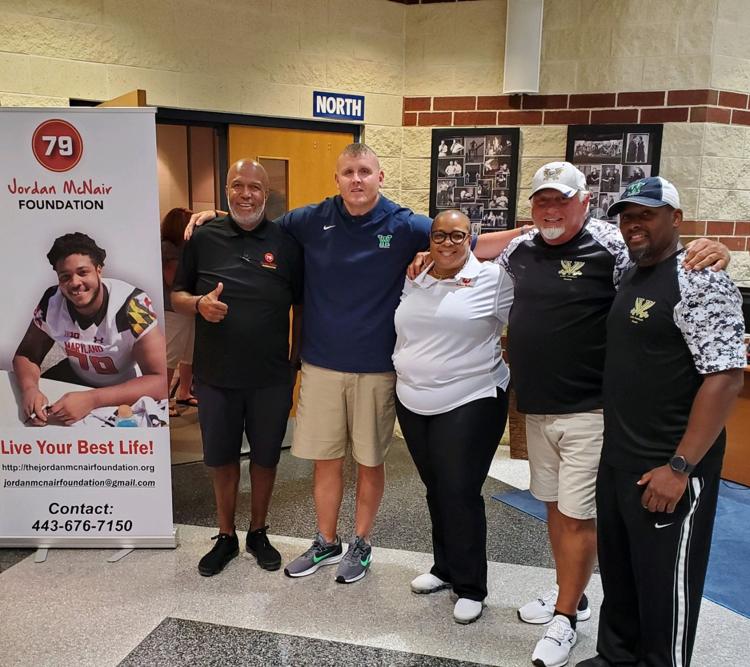 When athletes take the field in the summertime, the battle isn't just against the competition. They have to fight off the Sun, too.
Heat stroke is the third most frequent cause of death among high school and college athletes in the United States - and it's always preventable, says local youth football coach Rusty Markland.
"When our kids go out to play sports, we're all just one phone call from our knees," said Markland, a coaching veteran of 35 years and head coach of the Loudoun County War Eagles travel youth football teams.
At Markland's behest, some 150 coaches, parents and young athletes attended a heat-illness seminar July 18 at Woodgrove High School, held by The Jordan McNair Foundation.
McNair was a 19-year-old sophomore football player at the University of Maryland who fell victim to heat stroke during an open-air workout last May, as his core temperature rose to 106°. He was taken to a shock trauma ward and underwent a liver transplant, but died two weeks later.
Three days thereafter, McNair's parents Marty and Tonya Wilson began the foundation in their son's memory and made the dissemination of facts about heat illness its central mission.
The foundation regularly gives clinics and seminars to youth sports organizations around Washington and Baltimore, and provides cold-water tubs to groups nationwide. Marty McNair said the foundation has reached 38 states and more than 120 clubs from a variety of sports.
"We didn't want any other parents to feel what we felt," McNair said. "We are turning our pain into purpose, educating other parents about awareness and prevention of heat injuries."
He added, "Heat stroke is 100% preventable."
The War Eagles have a personal connection to the McNair family. Leesburg native Johnny Jordan was a War Eagle before signing with Maryland, where he was roommates and friends with McNair.
"We're close with Johnny's family, so when that incident happened, it was a heavy impact on all of us," Markland said.
The tragedy incited Markland to begin an awareness campaign about heat stroke. Educating parents and coaches is vital, he says.
"I've been coaching for 35 years and I wasn't aware of the dangers or what to do to stop it," he said.
Markland stresses that it's essential to lower body temperature as quickly as possible. An ice-water submersion from the neck down is the best way to dissipate excess body heat rapidly.
If a cold-water tub is not available, the TACO method - Tarp-Assisted Cooling with Oscillation - is a potentially life-saving technique. The victim is placed on a tarp and covered in water and ice, then the tarp is lifted up on opposite sides (like a taco) and the victim is rolled back and forth to slosh water over their entire body.
Emergency services should be called right away, but moving a heat stroke victim may only increase the likelihood of fatality. The victim must be cooled down quickly on site before being transported to a medical facility.
Markland added that a plan must already be in place before a heat emergency occurs, with duties assigned in advance to each coach, parent or responsible party.
"It must be addressed immediately," he said. "Once the body's core temperature gets above 104°, the organs begin to actually cook. Every second counts."
More information can be found at TheJordanMcNairFoundation.org.
McNair spoke about the clinic the foundation held at Woodgrove.
"Johnny's mom Rebecca made some connections with us and Coach Rusty, so we came down to educate the parents," McNair said. "It was a pleasure to deal with."
Markland said he looks forward to the McNair Foundation's return to Loudoun, after the War Eagles' upcoming 10-game fall season.
"We need to raise the bar on heat stroke awareness. I'd like to see more of the youth programs there, more high school trainers there," Markland said. "If we can save just one life, it would be worth it."
Signs of heat exhaustion:
Stomach cramps
Dizziness
Loss of coordination
Dehydration
Signs of heat stroke:
Body temperature above 104°
Increased heart rate and/or breathing
Seizures
Nausea or vomiting
Altered consciousness
Before heat exposure:
Have an Emergency Action Plan in place
Keep water, ice, tub, tarp and cooling equipment under a tent
Assign responsibilities to each coach
In case of heat stroke:
Call emergency services
Remove equipment and excess clothing
Immerse victim in cold water (tub or TACO)
Do not move victim until temperature falls to below 102°, then transport to nearest medical facility