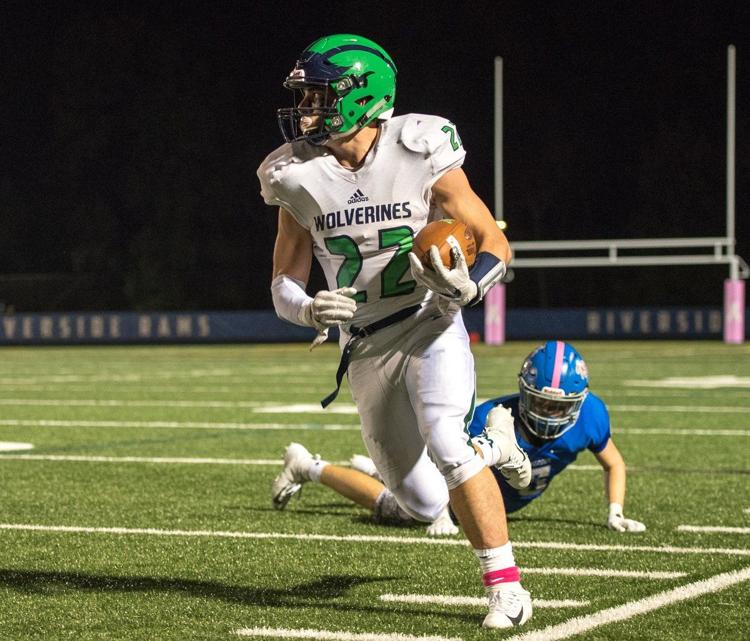 Surveying the local football landscape entering the 2019 season, the one constant appears to be change.
Newness abounds around Loudoun's 16 public high school football programs - including the fact that there are 16, with the Tigers of Independence High School now on the prowl.
Additionally, new head coaches lead six other schools: Dominion, Freedom, Heritage, Loudoun Valley, Rock Ridge and Woodgrove. Park View returns to the varsity mix in 2019 after playing a JV only schedule last season.
Woodgrove moves to Class 5 after conquering Class 4 last year as state champion. Riverside is also on the move, joining Woodgrove in Class 5. Broad Run and Tuscarora shift from Class 5 to 4, while the John Champe Knights become Loudoun's first-ever Class 6 program, competing against Virginia High School League's largest schools.
Even Stone Bridge, perhaps the state's most consistent winner, features new looks on offense and defense, according to the Bulldogs' 20-year head coach and program architect Mickey Thompson.
With so much new this season, it's time to take a closer look starting with the Class 5 schools that form the Potomac District.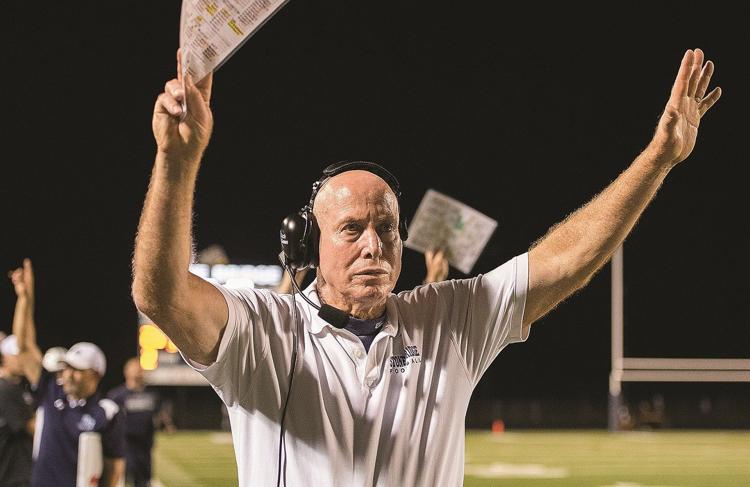 Class 5 Potomac District
It's not only last year's state title that gives Woodgrove Wolverines head coach Derek Barlow confidence heading into their first season in Class 5. It's that Barlow has been there before.
"I vividly recall being at Stone Bridge and moving up to 5A in 2005. Buzz among coaching circles was that we would struggle," he said.
Barlow and Thompson disagreed.
"Mickey basically said, 'Football is football and I don't care where you put us, we'll win.'" Stone Bridge won 12 games that year.
Woodgrove won 11 last year to claim the Virginia Class 4 crown and enters Class 5 with seven returning defensive starters, including linebacker Price Williams Jr., who is getting interest from the University of Virginia and Vanderbilt, and Georgia Tech commit Jared Behrens, an outside linebacker transfer from Flint Hill.
Barlow, who assisted for seven seasons under Woodgrove's just-retired head coach Mike Skinner, said he expects defense to carry the Wolverines early.
He looks to develop an offense with a new quarterback and a new set of offensive linemen. Brett Johnson transfers after starting multiple seasons as Heritage's QB, backed by returning running back KJ Lewis.
Developing depth will be the Wolverines' biggest challenge as a new Class 5 program, Barlow expects.
"I found the only big difference in jumping up to 5A is depth. Less teams play kids both ways," he said.
Depth doesn't figure to be a problem for Woodgrove's new Potomac District rival, the Stone Bridge Bulldogs.
"I'm a little more excited this year than I've been in probably 10 years, maybe 15 years. There are a lot of changes, a lot of new stuff happening," Thompson said. "A lot of great players with great attitudes."
Thompson raved about his arsenal of skilled players, including running back Jared Cole, a University of Massachusetts commit, and wideout Tai Felton, who's receiving heavy college interest.
At QB is junior Billy Wiles, who Thompson says has the "it" factor.
"Billy's play gets better under pressure," Thompson said. "Guys have confidence in him. He's the total package that every coach wants leading his team."
Danny Garrity and Jonathan Milles return as offensive line starters.
Eight Bulldogs so far hold college offers, while they seek to put Stone Bridge back in the state finale. The Bulldogs have made state championship games in three of the last four and nine of the last 14 seasons.
Thompson hinted at new schemes on both his famous single-wing offense and on defense, with first-year coordinator Billy Rice.
"I'm excited to see what this will produce," he said. "We're focused on the end product and developing players to get where we need to go at the end. We've been there many times, we need to get there the right way this time."
Like Stone Bridge, the Briar Woods Falcons sport new coaches under second-year helmsman Daniel Bruton. Defensive coordinator Seth Alberts moves from Dominion, while former Washington Redskin Reggie Evans coaches inside linebackers.
Junior Evan Rutkowski will contribute at "all three levels on defense, receiver, H-back, running back and backup quarterback," Bruton said.
At QB is returning starter Christian Greene, a junior who can pass or run. He'll work behind a mostly new offensive line.
Once a playoff mainstay, the Falcons haven't won more than four games since 2014. Bruton is determined to get Briar Woods back.
"Our goal is to play at least 11 games this year," he said. "I love coaching these kids. They are intrinsically motivated and want to be good."
The Freedom Eagles seek the program's first winning campaign as former offensive coordinator Zach Barnisky takes over as head coach.
Cole Singer returns as starting offensive lineman and linebacker. Tyler Knapp is back at defensive back, and competes for the QB job with returning starter Alec Maggio.
With an increase in off-season participation, Barnisky said the motto for the Eagles is to "TAKE FL19HT."
Veteran coach Paul Barnes of the Potomac Falls Panthers has a stable of senior leaders, including QB Leo Burns, LB Will Misch and WR Jalen Coker, a Holy Cross commit. They're among the Panthers' seven returning defensive and eight returning offensive starters.
"One thing that really stands out is this team's work ethic," he said. "The camaraderie among the team is fantastic."
Barnes said his team is faster than ever and features depth along both lines.
"For the first year since I've been head coach, I feel our depth is not going to be a problem," he said. "This is probably the most complete team we've had."
Since the Riverside Rams were born five years ago, they've upped their wins from zero to two to four to eight, earning their first playoff spot last year.
Founding head coach Brian Day says the Rams are ready for the jump to Class 5.
"As the school has grown, so has our talent base," Day said. "We want to become a program who year in and year out is challenging for championships."
Riverside returns seven defensive starters including all-region DB Jack Selman, and six offensive starters including multi-year staring OL Ryan Turner. Dominion transfer AJ Darr starts at QB.
"We don't have any big star recruits, but we have a good group of kids who are hungry to win and prove themselves."
Coming off a one-win campaign, the Rock Ridge Phoenix welcome new head coach George Masten, who took George Marshall from winless to district champion in four years.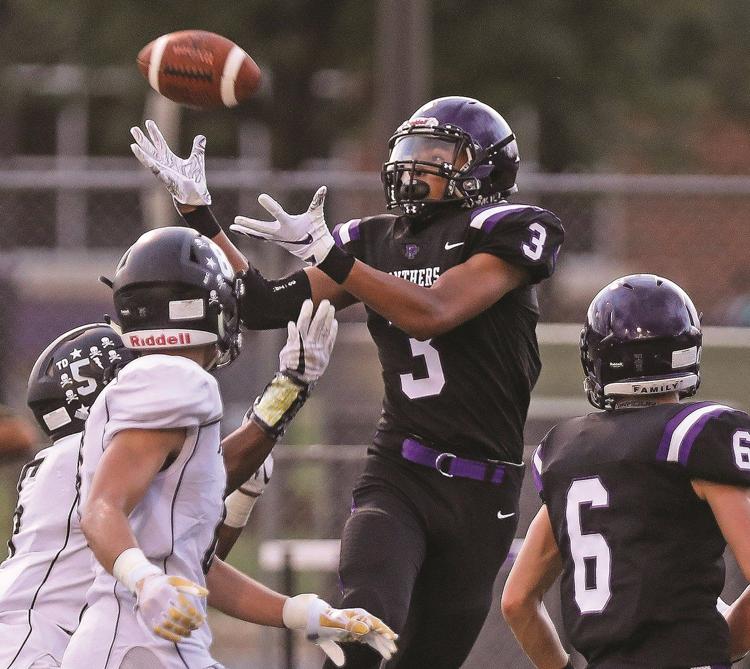 Class 4 Dulles District
Much might be expected of the Broad Run Spartans, given that they won 11 games and the Potomac District last year and are in the Class 4 Dulles District this year.
Add multi-year starting QB and Wake Forest commit Mitch Griffis, returning WRs Jake Busser and Romy Miner, and returning LBs Kesean Dyson and Chaz Allison, and 10-year head coach Matt Griffis likes the potential.
"We expect the offense to be productive," the coach said, noting that 1,000-yard rusher Tim Baldwin transferred away, but a plethora of talent remains. "It should be a fun year. Our kids have tremendous football IQ which allows us to [do] some things offensively that this area has never seen, scheme-wise."
Broad Run held opponents to an average of 5.7 points in last year's regular season.
"We had a great season on defense last year and feel this group has the potential to be just as good," Griffis said.
Like Broad Run, the Tuscarora Huskies move from the Potomac to the Dulles with an established record of success and a roster loaded with returning starters.
Second-year head coach Brandon Wheelbarger returns 15 starters, noting "our best players are also our hardest workers."
Ethan Gick is back as a dual-threat QB, while twin brother Noah is a pass-catching tight end receiving college interest. Wideout Jevonn Gilyard is a home run hitter, and sophomore RB Bryce Duke brings a 4.5-second 40-yard sprint and good vision to the field, Wheelbarger said.
Junior defensive lineman Matei Fitz already owns the Huskies' career sacks record. Placekicker Max Skirkanich has college-level accuracy and range.
"I'm excited about the team we have," Wheelbarger said.
Excitement describes what new head coach Drake Woodard brings to the Dominion Titans. The 28-year-old was Rock Ridge's defensive coordinator last year after a five-year stint coaching at Shenandoah University.
He'll work with a squad that brings experience along the lines, headed by 6-foot-7, 285-pound Jimmy Christ, a University of Virginia commit. Wide receiver Trey Hayes is the primary offensive threat.
"We define success by starting fast, finishing strong," Woodard said. "If we're able to display a relentless approach to the start of every practice, workout, and game, then have an attitude to fight until the clock hits zero, we'll be happy with the result."
Like Woodard, Joe Cockerham of the Heritage Pride is a former college coach now debuting in Loudoun's high school ranks. He was on staffs at five universities and three high schools before taking over the Pride.
Heritage boasts plenty of wide receiver talent, Cockerham said, led by senior Aalijah Smith and juniors Christian Contreras and Max Jannes. Senior Alex Preble lines up at RB or slot WR.
Junior Collin Bridge is a two-way contributor as inside linebacker and left tackle. Defensively, the Pride are led by fourth-year starting LB Garrett Griffin and senior cornerback Loic Ndjomgoue.
"We'll be a young football team, therefore our success will be defined by the ability to continue to improve each and every day," Cockerham said.
The Independence Tigers may be the newest program in Loudoun, but they're led by a man with 30 years of coaching experience.
RJ Windows takes the reins after coordinating Stone Bridge's defense in his most recent stint. He noted Class 3 Independence saw 80 players come out for football, letting the program field varsity, junior varsity and freshman teams from the get-go.
Having no seniors pleases Windows.
"What's great about these kids is they're all coming back next year," he said. "We haven't even had a season with them and we know we get them for [at least] two seasons."
From the county's newest school to its oldest, the Loudoun County Raiders racked up nine wins last year, losing only to eventual state champ Woodgrove. Veteran head coach Tony Rayburn hopes the season proves pivotal.
"We have potential with the kids coming back to be successful and competitive again," he said.
Linebackers will be a defensive strength, with returners Willie Stringfield, Noah Lokey and Luke McAllister. Offensive producers figure to be returning wideouts Tariq Sims, Joseph Groves and sophomore Jimmy Kibble.
Rayburn said County's schedule is tougher this season than last.
"It will be a challenging year, but we have to be ready as every game is a big game," he said.
County's traditional rival, the Loudoun Valley Vikings, have a new coach in David Bishop. He has 15 years of experience and will lead Valley's defense himself.
Six-foot-5 defensive end Cooper Thunell rushes the QB from the edge, while senior Antwoin Stokes anchors the secondary. Linemen Mason Raymer and Nate Collora show adept footwork despite both weighing around 300 pounds.
As a certified strength trainer, Bishop likes to join players in the weight room.
"I try to model the importance of preparing your mind and body for this game," he said.
The game is back at Park View after a one-year hiatus from varsity football. Josh Wild enters his 16th season overall as a football coach with a rebuilding project.
The Patriots went 2-8 in JV last year, with more than half the roster new to the sport. The team participated in various off-season camps and weight training.
"Things are really looking good across the board," Wild said. "We've had a really good offseason. We're happy with where we are at this point."
Class 6 Cedar Run District
Other than Independence, perhaps no team will experience more newness than the John Champe Knights. Champe moves to Class 6, becoming the first Loudoun program to compete at that level.
"Each week will be new and exciting," said head coach Jason Dawson, leader of the Knights since their 2012 inception. Champe's schedule features seven teams they've never played before.
Zack Jackson returns as QB, along with top target WR Tyler Savage, an East Carolina commit. The Knights will rely on rising talent from a JV squad that went undefeated last year.
"We have always said here at Champe we just want the chance to compete who, when, and where has never mattered."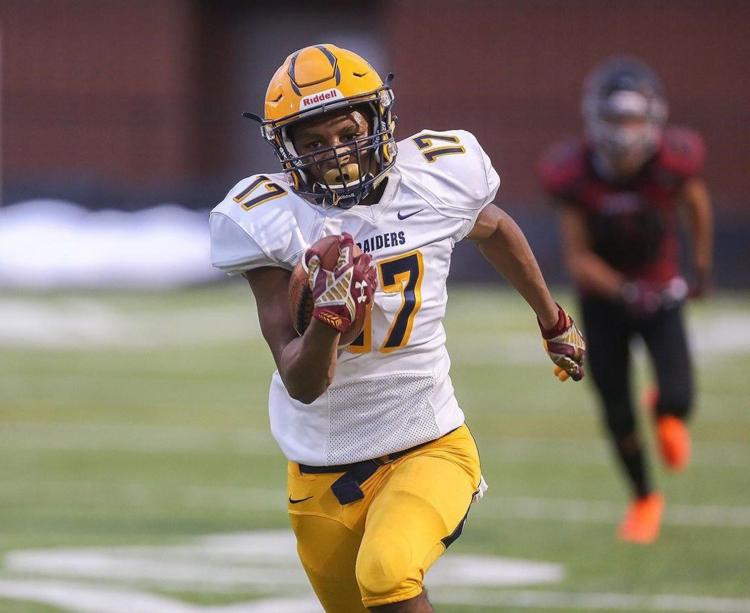 Briar Woods Falcons
Town: Ashburn
District: Potomac
Region: 5C
Coach: Daniel Bruton
2018: 3-7, tied for fifth in Potomac
Broad Run Spartans
Town: Ashburn
District: Dulles
Region: 4C
Coach: Matt Griffis
2018: 11-2, district champions, two playoffs wins
Dominion Titans
Town: Sterling
District: Dulles
Region: 4C
Coach: Drake Woodard
2018: 3-6, tied for fourth in Dulles
Freedom Eagles
Town: South Riding
District: Potomac
Region: 5C
Coach: Zach Barnisky
2018: 0-10, eighth in Potomac
Heritage Pride
Town: Leesburg
District: Dulles
Region: 4C
Coach: Joe Cockerham
2018: 5-5, tied for fourth in Dulles
Independence Tigers
Town: Ashburn
District: Dulles
Region: 3B
Coach: RJ Windows
John Champe Knights
Town: Aldie
District: Cedar Run
Region: 6B
Coach: Jason Dawson
2018: 6-5, tied for second in Potomac
Loudoun County Raiders
Town: Leesburg
District: Dulles
Region: 4C
Coach: Tony Rayburn
2018: 9-2, second in Dulles, one playoff win
Loudoun Valley Vikings
Town: Purcellville
District: Dulles
Region: 4C
Coach: David Bishop
2018: 1-8, tied for fourth in Dulles
Park View Patriots
Town: Sterling
District: Dulles
Region: 4C
Coach: Josh Wild
2018: 2-8 at JV level
Potomac Falls Panthers
Town: Sterling
District: Potomac
Region: 5C
Coach: Paul Barnes
2018: 5-6, tied for fifth in Potomac
Riverside Rams
Town: Leesburg
District: Potomac
Region: 5C
Coach: Brian Day
2018: 8-3, third in Dulles
Rock Ridge Phoenix
Town: Ashburn
District: Potomac
Region: 5C
Coach: George Masten
2018: 1-9, seventh in Potomac
Stone Bridge Bulldogs
Town: Ashburn
District: Potomac
Region: 5C
Coach: Mickey Thompson
2018: 12-3, region champions, state finalists
Tuscarora Huskies
Town: Leesburg
District: Dulles
Region: 4C
Coach: Brandon Wheelbarger
2018: 8-4, tied for second in Potomac, one playoff win
Woodgrove Wolverines
Town: Purcellville
District: Potomac
Region: 5C
Coach: Derek Barlow
2018: 11-2, district champions, region champions, state champions