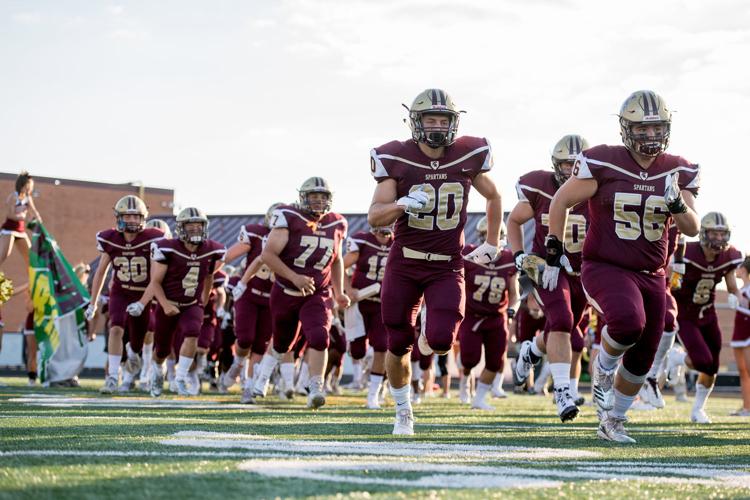 Broad Run, John Champe, Riverside, Stone Bridge, Tuscarora and Woodgrove high schools each won Friday night during Week 8 of the 2018 varsity football season.
John Champe, Stone Bridge and Tuscarora each won Potomac District games; Riverside and Woodgrove prevailed in Dulles District contests; and Broad Run shut out Parkdale (Md.) in a non-district game.
Three weeks remain in the regular season before the postseason kicks off Nov. 9. State championship games are scheduled for Dec. 9.
Friday, Oct. 12
Broad Run 54, Parkdale (Md.) 0
Stone Bridge 50, Rock Ridge 22
John Champe 30, Briar Woods 3
Woodgrove 42, Dominion 0
Riverside 10, Heritage 7
Tuscarora 43, Freedom 0
Jefferson (W.Va.) 32, Loudoun Valley 13
Standings
Class 5 Potomac District
Stone Bridge (7-0, 4-0)
Broad Run (6-1, 3-1)
Tuscarora (5-2, 3-1)
Potomac Falls (4-3, 2-2)
John Champe (3-4, 2-2)
Briar Woods (2-6, 2-3)
Rock Ridge (1-7, 1-4)
Freedom (0-7, 0-4)
Class 4 Dulles District
Loudoun County (6-0, 2-0)
Woodgrove (4-2, 2-0)
Riverside (6-2, 2-2)
Heritage (5-3, 1-2)
Dominion (3-4, 1-2)
Loudoun Valley (0-6, 0-2)
Week 9 schedule
Friday, Oct. 19
Tuscarora at Stone Bridge, 7
Briar Woods at Potomac Falls, 7
Broad Run at Freedom, 7
Rock Ridge at John Champe, 7
Heritage at Woodgrove, 7
Loudoun County at Dominion, 7
Riverside at Loudoun Valley, 7
Week 7 scores
Friday, Oct. 5
Woodgrove 43, Riverside 7
Stone Bridge 49, Briar Woods 6
John Champe 21, Potomac Falls 0
Rock Ridge 44, Freedom 14
Loudoun County 28, Loudoun Valley 0
Broad Run 40, B.T. Washington 3
Heritage 29, William Monroe 0