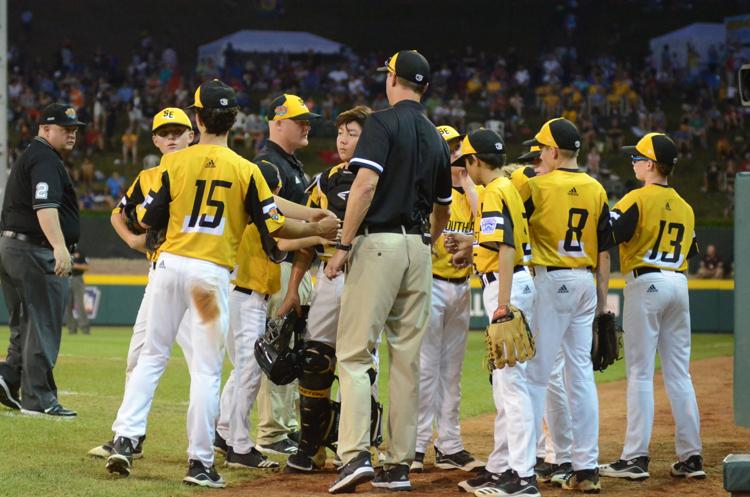 Loudoun South's magical run through the District 16, Virginia State and Southeast Region tournaments all the way to the doorstep of the United States final of the 2019 Little League World Series concluded Thursday night in Williamsport, Pennsylvania.
"It's been a long road. We've been together for over 80 days," Loudoun South manager Alan Bowden said. "Obviously, I never dreamed that we would get here. I'm very, very proud of them. They have nothing to hang their head about."
The Southeast champions lost 10-0 to Southwest Region champion River Ridge (Louisiana) on Thursday in a game that was shortened to five innings due to the 10-run mercy rule.
The game was much more competitive than the final score indicated. River Ridge starter Marshall Louque and Loudoun South starter Justin Lee kept the offenses in check until the Southwest champions broke things open in the fourth inning.
River Ridge scored seven runs in the fourth -- highlighted by Reece Roussel's grand slam -- to build an 8-0 lead and added two more runs in the fifth to bring the mercy rule into effect.
Louque struck out eight in pitching a no-hitter, while Roussel added three doubles to go with his grand slam. River Ridge will play Central East Maui for the U.S. championship on Saturday afternoon.
"All the teams here are very, very good and we knew we would have to play well today to compete with the Southwest team," Bowden said. "Unfortunately, sometimes you run up against a team and a young man who is just a phenomenal athlete ... sometimes you just have to tip your cap."
As Virginia's first entry in the Little League World Series since 1994, Loudoun South finished the 16-team tournament with two wins and two losses.
Lee, Liam Thyen and Chase Obstgarten combined to pitch a no-hitter and Brady Yates blasted a two-run homer in the fifth inning to lead the Southeast champions to a 3-0 victory over New England Region champion Barrington (Rhode Island) to open the World Series on Aug. 16.
Lee delivered Loudoun South's second no-hitter in as many games two days later against Midwest Region champion Coon Rapids (Minnesota).
The Southeast champions also excelled offensively, scoring three runs in the first inning, five in the second and three more in the third to bring the 10-run mercy rule into effect after just four innings for an 11-0 win.
Thyen drove in five runs, highlighted by his bases-clearing double to open the scoring in the first inning. The top four in Loudoun South's lineup - Obstgarten, Yates, Lee and Colton Hicks - combined for eight hits and nine runs scored.
Opening the LLWS with back-to-back no-hitters and being just one of four teams to win its first two games, Loudoun South clearly made its presence felt in Williamsport.
"We talked to the kids about the fact that they are not going to understand how important these two weeks have been [by] next week, next month or probably next year," Bowden said.
"But when you are 25, 30, I think they will look back every year and watch the Little League World Series with a lot more passion, a lot more interest," Bowden continued. "And be like 'we were there and we did well.'"