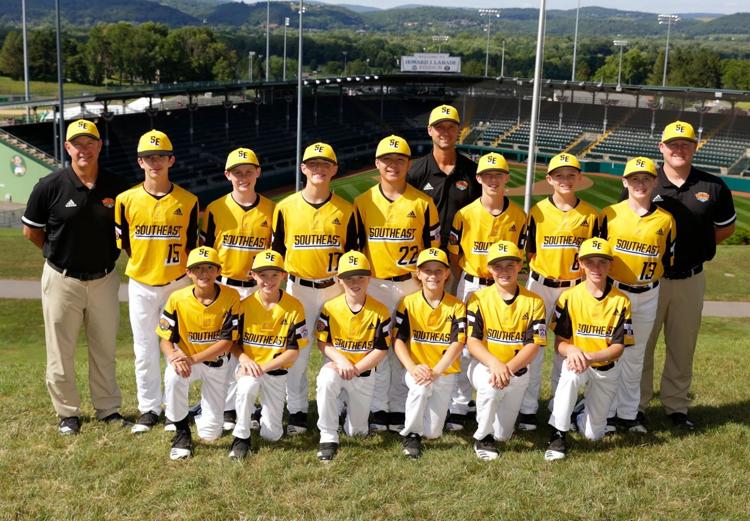 Loudoun South made its first appearance in a Little League Baseball World Series game a memorable one Friday morning in Williamsport, Pennsylvania.
Justin Lee, Liam Thyen and Chase Obstgarten combined to pitch a no-hitter, and Brady Yates blasted a two-run homer in the fifth inning to lead Southeast Region champion Loudoun South to a 3-0 victory over New England Region champion Barrington (Rhode Island).
Loudoun South will aim to continue its momentum Sunday in Williamsport. The Southeast Region champs will play the winner of Friday's game between the Great Lakes Region and the Midwest Region at 11 a.m. Sunday.
Originally scheduled to be played Thursday afternoon, Loudoun South's first game was postponed until Friday due to weather. The delay didn't faze Loudoun South, who played error-free defense and allowed just one Barrington baserunner to advance into scoring position.
Loudoun South's trio of pitchers combined to strike out nine batters and allowed just three walks. Thyen did not allow a baserunner in two-plus innings of relief, striking out six in the process.
Lee, who started the game, and Thyen were both relieved after reaching 35 pitches in order to remain eligible to pitch again on Sunday. Obstgarten retired the final two Barrington batters to close out the win.
After being limited to three hits through the first four innings by Barrington starter Alex Anderson, Loudoun South's offense found its groove in the home half of the fifth inning.
Following a one-out bloop single by Kian Henson, Yates belted a first-pitch breaking ball over the right-center field fence for a two-run homer. Consecutive singles by Lee, Colton Hicks and Thyen allowed Loudoun South to push its lead to 3-0.
The big fifth inning was more than enough run support for Loudoun South to finish off the win and make a strong opening statement as the first team from Virginia to qualify for the Little League World Series since 1994.