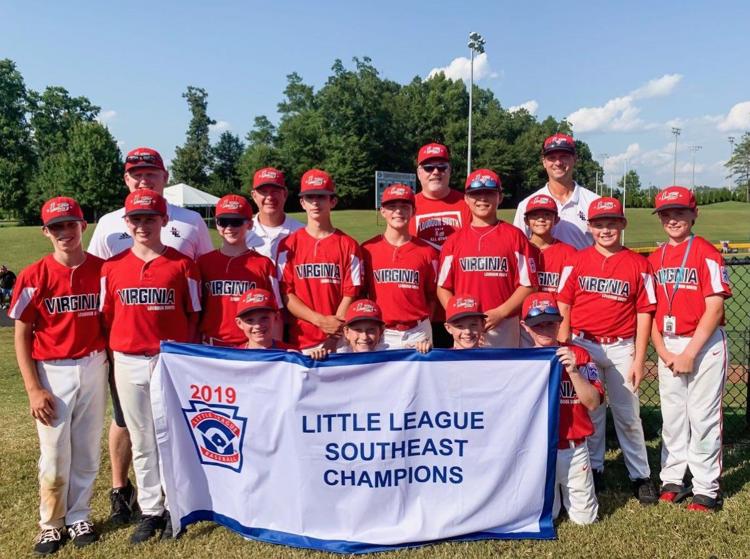 A year after being denied at the doorstep, Loudoun South cleared its final obstacle to a first-ever trip to the Little League Baseball World Series in emphatic fashion Wednesday in Warner Robins, Georgia.
Representing Virginia as state champions, Loudoun South scored four runs in the second inning and broke the game open with six runs in the fifth on its way to a 12-2 victory over Peachtree City (Georgia) in the Southeast Region championship game.
Loudoun South becomes the first team from Virginia to advance to the Little League World Series since 1994. In the process, Loudoun South avenged a 3-0 loss to Peachtree City in the 2018 Southeast Region title game.
"One of the things we said before we ran onto the field was finish the job, finish what we were not able to finish last year," Loudoun South manager Alan Bowden said. "For us to finish it today was really special."
The 16-team Little League World Series begins Aug. 15 and continues through Aug. 25 in Williamsport, Pennsylvania. Loudoun South will play the New England Region champion on the first day of the tournament.
Loudoun South flexed its power in the regional final. Six of the team's 11 hits went for extra bases.
Justin Lee capped a stellar tournament with a pair of home runs while also earning the pitching win. Lee, also a catcher, hit .800 with five home runs and 10 RBIs in four games.
"He is a very talented, very special player," Bowden said. "I can not express to you how much of a complete baseball player he is."
Chase Obstgarten belted a grand slam, Colton Hicks hit a solo home run and doubled, and Chase Triplett aided the fifth-inning surge with a double for Loudoun South, who outscored its four opponents 37-11 in the regional tournament.
Brady Yates, Joe Ross and Noah Culpepper each scored two runs, while Matt Coleman drove home two runs and scored a run. Liam Thyen singled and scored in the fifth.
While Loudoun South enters the LLWS with plenty of momentum, qualifying for the Southeast Region tournament proved challenging for the team from South Riding.
Loudoun South had to bounce back from the loser's bracket to win the District 16 championship and was down to its final three outs versus Cave Spring before rallying to win during the Virginia State Tournament.
"I always believed in them and knew that they could do it," Bowden said of advancing to the LLWS. "The character of these boys and the way they don't quit ... they are a very tenacious group."
Loudoun South Little League
Players
Michael Bowden
Matt Coleman
Noah Culpepper
Brody Harris
Kian Henson
Colton Hicks
Justin Lee
Chase Obstgarten
Joe Ross
Liam Thyen
Brett Triplett
Chase Triplett
Brady Yates
Manager
Alan Bowden
Coaches
Brian Triplett
Keith Yates