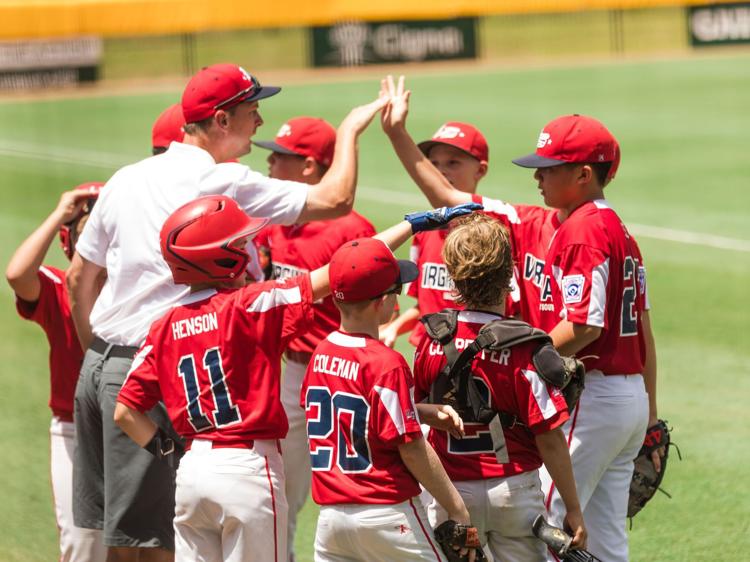 Fresh off its 12–2 victory over Peachtree City (Georgia) in the Southeast Regional championship game, which punched its ticket to the 2019 Little League Baseball World Series, the Loudoun South Little League team returned home to a grand welcome in Loudoun County.
TV trucks lined the parking lot at Lions Field in Aldie on Friday evening, all coming to see Loudoun South's final hometown practice before the team left for Williamsport, Pennsylvania -- site of the LLWS -- the following day.
Loudoun South will be the first team from Virginia to participate in the Little League World Series since 1994. No team from Virginia has ever won the LLWS, which is now in its 73rd year.
"They're on a national stage now," assistant coach Keith Yates said on Friday. "People are going to know their names and the league's name, and they'll be associated with it for the rest of their lives."
"No one can ever take it away from them," he added.
Despite the fame and attention, coaches and parents have worked to keep things normal as possible.
"These families have been together all summer," Yates said. "This is a great group and it's really one big family."
As for the team itself, players looked crisp on Friday night throughout infield and outfield drills, with the ball rarely touching the ground. When it came time for batting practice, Justin Lee, who hit five home runs during the regional tournament, continued where he left off, bashing ball after ball over the fence at Lions Field.
Chase Obstgarten, who smacked a grand slam in the regional championship game, took some time out from practice to talk about what he's looking forward to in Williamsport.
"I'd like to meet Javy Baez," Obstgarten said. "He's my player idol and I'd like to get a couple of his baseball cards signed."
"Maybe a ball, too," he joked.
His wish may come true considering Baez and his team, the Chicago Cubs, will be in town for the MLB Little League Classic against the Pittsburgh Pirates on Sunday at Williamsport's Bowman Field.
Whatever the case may be, this is going to be a time in their lives they'll never forget. For folks following along, the same thing can be said. The county has taken to the team, and their group of supporters is growing by the day.
"People I haven't talked to since I was five are reaching out about the team," relayed Krystal Culpepper, mother of Loudoun South catcher Noah Culpepper. "It's been a lot to manage."
Loudoun South is scheduled to play New England Region champion Barrington Little League (Rhode Island) on Thursday at 3 p.m. to open the World Series. The game will be broadcast on ESPN.
The 16-team tournament - consisting of eight United States teams and eight International teams - continues through Aug. 25 in Williamsport.
Loudoun South Little League
Players
Michael Bowden
Matt Coleman
Noah Culpepper
Brody Harris
Kian Henson
Colton Hicks
Justin Lee
Chase Obstgarten
Joe Ross
Liam Thyen
Brett Triplett
Chase Triplett
Brady Yates
Manager
Alan Bowden
Coaches
Brian Triplett
Keith Yates