WILLIAMSPORT, Pa. -- Following Southeast Region champion Loudoun South's 11-0 victory over Midwest Region champion Coon Rapids (Minnesota) on Sunday in the Little League World Series, manager Alan Bowden said he was not aware that players from the Pittsburgh Pirates had joined the capacity crowd at Lamade Stadium to watch the game.
He quickly turned to Liam Thyen, Colton Hicks, Chase Triplett and Justin Lee who joined him for the press conference to inquire if they noticed. Before Bowden could finish asking, Lee responded "Oh, I noticed."
All four players agreed and smiled before Triplett added, "We were getting ready to hit and they came in and I was like shocked."
Prior to playing the 2019 MLB Little League Classic in Williamsport later Sunday evening, the Pittsburgh Pirates and the Chicago Cubs took part in LLWS festivities.
Loudoun South certainly produced an impressive performance for all those in attendance and watching on ESPN.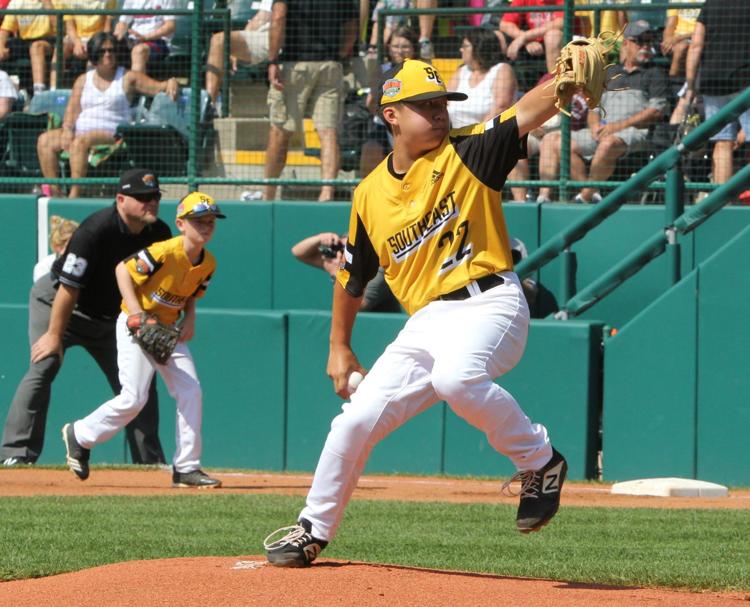 Lee delivered Loudoun South's second no-hitter in as many games, and the Southeast champions scored three runs in the first inning, five in the second and three more in the third to bring the 10-run mercy rule into effect after just four innings.
"I guess sometimes you get lucky," said Lee, who teamed with Thyen and Chase Obstgarten for a no-hitter in Loudoun South's 3-0 win on Friday. "This week has been very fortunate for me. I've been able to meet a lot of cool people. Being here has been great. And then throwing two no-hitters, being combined in one, feels amazing."
Thyen was one of several Loudoun South players to have a big game offensively Sunday. Thyen drove in five runs, highlighted by his bases-clearing double to open the scoring in the home half of the first inning.
The top four in Loudoun South's lineup - Obstgarten, Brady Yates, Lee and Hicks - combined for eight hits and nine runs scored. Hicks also doubled and drove in three runs.
As the first team from Virginia to qualify for the Little League World Series since 1994, Loudoun South is making the most of the opportunity. The Southeast champions have not allowed a hit or committed an error through two games, while racking up 18 hits and 14 runs.
"I'm really, really proud of the kids and the way they have executed, the way they have sort of pushed down the media and the big crowd and just gone out and done their job," Bowden said. "I have told them to look around and enjoy the moment, this is the biggest game of your life."
"But it's still on the same field that you play back at home at Lion's Field," Bowden continued. "So look around and enjoy it, but when the first pitch is thrown, let's get down to business and do the same things as we do back at home. And they have done a fantastic job of staying focused and I've never been prouder of a group of kids."
As a result of winning consecutive games to begin the LLWS, the Southeast champions have two days off before returning to action Wednesday. Loudoun South will play either the West Region or Mid-Atlantic Region at 7:30 p.m.
"We feel very fortunate to be 2-0, we feel fortunate to even be here," Bowden said. "You have to play well, you have to execute and you need to have a little bit of luck to get through the district, to get through the state and to get through the region and we've had that. To come out and get two wins, we are absolutely elated."
Related coverage:
-"Loudoun South opens with a 3-0 victory"
-"Loudoun South ready for the big stage in Williamsport"
Photos by Carl Lukat