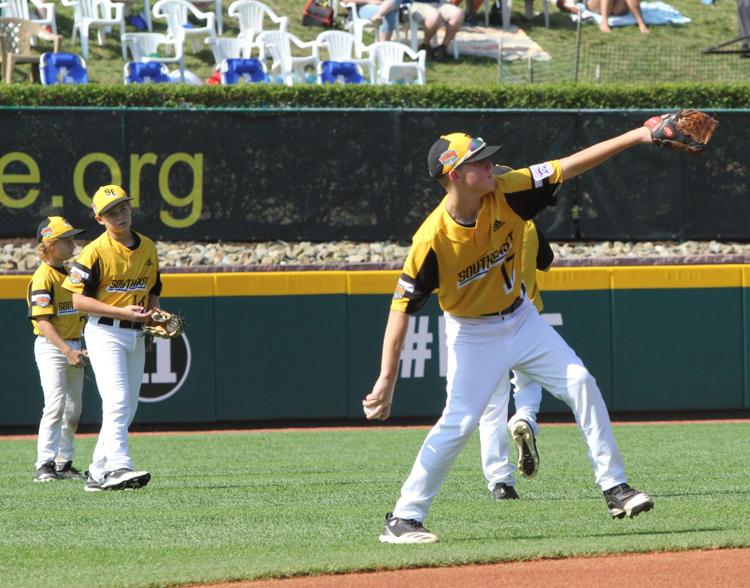 A pair of undefeated teams will clash Wednesday night at the 2019 Little League Baseball World Series when Southeast Region champion Loudoun South takes the field against West Region champion Central East Maui.
The winner of Wednesday's game - set for 7:30 p.m. at Lamade Stadium in Williamsport - advances to the United States final on Saturday afternoon. The losing team will play either the Mid-Atlantic Region or Southwest Region on Thursday night for another chance to earn a spot in the U.S. final.
The United States champion and the International champion will play for the Little League World Series championship on Sunday afternoon. The Asia-Pacific Region and Japan Region are both undefeated among International teams.
Loudoun South enters Wednesday's game with plenty of momentum. The Southeast champions have not allowed a hit or committed an error, and have scored 14 runs on 18 hits through two games.
"Absolutely elated" to start 2-0, Loudoun South manager Alan Bowden said the approach remains the same as it did when the LLWS started.
"My mindset has not changed at all. I think any team here can beat any team on any given night," Bowden said. "I think all the coaches up here know that. We run into the other coaches all the time ... we all have the same attitude about these teams, which is you have to go out and execute or you are going to lose."
Loudoun South's Liam Thyen, who teamed with Justin Lee and Chase Obstgarten to pitch a no-hitter in the first game and drove in five runs in the second game, noted the focus is always on the first inning of the upcoming game.
"We take every game one step at a time," Thyen said. "We never look ahead because we don't know how good [our opponent] is. In this type of tournament, every team is good."
Central East Maui is representing the state of Hawaii, which produced the 2018 Little League World Series champion Honolulu. The West Region defeated the Southwest Region, 5-2, and the Mid-Atlantic Region, 6-0, in their first two games.
Following his team's win over the Mid-Atlantic Region, Central East Maui manager Brad Lung was asked about facing a Southeast pitching staff that has yet to allow a hit in the LLWS.
"Business as usual," Lung replied. "Just go up there and focus on their mental approach at the plate and just make contact, solid contact. That's all we tell them every time."