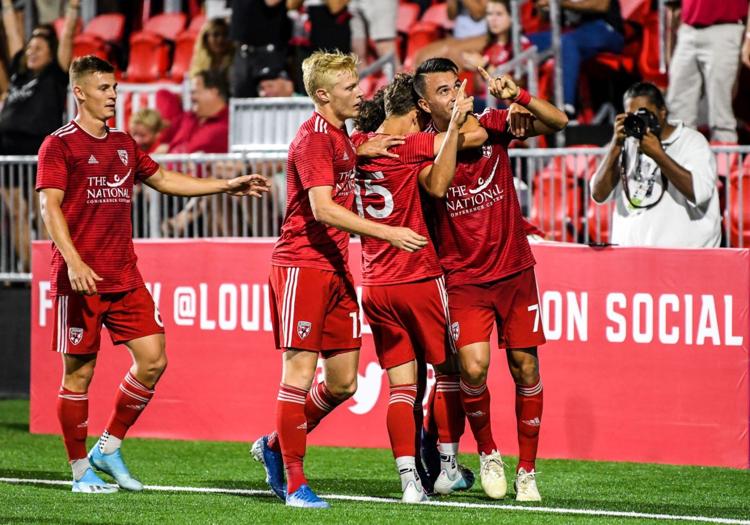 Playing their first game in Loudoun County at newly-constructed Segra Field in Leesburg, Loudoun United FC rebounded from one-goal deficits on three occasions Friday night to earn a 3-3 draw against the Charlotte Independence in front of 5,015 spectators.
Similar to his teammates, Loudoun native and LUFC goalkeeper Calle Brown was thrilled to play a true home game Friday.
"I had to take a moment when I ran out [on the field] for warmups. This is just a blessing," Brown said. "I don't know if I ever imagined something like this would be happening. I grew up literally five minutes away from here. To have a 5,000-seat stadium and a packed house on a night like tonight, it's amazing."
Loudoun United head coach Ryan Martin described the atmosphere as "fantastic".
"We all got here at 5 o'clock and the tailgates were happening, the music is playing and you have people grilling out there," Martin said. "That is something this group hasn't had yet. To have the game here in Loudoun, it was just an incredible night."
Loudoun United moves to 5-9-5 in the USL Championship in their inaugural season. Each time Charlotte (5-9-10) took a lead Friday, LUFC responded less than 10 minutes later with a tying goal.
Harry Hawkins, Antonio Bustamante and Carlos Alvarez each netted equalizers for Loudoun United, with assists going to Gordon Wild and Christian Sorto.
"The biggest takeaway is the resiliency of the guys to come back and get a late equalizer and then to keep pushing and almost get a goal at the end to win it," Martin said. "I thought we created enough chances. We need to be a litte better in the final third, I think our transition to defending needs to be a little better. But I saw tremendous progress from last week."
Hawkins is credited with the first Loudoun United goal in Segra Field history. Hawkins netted his goal in stoppage time of the first half to tie the match at 1-1.
After Charlotte sandwiched goals around Bustamante's goal in the 65th minute to take a 3-2 lead, Alvarez found the back of the net off an assist from Sorto in the 79th minute to pull Loudoun United even and close out the scoring.
Loudoun United will get to experience the Segra Field atmosphere twice next week. LUFC hosts the Charleston Battery on Aug. 14 and the Ottawa Fury FC on Aug. 17. Both matches kick off at 7:30 p.m. Ticket info at loudoununitedfc.com.
"We have a stretch of home games where we will be able to make a push toward the playoffs," Brown said.
The Loudoun native added, "People are crazy about soccer here, I've said that before. Loudoun County will support this team for years to come. I'm really excited about it and I'm glad I can be a part of it."
Photos by Mike Walgren