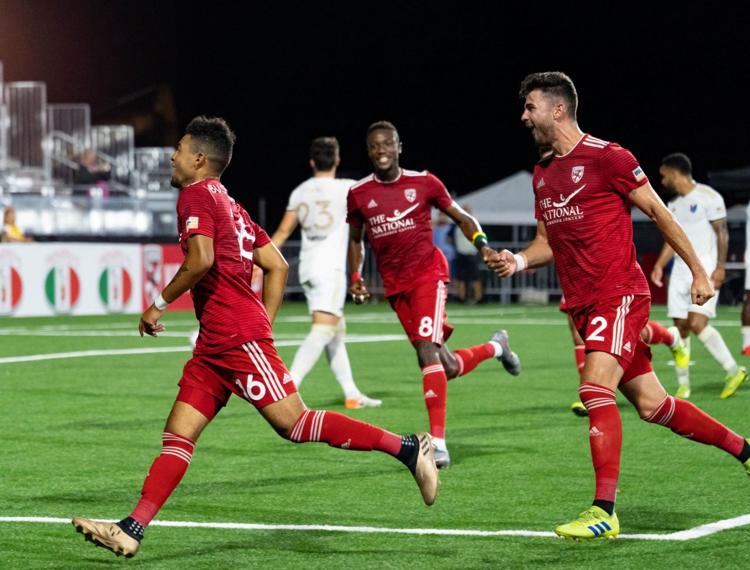 The fifth time proved to be the charm for Loudoun United FC. Playing their fifth game at Segra Field in Leesburg, Loudoun United delivered a complete performance Saturday night to earn their first victory in their new 5,000-seat stadium.
Loudoun United scored two unanswered goals in each half to defeat North Carolina FC 4-0 in a USL Championship match in front of 1,551 fans at Segra Field.
"It feels good for everyone that has put so much into it," Loudoun United head coach Ryan Martin said, referencing players, coaches, front office staff, team owners and fans. "It has been a lot of people doing a lot of work to get us to where we are. I couldn't be happier for everyone involved."
Following an own goal in the 32nd minute of play, Loudoun United's Antonio Bustamante, Kyle Murphy and Elvis Amoh scored off assists from Gordon Wild, Moses Nyman and Connor Presley during a 25-minute span to push the final margin to 4-0.
Goalkeeper Calle Brown, a Leesburg native, recorded his first career shutout for LUFC. Former Loudoun Soccer and Briar Woods High School standout Collin Verfurth, a defender/midfielder, also started for the home side.
"If you are going to get your first win, might as well be 4-0," Martin said. "The last couple of weeks, we kept saying we are very close. We just kept believing that and as you saw tonight, it was a pretty explosive performance."
Loudoun United improves to 6-12-6 in their inaugural season. LUFC plays at Hartford Athletic on Sept. 7 before returning home to host Memphis 901 FC on Sept. 13. Ticket information at loudoununitedfc.com.