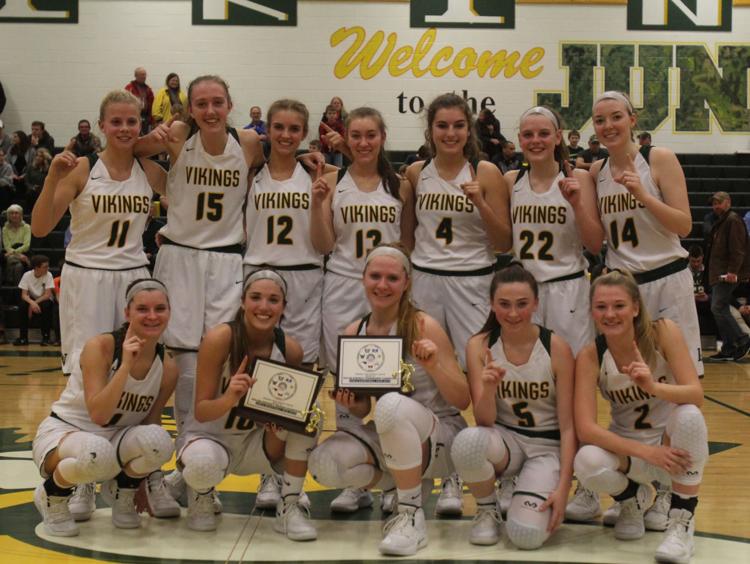 Defense, hustle and cohesiveness have sparked Loudoun Valley High School's rise to the top of the Dulles District girls' basketball standings this winter. Those traits were on full display once again Friday night in the district tournament championship game.
Tied 20-20 in the third quarter, No. 1 seed Valley scored 23 of the game's next 25 points to pull away from No. 2 seed Woodgrove en route to a 47-26 victory.
"In that third quarter and fourth quarter, all it took was a turnover or two to spark us offensively and we just kept rolling," Loudoun Valley coach Kenyamo McFarlane said.
During that 23-2 run, the Vikings (21-2) used a suffocating full-court press to ignite their offense. "For us, it's like a runaway train or a snowball going downhill," McFarlane said. "Once we get rolling, it's hard to stop."
"We've been doing it all year, the little effort plays," said McFarlane, who credited Woodgrove for coming out strong and providing a stern challenge. "It's been different girls throughout the year, whether it's getting a tip, getting a rebound, diving on the floor. Just doing those things that help us win a game."
Valley senior Haley Pasqualone scored a game-high 17 points on 8 of 10 field goal shooting. Pasqualone also grabbed six rebounds and swiped three steals. The Vikings were credited with 25 steals overall, led by six from sophomore Jordan Campbell and five by freshman Jane Bodamer.
Junior Megan Stevenson (11 points, six rebounds) and senior Olivia Badura (10 points, three steals) also scored in double figures for Valley, who won its second straight Dulles tournament title.
"It feels good going back-to-back, shows the consistency in our program," McFarlane said. "It's a testament to our girls and their effort, both during the season and even the offseason."
Woodgrove (13-11) defeated Park View and Riverside to reach the tournament championship game. Senior Sarah Nielsen and junior Ashley Steadman each scored six points for the Wolverines, coached by Travis Coon.
Freshman Tara Mullen and Nielsen each pulled down five rebounds for Woodgrove, while sophomore Jaidyn Turner swiped five steals.
Both teams advance to the Region 4C tournament. Woodgrove will play at Millbrook and Valley will host James Wood in Tuesday's regional semifinals.
The Vikings are aiming to build from their playoff experience a year ago when they advanced to the Region 4C championship game and the VHSL Class 4 state tournament.
"We have a lot of veterans, a lot of experience back. We have that experience and we also have that hunger to go out there and finish the job they started last year," McFarlane said. "But like I've been saying all year, we are just taking it one game at a time and focusing on getting better each game."
Loudoun Valley 47, Woodgrove 26
W: Nielsen 6, Steadman 6, Coates 4, Fortin 4, Mullen 3, Turner 3
LV: Pasqualone 17, Stevenson 11, Badura 10, Campbell 4, Bodamer 2, Brennan 2, Krisko 1
Halftime: Loudoun Valley, 16-14
Free throws: W (3 of 8); LV (7 of 9)
3-pointers: W 1 (Mullen)