The Loudoun Valley Vikings scored 127 points to pace the girls' field at the 2019 Region 4C track and field championships May 24-25 in Winchester. Host school John Handley won the boys' team title.
Four Loudoun schools - Loudoun County, Loudoun Valley, Riverside and Woodgrove - placed among the top 10 in both the boys' and girls' team standings.
Dominion's Miles Gordy (long jump) and Omar Aougab (3,200 run) placed first in boys' events, as did Loudoun Valley's Sam Affolder (1,600 run) and Heritage's Aalijah Smith (110 hurdles).
Woodgrove's Ahmirah Roberson (400 dash) and Loudoun Valley's Abby Keane (1,600 run) raced to girls' individual titles, while the Vikings' team of Stephany Galvis, Grace Hunter, Jordan Campbell and Hannah Holland crossed the finish line first in the 4x400 relay.
Next up is the Virginia Class 4 State track and field championships May 31 and June 1 at Liberty University in Lynchburg.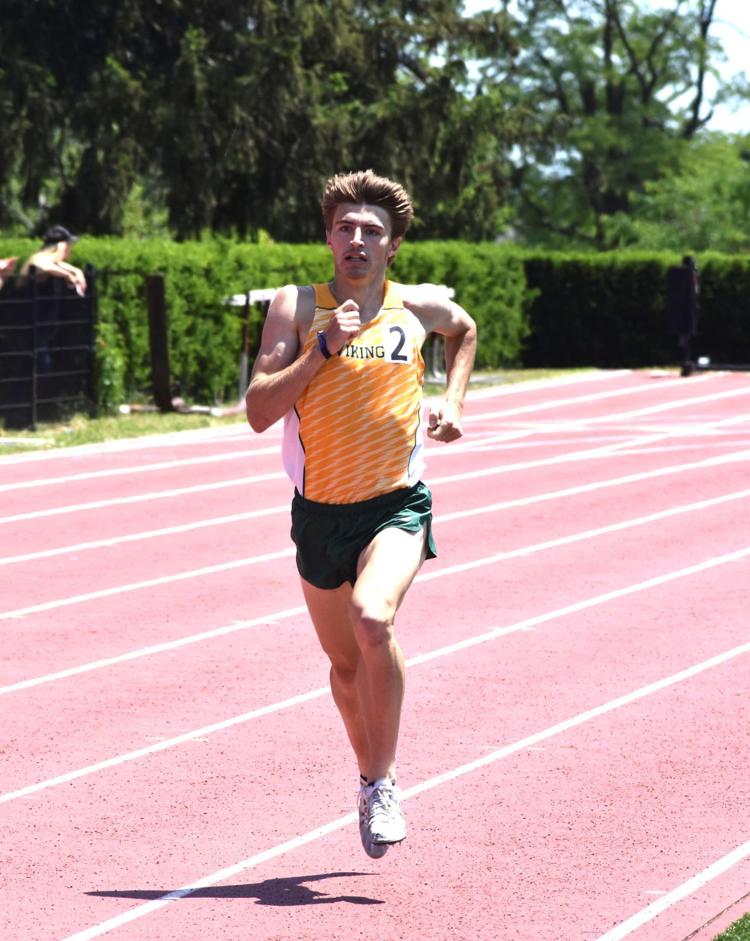 Girls team
1) Loudoun Valley, 127
2) John Handley, 107.5
3) Fauquier, 78.5
4) Woodgrove, 76
5) Sherando, 50
6) James Wood, 41.5
7) Kettle Run, 41
8) Millbrook, 39
9) Loudoun County, 30.5
10) Riverside, 26
11) Heritage, 18
12) Dominion, 13
13) Liberty, 12
14) Park View, 3
Boys team
1) John Handley, 124
2) Fauquier, 83
3) Sherando, 80
4) James Wood, 79
5) Loudoun Valley, 69
6) Loudoun County, 42
7) Riverside, 32
8) Dominion, 31
9) Kettle Run, 29
10) Woodgrove, 26
11) Millbrook, 24
12) Heritage, 22
13) Liberty, 21
14) Park View, 1
Girls High Jump
1. Taylor Beard (John Handley) 6-00.5
2. Jorja Rich (Woodgrove) 5-02
3. McKenna Giannos (Loudoun County) 5-02
Boys High Jump
1. Tyson Long (John Handley) 6-06
2. Lavaughan Freeman (James Wood) 6-04
3. Derek McCandless (Loudoun County) 6-02
Girls Long Jump
1. Haley Mack (Sherando) 18-04.5
2. Taylor Beard (John Handley) 18-03
3. Siby Yao Ahouefa (Riverside) 17-11
Boys Long Jump
1. Miles Gordy (Dominion) 21-06.25
2. Patrick Atwell (Fauquier) 21-03
3. Drake Tews (James Wood) 21-01
Girls Triple Jump
1. Taylor Beard (John Handley) 39-05.25
2. Ava Derrick (Millbrook) 36-03.75
3. Siby Yao Ahouefa (Riverside) 35-04
Boys Triple Jump
1. Darius Lane (Sherando) 43-11.75
2. Eldon Agard (Sherando) 43-01.5
3. Derek McCandless (Loudoun County) 42-11
Girls Discus Throw
1. Ella Carlson (Sherando) 120-08
2. Kayla Pavlock (Fauquier) 120-02
3. Kayla Bolen (Loudoun Valley) 118-10
Boys Discus Throw
1. Quinten Newman (John Handley) 167-05
2. Isaiah Allen (Sherando) 164-07
3. Chance Grove (James Wood) 151-10
Girls Shot Put
1. Kayla Pavlock (Fauquier) 39-04
2. Kayla Bolen (Loudoun Valley) 38-09
3. Mary Kate Behan (Kettle Run) 36-0
Boys Shot Put
1. Isaiah Allen (Sherando) 61-05
2. Wyatt Blauer (Woodgrove) 48-09
3. Logan Rapp (Kettle Run) 48-02
Girls 4x800 Meter Relay
1. Fauquier (Aubrey Fernandez, Kelsey Gastley, Ryan McDaniel-Neff, Shelby Rosenberger) 9:54.04
2. Heritage (Nina Costanza, Jenny Schilling, Sydney Widic, Ali Sherman) 10:03.31
3. James Wood (Lauren Beatty, Riley Rose, Haley Witt, Mackenzie Konyar) 10:03.74
Boys 4x800 Meter Relay
1. Fauquier (Austin Fernandez, Nick Matthews, Josh Moylan, John Paccassi) 8:06.69
2. Sherando (Graham Schultz, Lucas Williams, Jonathan Gates, Ty Waits) 8:10.53
3. Millbrook (Brad Hambrick, John Pullen, Silas Schroer, Christopher Simonelli) 8:11.98
Girls 3,200 Meter Run
1. Sophie Edlich (Millbrook) 11:13.05
2. Mackenize Konyar (James Wood) 11:34.62
3. Kenzi Fergus (John Handley) 11:38.87
Boys 3,200 Meter Run
1. Omar Aougab (Dominion) 9:33.92
2. Sean Rombach (Loudoun County) 9:59.29
3. John Pullen (Millbrook) 10:03.81
Girls 100 Meter Hurdles
1. Taylor Beard (John Handley) 15.29
2. Kyra Wilson (Loudoun Valley) 16.16
3. Calle Junker (Woodgrove) 16.18
Boys 110 Meter Hurdles
1. Aalijah Smith (Heritage) 15.18
2. Giovanni Wearing (Heritage) 15.25
3. Eldon Agard (Sherando) 15.39
Girls 100 Meter Dash
1. Haley Mack (Sherando) 12.57
2. Kristeena Kenny (Liberty) 12.83
3. Adalia Coleman (Kettle Run) 12.86
Boys 100 Meter Dash
1. Malachi Imoh (John Handley) 10.91
2. William Crowder (James Wood) 10.99
3. Miles Ashe (John Handley) 11.13
Girls 4x100 Meter Relay
1 John Handley (Mary McKay, Brittnay Turner, Mikayla Balio, Sofia Posadas) 49.73
2. Sherando (Thais Agard, Indhya Hayes, Kaitlyn Roberts, Haley Mack) 49.82
3. Riverside (Siby Yao Ahouefa, Yukorah Bass, Natalie Argueta, Hadeeyah Osman) 50.52
Boys 4x100 Meter Relay
1 John Handley (Miles Ashe, Jayden Vardaro, Stephen Daley, Malachi Imoh) 42.63
2. Riverside (Sean Mundie, Charles King, Robert Tanzola, Jack Selman) 43.53
3. James Wood (Drake Tews, Lavaughan Freeman, Jackson Clyburn, William Crowder) 43.89
Girls 400 Meter Dash
1. Ahmirah Roberson (Woodgrove) 1:00.15
2. Caroline Bolen (Loudoun Valley) 1:00.36
3. Emmy Donlon (Loudoun Valley) 1:00.43
Boys 400 Meter Dash
1. Patrick Atwell (Fauquier) 49.75
2. Josh Moylan (Fauquier) 50.32
3. Luke Kendrat (Loudoun County) 50.36
Girls 300 Meter Hurdles
1. Taylor Beard (John Handley) 44.63
2. Grace Hunter (Loudoun Valley) 48.44
3. Maria Soly (Loudoun Valley) 48.77
Boys 300 Meter Hurdles
1. Isaiah Brothers (Fauquier) 40.23
2. Jayden Vardaro (John Handley) 40.49
3. Darius Lane (Sherando) 41.08
Girls 800 Meter Run
1. Kelsey Gastley (Fauquier) 2:21.33
2. Hannah Holland (Loudoun Valley) 2:23.87
3. Shelby Rosenberger (Fauquier) 2:25.08
Boys 800 Meter Run
1. Sam Rodman (Liberty) 1:56.38
2. Jacob Windle (Loudoun Valley) 1:56.74
3. Ty Waits (Sherando) 1:57.15
Girls 200 Meter Dash
1. Adalia Coleman (Kettle Run) 25.83
2. Emmy Donlon (Loudoun Valley) 26.05
3. Camryn Bland (Fauquier) 26.24
Boys 200 Meter Dash
1. Malachi Imoh (John Handley) 21.85
2. Ryan Schaefer (Kettle Run) 22.33
3. Patrick Atwell (Fauquier) 22.52
Girls 1,600 Meter Run
1. Abby Keane (Loudoun Valley) 5:17.01
2. Alice Roberts (Loudoun Valley) 5:20.03
3. Caroline Bolen (Loudoun Valley) 5:21.38
Boys 1,600 Meter Run
1. Sam Affolder (Loudoun Valley) 4:09.72
2. Jacob Hunter (Loudoun Valley) 4:13.75
3. Connor Wells (Loudoun Valley) 4:18.47
Girls 4x400 Meter Relay
1. Loudoun Valley (Stephany Galvis, Grace Hunter, Jordan Campbell, Hannah Holland) 4:10.98
2. Fauquier (Camryn Bland, Aubrey Fernandez, Kelsey Gastley, Ryan McDaniel-Neff) 4:11.89
3. Woodgrove (Olivia Haller, Zahra Ghuzlan, Olivia Haller, Kylie Budd) 4:15.13
Boys 4x400 Meter Relay
1. Fauquier (Patrick Atwell, Nick Matthews, Josh Moylan, John Paccassi) 3:26.48
2. Loudoun County (Christian Giannos, Asher Freese, Luke Kendrat, Matt Anderson) 3:30.33
3. James Wood (Jackson Clyburn, Owen Emerson, Gavin McDonald, Lavaughan Freeman) 3:31.70