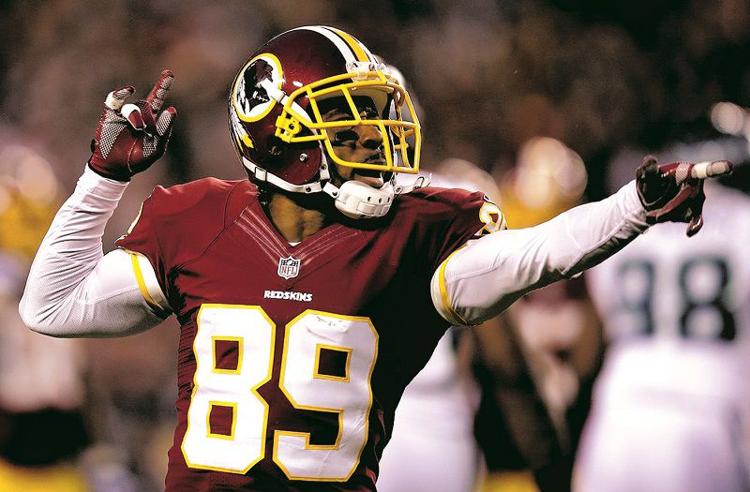 Santana Moss was doing charity before he ever cashed his first NFL paycheck. Now retired after a 14-year career as an All-Pro wide receiver, the Loudoun resident is about to take his philanthropic game to the next level.
On May 12 at a launch party in Sterling, Moss will introduce his new "89 Ways To Give" campaign, an organized effort to improve the quality of life for all residents of Loudoun County. The 89 refers to Moss' uniform number during his 10-year playing tenure in Washington.
"It's about believing in whatever you want to achieve, not just being an athlete. Doctors, lawyers, nurses, anything successful," said Moss, who began his Santana Moss Foundation as a student-athlete at the University of Miami.
"I saw friends who didn't take advantage of their gifts because there was no support system at home."
The ticketed event includes chocolate and ice sculptures, gourmet chefs, and a celebrity auction featuring television personalities Tony Perkins and Lauryn Ricketts, and Redskin greats Fred Smoot and Clinton Portis, among others.
Proceeds from the 89 Ways To Give launch party, as well as the campaign's subsequent fundraising efforts, will be used to enhance the positive impact of other Loudoun-based charities.
"That's one of the things we're trying to do with 89 Ways," Moss explained. "We want to do more events to help raise money for us to support these kids and the things we have planned for them. And not just that, every year I want to adopt a foundation with some of the same characteristics, and support them giving back to kids."
Moss emphasized that his organization actively seeks input from Loudoun's schools, non-profits, civic groups and the entire community as to what the 89 Ways are.
"We want to be able to contribute to different schools around the county," said Moss, who recently helped one school engage in a series of good deeds he termed "a link of kindness."
"We want the community to get on board and help us help these kids. We need people to contribute if they can, and also give us ideas on what we can give to these kids - 89 different ways."
The launch party precedes the next 89 Ways To Give fundraising event, a weeklong youth football camp set for Leesburg's Evergreen Sports Complex in July.
It will be the second such camp Moss hosted, after debuting at Phil Bolen Park last summer.
"We had 28 kids last year and it was a blessing to even start it," said Moss, who instructs the campers himself. "I want to teach these kids more than just how to be a better football player. It's about how to be committed to something."
After four seasons with the New York Jets, Moss moved to Loudoun County when he signed with the Redskins for the 2005 season. He went on to play 146 games in burgundy and gold, catching 581 passes including 47 touchdowns.
After retiring in 2014, the South Florida native has chosen to maintain his home in Loudoun.
"I'm calling this area my home now, so I want to give to this community, to Loudoun County, to the DMV in total," Moss said. "Now I have time and I have all these relationships I've built. I want to give back in some form or fashion to show these kids that if anyone cares, I care.
"It's so they know, man, Santana's got my back, Santana cares about our lives and where we go from here."
89 Ways To Give
Who: Santana Moss, Loudoun County resident and former Washington Redskin
What: "Inspire Hope, Create Everlasting Bonds, Enhance Quality of Life and Empower Everyone"
How: Identify like-minded local organizations; raise funds; solicit community suggestions
Web: 89WaysToGive.com
Upcoming events:
-Launch Party & Celebrity Auction
Mist Lounge, Sterling
May 12, 5-9 p.m.
-Moss Academy Youth Football Camp
Evergreen Sports Complex, Leesburg
July 9-13, 10 a.m.-4 p.m.
For ages 7-17