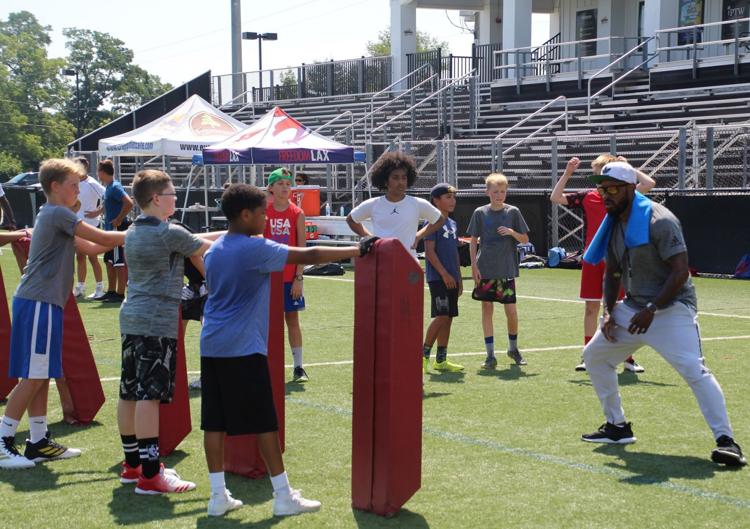 From a young age, Santana Moss knew that he was born with many gifts. As a high school, collegiate and professional athlete, those gifts shined immensely when Moss set foot on the track and football field.
In 2014, Moss played his final season in the National Football League after a 14-year career with the Washington Redskins and the New York Jets. In recent years, Moss has spent time developing and perfecting other gifts he has always wanted to pursue, which are teaching and mentoring.
On July 8, Moss returned to Evergreen Sportsplex in Leesburg to begin the third annual Moss Academy Football Camp presented by his foundation 89 Ways To Give. Formally known as the Santana Moss Foundation, 89 Ways To Give launched in May 2018 with the purpose of improving the quality of life for residents of Loudoun.
The two-week camp runs for six hours each weekday. Kids are split into rotations to complete various drills and competitions. At the end of each day, they are expected to be better with the basic fundamentals, learn how to diversify their techniques and receive a snapshot of how the effects of a positive mental approach to the game and life can be the difference between gains and losses.
"One of the things we try to tell the parents is, we're not trying to make them the best football players," Moss said. "We're trying to instill the attitude that they need to want to achieve more and be successful."
"You see a former NFL player and say 'I'm going to put my son into his camp because he's going to teach them how to be an NFL football player' but no, I'm going to teach them how to stay disciplined and have the same attitude I had when I approached a game, during a game and even when I wasn't playing a game," Moss continued.
For Moss, achieving greatness is not just becoming an NFL player, achieving greatness is being successful and being able to take care of your responsibilities as young men then as men later on. The valuable life lessons taught at this camp are what Moss describes as "lightyears ahead" of what these kids know now.
"The things that we do here go beyond teaching them about football and teaching them how to be successful," Moss said. "We show them love and when kids have love, it's easier for them to go out there and want more."
Martino Savage, the Times-Mirror Best of Loudoun Coach of the Year recipient, and Rasheed "Bub" Thompson join Moss on the coaching staff, while 89 Ways To Give President Carmen Felder is the camp organizer and is described as the camp mom. Together, these four provide a one of a kind summer camp for a total of 77 kids ages 7-17.
"The kids are the future," Felder said. "If we can change or enlighten one child's life at this camp, we can change the world. We look forward to seeing these kids faces everyday and we want to be a mentor to them and their families. We want to be that foundation that you can call, email or text and ask for help."
When asked what he wants the kids' biggest takeaway from the camp to be, Moss exclaimed "perseverance."
"I'm trying to teach them how to persevere," Moss said. "They have to know that everything isn't going to be mapped out like the way they have it in their head. There's going to be trials and tribulations, ups and downs, you name it."
"It's a tough camp," Moss continued. "I'm not saying it because of the stuff we put them through, the heat alone makes it tough. I tell them that you're not gonna want to do things half the time. You're gonna be tired, you're gonna be going through stuff, but your mom paid money to put you through this camp for two weeks so you have to overcome all that and do what's expected of you."
Special appearances are made throughout the camp. Whether the appearances are from former Redskins players, Loudoun Sheriff Mike Chapman, or the Loudoun County Fire and Rescue Department, campers have an opportunity to meet many community members.
"When we have our camps, we always want to include community service members," Felder said. "We want these kids to know and recognize these people. We want to be involved with the community and we want the community to be with whatever we do."
While the kids are going through drills and games on the field, Moss prides himself on building relationships with them. "Building relationships with each kid is the only way I can be who I am. When you're at my camp, you're a part of me. You're my family."
"I think back to all of the things that were instilled in me and what these kids are going to need and if I give it to them now at the ages I have them at, it can take them so far," Moss said.
With another camp nearly completed, Moss thanks the community for all of the great support and notes "at the end of the day, I want to be a person for the people. I'm not here just to be here, I'm here to put my footprint in the ground in this community that I call home."
The 89 Ways To Give Foundation plan to stay busy and supportive of the community. Moss orgazines community drives ranging from coats, school supplies and food, in addition to hosting golf tournaments, and currently has a nationwide partnership with the Salvation Army.
For more about 89 Ways To Give, visit 89waystogive.com.
-Photos by Kaitlyn Fletcher