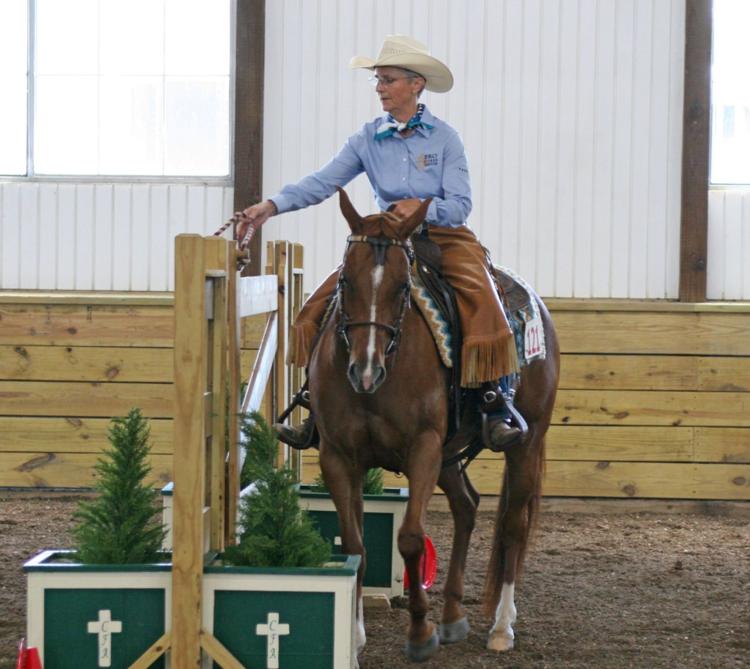 A new equine organization is ready to bring a fresh, fascinating opportunity to horse lovers in the community.
The Northern Virginia Working Equitation (NOVAWE) non-profit organization recently launched with a mission to promote the growth of a sport called working equitation, which combines the world-renowned thrills of dressage, speed and precision.
The sport of working equitation formally began across the globe in South American and European ranch work. The sport has grown and developed tremendously in recent years, primarily on the West Coast.
In working equitation, participants complete a dressage test, then navigate a course of arena obstacles in a soft and flowing manner, which is known as ease of handling, and then return for the speed trial where they navigate a course of obstacles. The goal is to post the fastest time with the fewest mistakes.
A desire to have local opportunities to pursue the sport inspired NOVAWE President Elizabeth "Biddie" Lowry and NOVAWE Vice President Diane Hutchinson to embark on a mission to bring working equitation to Loudoun and surrounding counties.
"We live in such a densely populated horse area. Is there a reason we reason we should have to travel to other states to do this sport?," Hutchinson asked. "After I realized that, Biddie and I decided to try to grow it here."
For the past year, Lowry, Hutchinson and the entire NOVAWE team have dedicated their time to creating this organization to help people learn more about the sport and get involved. At NOVAWE, people can learn how to begin riding in working equitation fashion and can progress their skills for fun or for shows. The organization strives to provide proper instruction and information.
"As an educational non-profit, our only motivation is to teach people how to do this sport correctly and how to have fun with it," Hutchinson said. "It's a really fun sport to do. One thing we really pride ourselves in is teaching people how to ride to the rules because you'll have to learn all of the intricacies and rules of it in order to be able to successful in horse shows."
Prior to the launch, the organization sent six riders to a rated working equitation show in Forest City, Pennsylvania. All six riders claimed ribbons, including two championships.
Adair Soho, of Lovettesville, won the Intro Championship on the horse Cromeless Mercedes.
"Our team pretty much took it all, which was quite funny because this was our first year competing in working equitation and our first year competing together," said Soho, the owner of Another Turn Tack Shop in Purcellville. "It was nice to see how well we did."
When Soho is not competing in shows, she is the committee chair for the NOVAWE youth program. Hutchinson notes the importance of passing along their knowledge to kids so that "when the rest of us get old and can't do it anymore, there will be someone else keeping it going along."
Round Hill resident Stephanie Jennings, the owner of Professional Horse Services LLC, won the Open Novice A Division on the horse BOH High Cal Ada.
"I competed against seven people in the Novice A Division and I placed first both the dressage and ease of handling phases and I placed second in the speed phase," explained Jennings, a professional rider who gives lessons and clinics to riders in the area.
The NOVAWE team is also comprised of: Allison Reed, a clinician who instructs riders at events; Kathi Watts, an amateur rider who assisted with getting the NOVAWE website up and running; and Jessica Williamson, a veterinarian who is also new to the sport but shined during her first big show.
NOVAWE will next participate in a show Aug. 24 at the Virginia Horse Center in Lexington.
"Our ultimate goal is to get a big show like that here in Loudoun County," Hutchison said. "We have all kinds of plans for the rest of 2019 and 2020."
"We're doing demonstrations, we're offering assistance to other horse organizations, we're offering demos, we offering play days and we're offering clinics," Hutchison continued. "Once horse people around here get to know about this, they're going to want to become a part of it."
For more details about NOVAWE, log on to NOVAWE.org or visit NOVAWE's Facebook page at Northern Virginia Working Equitation.