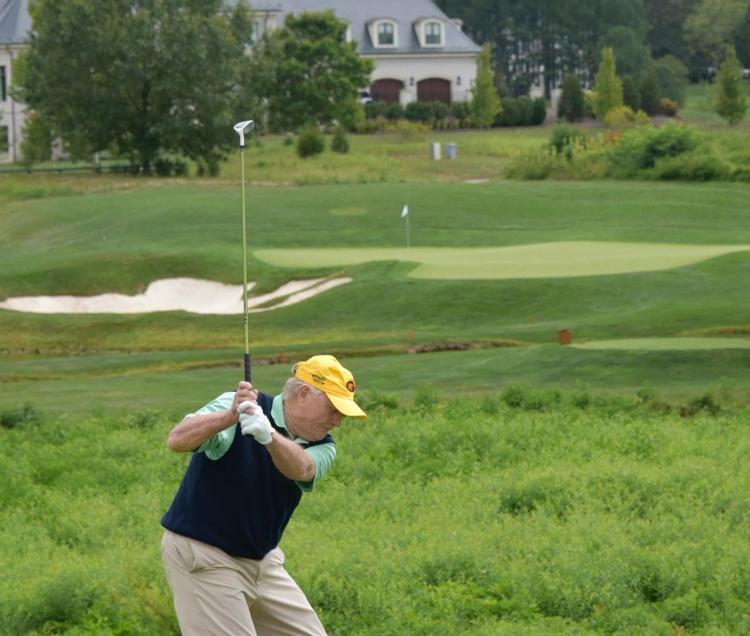 Throughout sports history, few figures have had the ability to reach anyone, regardless of age, race and status. Modern-day examples include athletes like Tiger Woods and LeBron James, guys with a presence that even non-sports fans recognize.
Before Woods and James, there was Jack Nicklaus, perhaps the best golfer to ever swing a club. Known as the Golden Bear, Nicklaus, to this day, is one of the most identifiable and revered athletes in sports.
Part of what's helped Nicklaus maintain this legacy beyond his time on tour is his never-ending philanthropy and constant presence in his sport. Often times, the two go hand in hand, and nothing exhibits this more than the Creighton Farms Invitational in Loudoun County, which Nicklaus hosts and participates in.
Now in its eighth year, the event takes place at The Club at Creighton Farms in Aldie, and benefits the National PKU (Phenylketonuria) Alliance and the Nicklaus Children's Health Care Foundation.
"I play about 20 rounds of golf per year," Nicklaus said. "And I'd say probably 18 of them are at charity events. It's basically all I do."
"Barb and I started our foundation 15 years ago," Jack said, referencing his wife Barbara. "We've raised a little over $100 million dollars doing these kinds of events. It's rewarded a lot of kids and that's what we like about it."
The Creighton Farms Invitational, which also featured a fireside chat with Nicklaus and host Charlie Rymer on Sunday, raised more than $1.2 million (to split between the two charities) during the three-day event, according to event organizers. Roger Clemens, a 7-time Cy Young award winning pitcher, and several current PGA players also participated in the charity event.
"PKU is a pretty rare disease and when we started this event, their research budget was about $100,000 a year," Nicklaus said. "Each year, we're able to give them six times the research budget."
While Nicklaus was eager to talk about the charity aspect of things, he also opened up about golf and his career, specifically. Asked which current golfer on tour reminded him the most of himself, he delivered a crowd-pleasing answer.
"Tiger, more than anybody," he answered quickly. "The way he wills [the ball] sometimes to get what he needs it to do, I felt like I willed it, too. I admire Tiger a lot — the way he plays and his work ethic."
Nicklaus, who owns the record for major championships at 18, also noted that he spends a lot of time mentoring younger players.
"About 30 are members of The Bear's Club," he said, referencing his personal golf club in Jupiter, Florida "I see them all the time. I spent quite a bit of time with Rory [McIlroy] over the last couple of weeks. Justin Thomas, occasionally with Rickie [Fowler], occasionally with Dustin [Johnson]."
"Brooks [Koepka] is not a member," he quipped. "I don't know if Brooks practices!"
The interview session ended a few minutes later and Nicklaus stood up to leave. Before exiting with his team, he made sure anyone who wanted a handshake or a picture left satisfied.
Truly, if you take away the majors and the cultural significance, Nicklaus was just a regular guy in a polo enjoying the summer sun.