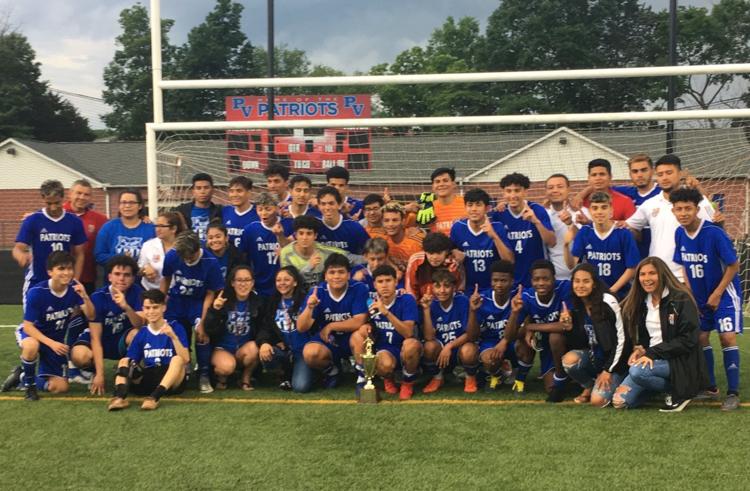 The Park View Patriots took control from the opening kick and did not look back on their way to a 4-0 home victory against the Loudoun Valley Vikings in the Region 4C boys' soccer tournament championship game Thursday night in Sterling.
As regional champions, Park View will host a VHSL Class 4 state quarterfinal game Tuesday night. Loudoun Valley will open the state playoffs on the road Tuesday.
Park View stormed right out of the gates Thursday, scoring four goals in the first half. The Patriots' attack began a little more than five minutes into the contest thanks to a strike from junior midfielder Patrick Rivas Ayala.
Six minutes later, Park View doubled its lead when sophomore forward Kevin Martinez-Guardado scored on a breakaway. Junior forward Elton Quintanilla Lizama, the Dulles District's 2019 Player of the Year, needed just 75 seconds to extend the Patriots' advantage to 3-0.
"Once we scored our first two goals that's when we got our entire momentum to continue to attack, keep our heads up and continue to play the way we've been playing since the beginning of the season, which is hard soccer throughout the game," Quintanilla said.
Park View turned a corner kick into another goal with 11:20 left in the opening half. Ayala set up senior defender Anthony Lampe, who finished off a header for the final goal of the game.
The second half was all defense. The Vikings did a tremendous job of keeping the Patriots off the score sheet. Park View shot the ball a total of 28 times.
"During halftime adjustments our guys focused on the now, made some adjustments and made sure no goals were scored against us," Loudoun Valley head coach Sean Welge said. "We focused on what we were doing and not what [Park View] was doing."
On the other end, Park View's defense and some excellent play by junior goalie Arnoldo Hernandez Salinas (nine saves) preserved the shutout.
"We played well," Park View coach Arturo Jimenez said. "Emotions were running pretty high but these guys stayed in their game plan in what we wanted to play, how we wanted to play."
"We broke them down a little in the back and we scored. Regardless of what the score is [Loudoun Valley] is a good team, a well-coached team and they play well against us," Jimenez continued. "It's a good rivalry."