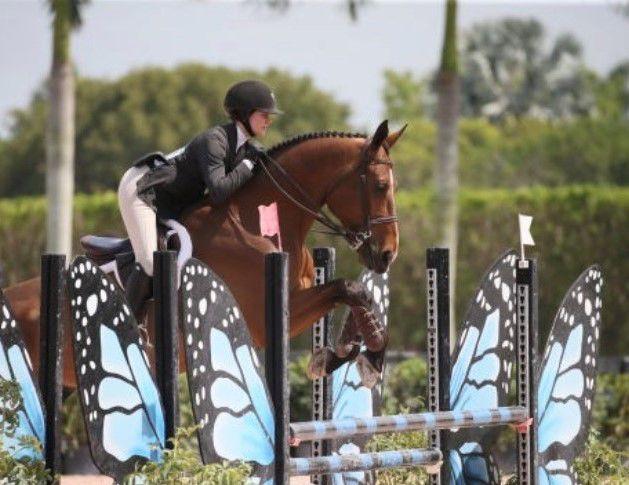 The horse had been spooked. Whether it was a jolting sound from the crowd or the late start time for the event, something had disrupted Carlisle Castle and he was showing the effects of it. His eyes were wild and his actions unpredictable.
Seated upon Castle was Spencer Toohill. The recent Loudoun Valley High School graduate grabbed the reins and without a hint of panic, calmly brought her horse under control.
Most individuals would have panicked in that moment, faced with the daunting task of having to corral an animal that had muscles rippling up and down its body. Toohill was unfazed, bringing her steed under control with a few firm commands. It was a moment that spoke to her confidence in her abilities and her relationship with Castle, whom she calls Scooby.
"We are so solid, we know exactly what we're doing," Toohill said. "I know him like the back of my hand."
There were many learning curves, as Scooby was not ready for Toohill's challenging equestrian schedule until some training.
"We have gone through extraordinary change together. When we got him, he was kind of a fixer-upper horse," Toohill said of Scooby. "The program he was in was not up to par at the level we were at."
Eventually, Scooby was ready, a project that had been developed into a horse with a shiny bay coat broken up by white socks and a white streak across his face. Spencer and Scooby overcame a difficult start to form a strong but complex relationship.
"We're teammates and we're friends and at the same time I'm like his boss," Toohill said. "We have this strange yet awesome relationship. He's literally everything," She paused before continuing, "he's everything."
After the first round of the Maryland Horse Show Association Hunt Seat Medal Finals, Toohill's performance garnered her a great deal of applause, the noise of which seemed to slightly bother Scooby. To combat the noise, Toohill and her trainer placed two earplugs to keep Scooby in check between rounds, but even that did not guarantee success.
She recalled the advice her trainer gave her before she started the next round. "You're going have to fake it. If he does something, you're going to have to keep your composure and roll with it," she said.
In that moment, the relationship Toohill had with her horse benefitted her greatly. "I talked to him. I said, 'Scooby be good.' If I felt him start to tense up, I told him, 'Scooby you're fine, keep going,'" Toohill recalled.
The contestants stood in rapt attention on their horses, and the names of the finalists were called in descending order. As they called her name as the winner, Toohill and Scooby finally celebrated. "I was so happy. I gave Scooby a big pat. We got our picture taken and then we did a victory gallop around the rink," Toohill said.
One of the most rewarding experiences Toohill got to enjoy was going down to Wellington, Florida and competing in the Winter Equestrian Festival. "It was surreal to do it there. That is the highest level of international competition, one of the major shows," Toohill said. "It was so eye-opening and awesome to be down there with the best people and to be competitive."
Toohill's incredible work ethic has paved the way for her success. She has lessons during the week and horse shows on weekends that take up the entire day. Despite all this, Toohill maintained a 4.42 GPA throughout her four years at Loudoun Valley High School.
Her motivation to do this work is found in the horses that are her teammates and friends. "I feel like the horses inspire me most. I go the extra mile because I know them [the horses] so well," Toohill said. "I know how they're feeling, I know what makes them happy, I know what stresses them out, and I just want them to be the happiest they can be."
That hard work and consequential successes have led Toohill to the next step in her academic and equestrian journey: The University of Georgia.
"Georgia just feels perfect. I loved the campus, I loved the coaches, I get to ride. Athens is awesome," Toohill said. "Everything is fitting so well into what I looked for in a school, and Georgia was just it."