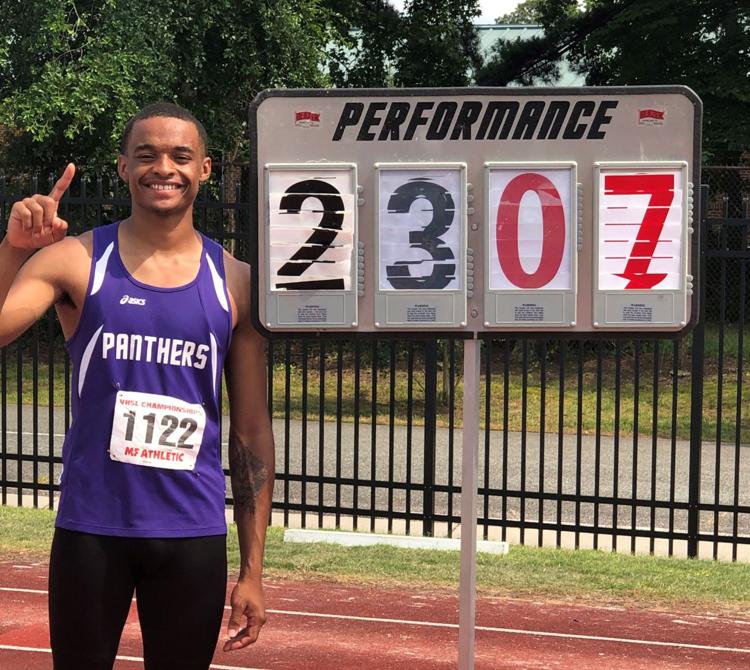 Tyler Pride entered the Virginia High School League state track meet June 1-2 with something to prove.
He'd been ranked the state's top Class 5 long jumper before the regional meet May 22-23. That's where he saw John Champe High School's Jackson Coates jump 24 feet, 2 inches, taking the Region 5C championship, as well as the state's top Class 5 ranking away from Pride.
"So that brought me down to second, and then we get to the state meet and I find out I'm already in third because some other dude jumped 23-10," Pride recalled.
His chance to answer came at Todd Stadium in Newport News.
"I was feeling really good that day, really really good," he said. "I faulted on my first jump but it was over 24 [feet], then my second jump was 23-4 and that put me in first, then I jumped 23-7."
That final effort was enough - by 7.25 inches - to give Pride his first state championship in the long jump. He also ran to runner-up in the 110-meter hurdles and took seventh in the 100-meter dash.
"I felt like I had a fresh pair of legs," he joked.
Later, at the New Balance Nationals June 13-16 in Greensboro, N.C., Pride's legs lifted him to a personal best 24 feet, 1.5 inches. That placed him eighth in the national high school event and pulled him to within a half-inch of the state's top Class 5 jump.
Pride is a 5-foot-11 athlete and a Loudouner since age 4 who, in his freshman year, switched to track from football due to multiple shoulder surgeries.
"I was like, okay, I keep getting hurt in football. My sister [Heather] ran track [at Potomac Falls]," he said. "I never ran track before high school, but from there it just took off."
It became a sound decision. In addition to his long jumping prowess, Pride is among the state's best in the 110-meter hurdles with a personal record of 14.02, and the 100-meter dash with a PR of 10.85.
The sport will take Pride to the University of Kansas next fall, where he'll compete on the track team and study aerospace engineering.
Even his professional aspirations involve going fast and taking flight.
"My end goal is to become a pilot. I've wanted to be a pilot since I was real small," he said. "It was probably going to the air shows at Leesburg Airport when I was younger. Watching the Blue Angels, watching these pilots fly these crazy planes. Always thought that was great."
In his free time he plays a lot of Rainbow Six Siege, an online video game based on a series of Tom Clancy novels. Even then, he's competitive.
"It's funny because I was actually playing before you called," he said. "It's a ranked match. They get real competitive with it. But when I'm not training or something, I'm always playing Siege."
Pride's coach is Brandon Jackson, who just finished his first season as the Panthers' head coach after several years overseeing the team's jumpers and sprinters. He once owned Potomac Falls' school record in the 110-meter hurdles, before Pride shaved 0.84 seconds off of it with a 14.02 last year.
"I think Tyler is an exceptional track athlete. He can run, jump, and hurdle," Jackson stated. "When he was a freshman he just wanted to high jump. But throughout the years working with him he really expanded his talents by entering other events. You would have never thought he would win states in the long jump based on his freshman year."
Tyler Pride
School: Potomac Falls
Sport: Track
School records: 6
Class 5 state champion: Long jump
GPA: 3.2
College: University of Kansas
Intended career: Pilot