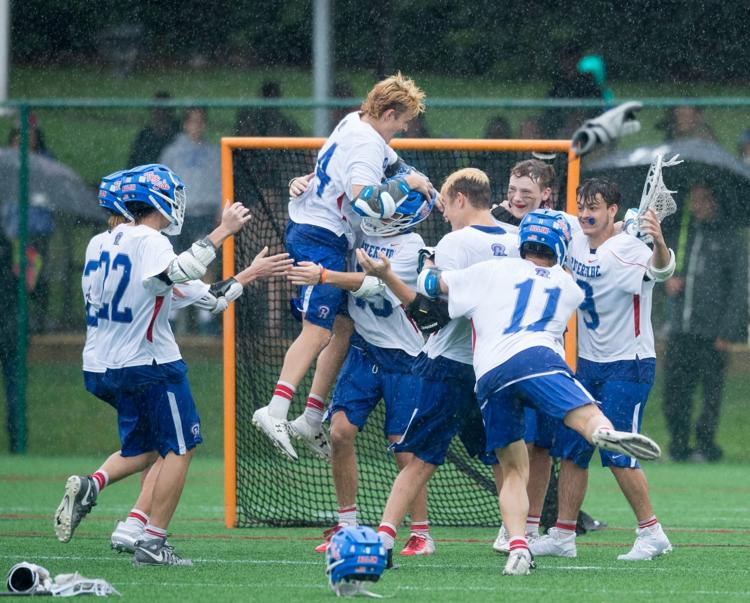 Riverside High School's boys' lacrosse program has only existed for four seasons but they've won state championships in half of them. The Rams claimed their second in a 12-4 rout Saturday over E.C. Glass at Salem High School.
A constant rainfall didn't hold the Rams (18-2) back from taking control of the title tilt early, as the senior-laden front line of Taylor Musa, Daniel Maltz and Mitchell Pehlke powered Riverside to an 8-2 halftime lead, fed by Evan Park's strong effort in the face-off circle.
Glass had no second-half answer for the Rams. Maltz finished with a game-high four goals, while Pehlke and Musa combined for five more.
Nick Worek, head coach of the Rams' program since inception, gave credit to his assistants for their game planning, and to his seniors for their steady influence.
"Just tremendous," he said. "From defensive staff to offensive staff, figuring out their tendencies. E.C. Glass is championship-level, so hats off to them. But it came down to our seniors leading our younger guys, showing them how to go down there and handle the whole thing. Our kids were locked on the entire time."
The head coach noted the play of his junior face-off specialist.
"Evan Park is one of the best in the state and he did a great job of neutralizing their guy, Matthew Gallagher, who's also one of the best. We didn't give up any breaks to Gallagher and I thought that made a big difference."
It was raining from the moment the team got off the bus until the Riverside players jubilantly raised their latest trophy. But from the outset, Worek saw his team pick up ground balls off the wet grass and start fast breaks with snappy passes.
Worek said the Rams' sole two setbacks of the season were instrumental in spurring them on, helping define this championship season.
"Two years ago we went 20-0 and never really had to battle adversity," Worek recalled. "This year, we had an early-season loss [14-12 on March 26] to Briar Woods, a fantastic program, and we had to learn from that, make corrections to our young defense.
"Then we played at Dominion against a great team, didn't play our best and lost [13-11 on May 3]," he continued. "It was a gut check at that point. I think the team realized we could be better than we were. From that point on our defense stepped up huge. We gave up an average of 3.8 goals over those next eight games."
The Rams proceeded to sweep through the playoffs with an average margin of 10.3, including triumphs over Dulles rival Dominion in the region final [10-7] and state semifinal [11-4].
As the championship showdown was the Rams' first game outside Northern Virginia, Worek noted that smooth logistics helped Riverside's cause.
"From getting buses to accommodations, it makes a big difference when you're traveling four and a half hours down there," Worek said. "Thank you very much to our administration for that."
The head coach reflected on his roster's six seniors, the first four-year class in program history, who graduate with an overall record of 66-9 and two state crowns.
Worek pointed out that Musa graduates as the No. 1 goal-scorer in the history of Virginia high school boys lacrosse, Maltz counts among the all-time leaders in assists and is signed to play at Maryland, while Pehlke has signed with Ohio State.
"It's been like that for four years. They laid the groundwork to put our program on the map," Worek said. "I couldn't ask for anything better. It's going be tough to see them go, but their legacy will carry on because of what they did."
-Photos by Jeff Vennitti