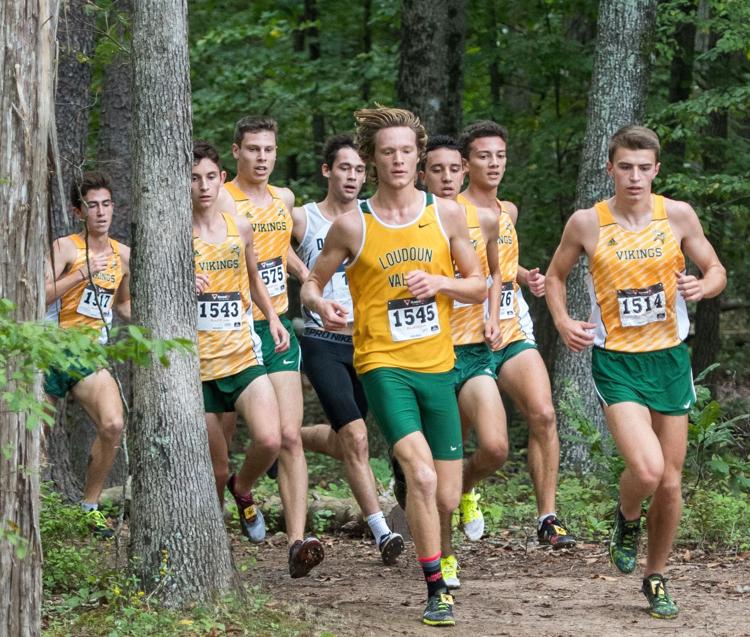 Loudoun County public high schools have combined to win 150 Virginia High School League state championships in varsity team sports.
Loudoun Valley, opened in 1962, leads the pack with 24 state titles. Briar Woods (2005), Broad Run (1969) and Loudoun County (1954) have each collected 18 state championships.
Park View (1976) has hoisted 15 championship trophies, while Stone Bridge (2000) has claimed 13 titles and Woodgrove (2010) is already in double figures with 12 crowns.
Potomac Falls (1997) has racked up nine state crowns, followed by Freedom (2005) and Riverside (2015) with seven championships each.
Tuscarora (2010) owns four state titles, Dominion (2003) has won three championships, while Heritage (2002) and Rock Ridge (2014) have each claimed one team title.
Loudoun Valley (24)
-Boys Outdoor Track (2019, 2018, 2017, 2015)
-Boys Cross-Country (2018, 2017, 2016, 2015)
-Volleyball (2009, 2004, 2002, 2001)
-Golf (2015, 1994)
-Baseball (2014, 1972)
-Softball (2005, 2003)
-Boys Indoor Track (2019, 2018)
-Girls Cross-Country (2018)
-Boys Basketball (2017)
-Boys Lacrosse (2015)
-Girls Outdoor Track (1976)
Briar Woods (18)
-Competition Cheer (2017, 2015, 2012, 2011, 2010, 2009)
-Boys Lacrosse (2019, 2018, 2016)
-Football (2012, 2011, 2010)
-Girls Soccer (2018, 2014)
-Baseball (2017)
-Boys Soccer (2017)
-Volleyball (2014)
-Softball (2011)
Broad Run (18)
-Girls Soccer (2015, 2011, 2010, 2009, 2008, 2001)
-Softball (2009, 2008, 2007, 2000)
-Football (2009, 2008)
-Competition Cheer (2018, 2016)
-Boys Soccer (2014)
-Baseball (1991)
-Gymnastics (1991)
-Boys Cross-Country (1973)
Loudoun County (18)
-Volleyball (2018, 2017, 2016, 2015, 2014, 2013, 2012, 2010, 2009, 2008, 2007)
-Girls Soccer (2018, 2016, 2015)
-Boys Soccer (2014)
-Girls Basketball (2009)
-Boys Tennis (2006)
-Girls Tennis (2003)
Park View (15)
-Gymnastics (1990, 1989, 1988, 1983, 1982)
-Boys Soccer (2016, 1992, 1991)
-Softball (2002, 1990, 1989)
-Girls Outdoor Track (2008, 2007)
-Football (1988)
-Baseball (1984)
Stone Bridge (13)
-Competition Cheer (2008, 2006, 2005, 2004)
-Girls Soccer (2010, 2005)
-Softball (2019)
-Baseball (2015)
-Boys Cross-Country (2015)
-Boys Lacrosse (2015)
-Girls Lacrosse (2015)
-Volleyball (2015)
-Football (2007)
Woodgrove (12)
-Softball (2018, 2017, 2016, 2014, 2012)
-Girls Soccer (2019, 2013, 2012)
-Girls Lacrosse (2016, 2015, 2014)
-Football (2018)
Potomac Falls (9)
-Girls Lacrosse (2017, 2016)
-Boys Basketball (2011, 2010)
-Girls Soccer (2004, 2000)
-Boys Soccer (2006)
-Boys Tennis (2002)
-Golf (2001)
Freedom (7)
-Gymnastics (2019, 2018, 2016)
-Girls Lacrosse (2019, 2018)
-Girls Basketball (2010, 2009)
Riverside (7)
-Boys Lacrosse (2019, 2017)
-Girls Lacrosse (2018)
-Boys tennis (2018)
-Boys Soccer (2017)
-Girls Swimming (2017)
-Competition Cheer (2016)
Tuscarora (4)
-Girls Cross-Country (2017, 2015, 2014)
-Volleyball (2017)
Dominion (3)
-Girls lacrosse (2019)
-Boys Lacrosse (2016)
-Girls Soccer (2014)
Heritage (1)
-Girls Cross-Country (2015)
Rock Ridge (1)
-Boys Tennis (2017)