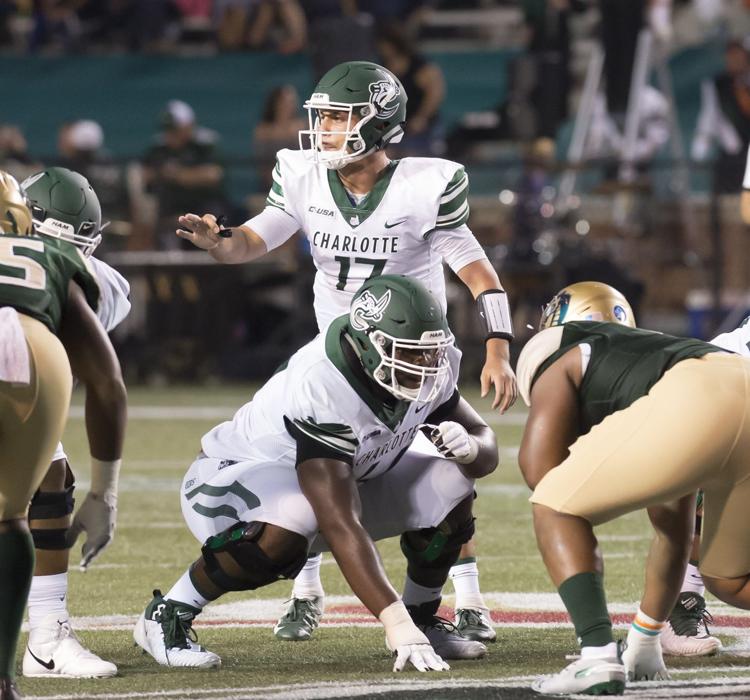 A trio of former Loudoun standouts took another step in realizing their aspirations of playing professional football during the 2019 NFL Draft.
Stone Bridge alum Nate Davis was selected in the third round, while Broad Run alum Travis Fulgham and Briar Woods alum Trace McSorley were both drafted in the sixth round.
The Tennessee Titans selected Davis, an offensive lineman, with the 82nd overall pick of the draft. Davis played both guard and tackle during a stellar four-year career at the University of North Carolina at Charlotte.
Davis, who made 37 career starts at Charlotte, told reporters his goal is "to come in here and earn the respect in the locker room, the older guys and the vets. I just have to do what I do and hopefully I can earn that spot."
Fulgham, a wide receiver, heard his name called with the 184th overall pick by the Detroit Lions. A three-sport athlete as a senior at Broad Run, Fulgham walked on to the football team at Old Dominion University before earning a scholarship.
In his senior season at Old Dominion, Fulgham led Conference USA with 1,083 receiving yards on 63 receptions. He also hauled in nine touchdowns. Fulgham posted 'Detroit!!! Ready to work!!!!' on his Twitter account after being drafted Saturday afternoon.
McSorley, who earned national spotlight as a four-year starting quarterback at Penn State, went to the Baltimore Ravens with the 197th overall pick.
"He was a sleeper pick for us," Ravens general manager Eric DeCosta said of McSorley. "We fell in love with the kid. We think his skillset fits what we're trying to accomplish on offense and he can do other things."
McSorley piloted Briar Woods to three state championships prior to setting multiple passing records at Penn State. He posted 'Incredibly blessed to be a Raven! Can't wait to get to work' on his Twitter account.