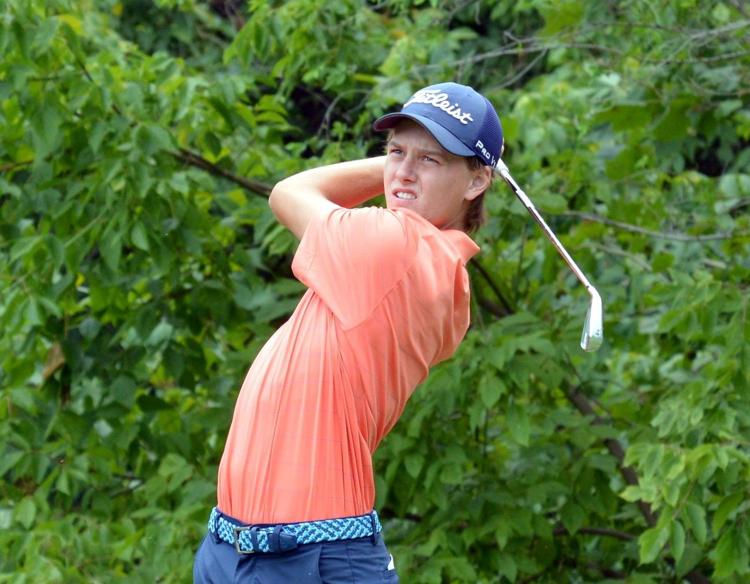 David Stanford of Vienna shot a 54-hole total of 9-under par 204 to edge Leesburg standout Michael Brennan by one stroke for the title at the 67th VSGA Junior Stroke Play Championship, contested July 23-25 at Winchester Country Club.
Brennan, who won the VSGA Amateur Championship earlier this summer, finished just off the pace with a 205 total. Ross Funderburke of Roanoke (206) was also in the mix, placing third.
Alex Price (212) of Purcellville tied for fourth place at the VSGA Junior Stroke Play Championship, while Hayden Miller (213) of Leesburg earned a tie for sixth place.
Final leaderboard
David Stanford (Vienna), 66-70-68--204
Michael Brennan (Leesburg), 67-70-68--205
Ross Funderburke (Roanoke), 69-68-69--206
Alex Price (Purcellville), 72-69-71--212
Will Watson (Abingdon), 73-71-68--212
Patrick Gareiss (Chesapeake), 70-70-73--213
Garrett Kuhla (Henrico), 74-71-68--213
Hayden Miller (Leesburg), 70-71-72--213
Taylor Hubbard (Aylett), 71-75-69--215
Charlie Kennedy (Richmond), 73-72-70--215
Benjamin Choe (Herndon), 73-76-67--216
Bryan Lee (Fairfax), 71-75-70--216
Josh Duangmanee (Fairfax), 75-72-70--217
Mehrbaan Singh (Ashburn), 75-71-71--217
Cullen Campbell (Virginia Beach), 68-72-78--218
Ben Cooper (Richmond), 68-76-74--218
Bryce Corbett (Gainesville), 71-78-69--218
Jimmy Taylor (Alexandria), 74-72-72--218
Josh Brown (Poquoson), 75-73-71--219
Brian Feinstein (McLean), 68-75-76--219
Charlie Hanson (Richmond), 75-73-71--219
Matthew Monastero (Leesburg), 75-73-72--220
Taylor Hubbard (Aylett), 71-75-69--215
Charlie Kennedy (Richmond), 73-72-70--215
Benjamin Choe (Herndon), 73-76-67--216
Bryan Lee (Fairfax), 71-75-70--216
Josh Duangmanee (Fairfax), 75-72-70--217
Mehrbaan Singh (Ashburn), 75-71-71--217
Cullen Campbell (Virginia Beach), 68-72-78--218
Ben Cooper (Richmond), 68-76-74--218
Bryce Corbett (Gainesville), 71-78-69--218
Jimmy Taylor (Alexandria), 74-72-72--218
Josh Brown (Poquoson), 75-73-71--219
Brian Feinstein (McLean), 68-75-76--219
Charlie Hanson (Richmond), 75-73-71--219
Matthew Monastero (Leesburg), 75-73-72--220
Zachary Valdes (Chesterfield), 73-73-74--220
Trevor Elliott (Richmond), 76-71-74--221
Suneil Peruvemba (McLean), 73-76-72--221
Cole Pollard, Jr. (Manakin Sabot), 76-72-73--221
Nick Rakes (Evington), 75-74-72--221
Caleb Choe (Virginia Beach), 74-75-73--222
Robert Dudeck III (Williamsburg), 74-75-73--222
Reeve Felner (Vienna), 71-76-75--222
George Clark (South Riding), 74-76-74--224
Christian Michael (Crimora), 68-77-79--224
George Montague (Manakin Sabot), 71-73-80--224
Aidan Baron (Leesburg), 75-76-74--225
Jake Duncan (Blacksburg), 77-74-74--225
Riley Tuttle (Norfolk), 77-74-74--225
Harrison Withers (Roanoke), 76-75-74--225
Griffin Winn (Chesterfield), 74-76-76--226
Quint Dingledine (Richmond), 72-75-80--227
Daniel Goode (Wytheville), 70-78-79--227
Justin Larue (Chesterfield), 77-74-78--229
Garnet Manley (Lynchburg), 76-75-78--229
Patrick Galleher (Midlothian), 75-76-80--231
Luke Gareiss (Chesapeake), 72-77-82--231
Matt Moloney (Vienna), 74-76-81--231
Ian Quindoza (Midlothian), 74-76-82--232
Brint Harbison (Glen Allen), 74-77-83--234
Ryan Slonaker (Penn Laird), 75-75-92--242