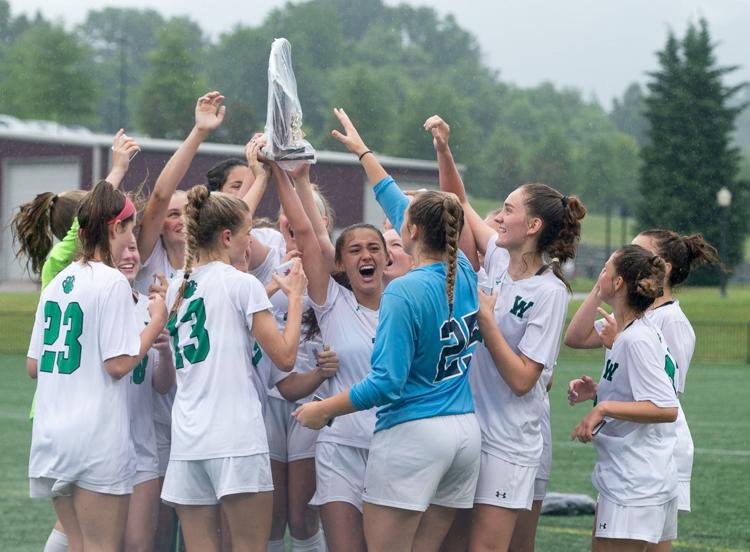 Unfinished business. That's been the focus of the Woodgrove High School girls' soccer team throughout the 2019 season after the Wolverines lost to Blacksburg 1-0 at home in the state quarterfinals last year.
Woodgrove put the final touch on completing that task on a rain-filled Saturday at Roanoke College.
Playing reigning state champion Loudoun County for the fifth time this season, Woodgrove junior Liz Marcheschi scored off a rebound from junior Rachel Castro's well-placed lob shot approximately one minute into overtime to lift the Wolverines to a 1-0 victory in the Virginia Class 4 state championship game.
"Before the overtime, we said 'let's forget about who we are playing, what it's for and let's just go out and play our game and attack'. That's what we did and we were able to score a goal in about a minute," Woodgrove head coach Pat Manno said.
The Wolverine defense - led by senior center backs Rachel Chatfield (team MVP) and Delaney Boyer - did not allow a goal through 170 minutes of play in the state semifinal and championship games. Freshman goalkeeper Xanthe Bergel recorded the shutout.
All five games between Woodgrove and Loudoun County went to overtime. Following two regular-season ties, Woodgrove won the Dulles District and Virginia State championship games in overtime while Loudoun County claimed the Region 4C title in penalty kicks.
"These games have been so even," Manno said. "During the season, both teams had leads at different times. Both teams scored late to tie games up and send them into overtime. In this game, there were spurts when we controlled the game and there were spurts when they controlled the game."
Due to finishing second behind Loudoun County in the district standings and falling in the regional title game, Woodgrove (20-2-3) played all five of its regional and state playoff games on the road. Manno is proud of how his players responded to the challenge.
"They worked so hard through adversity and just kept going," Manno said. "To be able to maintain focus and come out and play their best soccer says a lot about these students. I'm just thrilled that we were able to win this."
Woodgrove is moving up to Class 5 next school year due to the school's growing student population. The Wolverines have won three state titles (2019, 2013, 2012) since the program's inaugural season in 2011.
-Photos by Jeff Vennitti