The Woodgrove Wolverines celebrated a festive home opener with a 46-6 victory over the Rock Ridge Phoenix on Friday night in Purcellville. In front of more than 1,700 spectators, the Wolverines led 35-0 at halftime and cruised the rest of the way in a dominant team win.
Woodgrove (2-0) needed just four offensive plays to get on the scoreboard to open the game. The fast start was sparked by senior quarterback Brett Johnson's 30-yard touchdown pass to fellow senior receiver Tyler Blizzard.
Sophomore running back Hunter Pavolic ran the ball in from the 2-yard line for a touchdown on the Wolverines' next possession. That was followed up with a touchdown reception by Pavolic from Johnson giving Woodgrove a 21-0 lead after the first quarter.
"I felt we were really able to distribute the ball and everyone just played their role," Woodgrove head coach Derek Barlow said. "The big thing I was teaching this week was take what's there. Let's be methodical, let's be mistake free. It was a really clean game, that's what I was most impressed about. They just trusted the scheme and each other."
Johnson hit Blizzard again on a 41-yard touchdown strike through the air in the second quarter to keep the offense rolling. Senior running back KJ Lewis closed out the first-half scoring with a 1-yard trip into the endzone with just 25 seconds remaining. Lewis led all rushers on the night, eclipsing the 100-yard mark on just 11 carries.
"I'm pumped up," said Lewis, who started on Woodgrove's 2018 state championship team. "I feel like things are starting to click now on offense. We have a bunch of new players on offense, a new quarterback and whole new offensive line and honestly receivers who haven't had a varsity start to play. We're building the chemistry. I think as the season goes on we'll get better and better".
Sophomore Price Williams scored a touchdown for the Wolverines in the third quarter on a 2-yard run. Williams' size paired with his versatility as a runner and receiver overwhelmed the Rock Ridge defense.
Defensively, Woodgrove came close to pitching a second consecutive shutout until Rock Ridge (1-1) senior running back Dejon Corley sliced across the goal line with 15 seconds left in regulation to put the Phoenix on the board.
The Phoenix offense was limited by the Wolverines' starting unit. Defensive lineman Tre Coleman recovered a fumble and defensive back JJ Hamm intercepted a pass for Woodgrove in the first half. Running lanes were few and far between for Rock Ridge. Senior quarterback Elliott Lightner was sacked twice in the first half and under constant pressure.
"I was proud of our defense," said Barlow, in his first year as Woodgrove's head coach after formerly being an assistant coach with the Wolverines. "They're pretty veteran laden. They've been able to sustain us the past couple of weeks."
The contest was the first home game for Woodgrove since winning the Virginia Class 4 state title in 2018. The Wolverines, who moved up to Class 5 this school year for all sports due to a growing student population, have outscored their first two opponents 66-6 in 2019.
Woodgrove will host a formidable Tuscarora (1-1) squad on Sept. 13. The Wolverines defeated the Huskies for the first time in program history last year, 42-28.
Rock Ridge, who defeated Freedom 14-6 in its season opener, will aim to get back on track Sept. 13 at home against Woodbridge (Delaware).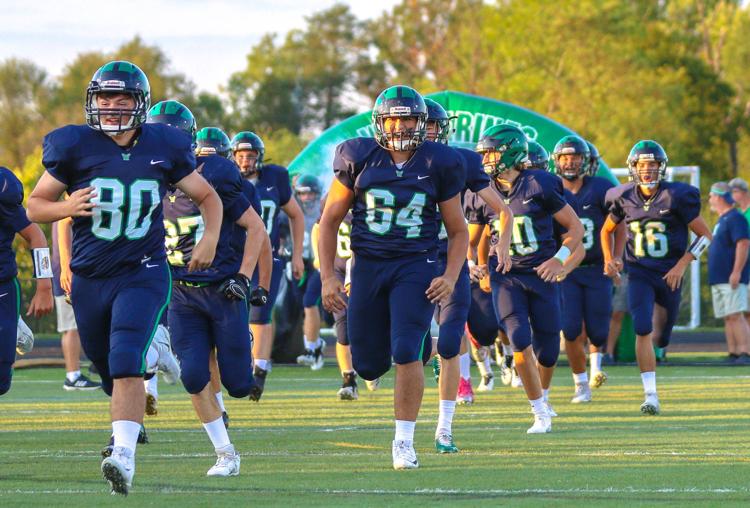 Woodgrove 46, Rock Ridge 6
First Quarter
W: Johnson 30 pass to Blizzard (Burton pass to Scanlan) 9:25
W: Pavolic 2 run (kick blocked) 5:45
W: Johnson 7 pass to Pavolic (Samaha kick) 1:09
Second Quarter
W: Johnson 41 pass to Blizzard (kick failed) 3:02
W: Lewis 1 run (Johnson pass to Burton) :25
Third Quarter
W: Safety, 5:45
W: Williams 2 run (Hallam kick) 2:28
Fourth Quarter
W: Safety, 10:58
RR: Corley 4 run (pass failed) 0:15
Offensive leaders
Passing: W – Johnson (8 of 12 for 127 yards, 3 TD); RR – Lightner (3 of 6 for 69 yards, Int.)
Rushing: W – Lewis (11-113-1), Williams (5-49-1), Hamm (5-44) Brence (6-29); RR – Corley (15-35-1), Lightner (7-21), Avalos (3-7)
Receiving: W – Blizzard (2-71-2), D Pavolic (2-30), Williams (3-20), H Pavolic (1-7-1); RR – Barker (1-46), Avalos (1-21), Mayo (1-2)